TOP TWENTY TUESDAY – JUNE 15TH 2021

Welcome to the Top 20 Tuesday chart! Every week we take a look at the twenty top-selling discs on the Infinite Discs website, broken down by plastic type as well. So these are the top sellers for the last seven days in order.
Top Twenty Tuesday for June 15th 2021
#1 – Cryztal FLX BUZZZ
#2 – ESP NUKE
#3 – Halo Star DESTROYER
#4 – Signature ESP ZEUS
#5 – ESP BUZZZ
#6 – ESP HORNET
#7 – D-Blend ALPACA
#8 – ESP FORCE
#9 – Signature Cryztal FLX ZONE
#10 – Star DESTROYER
#11 – Ground RUNE
#12 – Z Line BUZZZ
#13 – ESP THRASHER
#14 – Titanium Swirl ZOMBEE
#15 – Star WRAITH
#16 – Neutron OCTANE
#17 – Putter Line Soft ZONE
#18 – Neo ESSENCE
#19 – DX AVIAR
#20 – Putter Line ZONE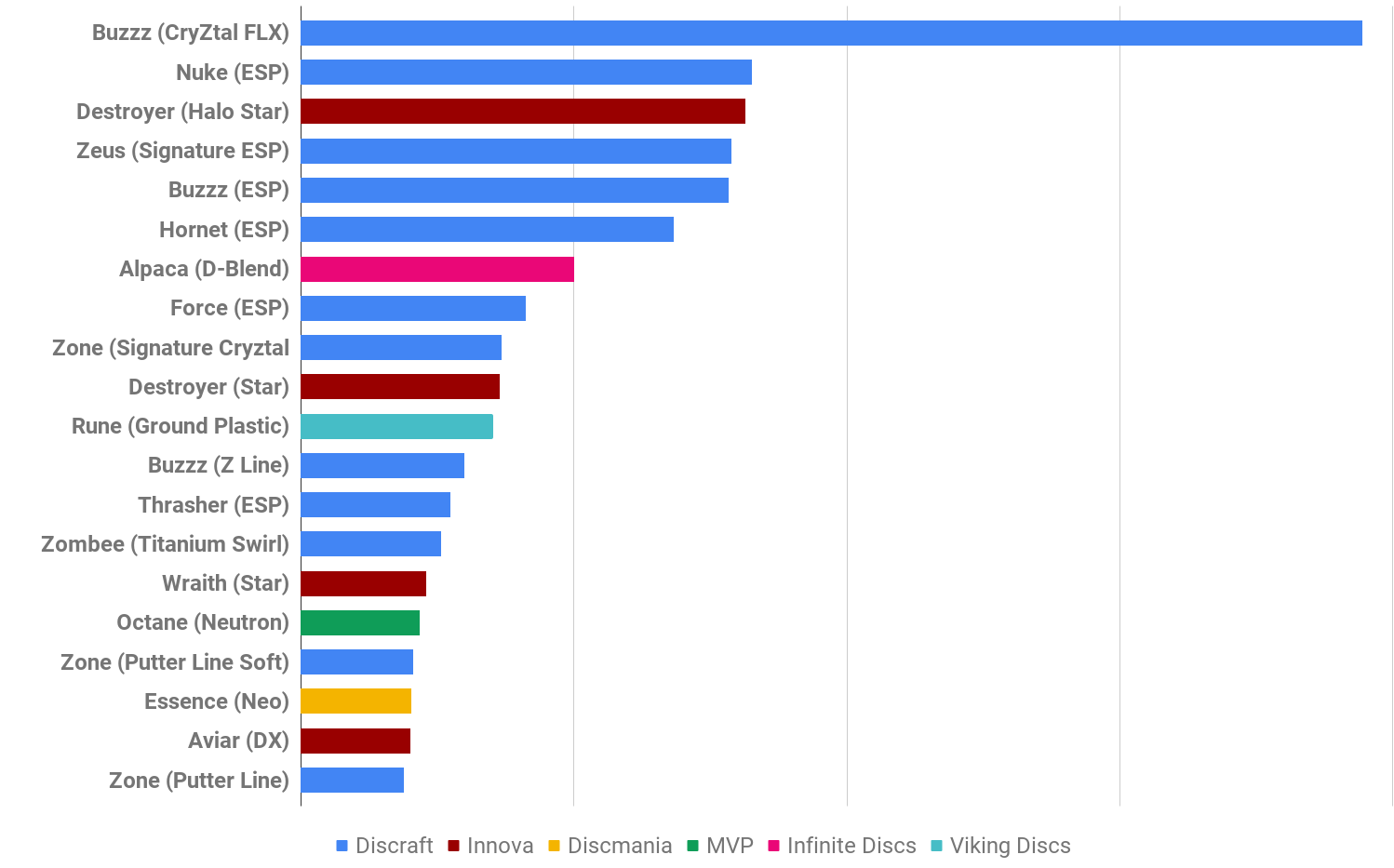 The Top 20 this week was dominated by Discraft as we received a restock of some models that have been absent for a while. The Zone appeared on the chart in three times, the Buzzz, Force, Nuke and others were on there as well, with the Cryztal FLX BUZZZ taking the number one spot. The Halo Star DESTROYER hit the #3 spot as the highest ranking non-Discraft entry. The RUNE putter by Viking is gaining steam in popularity and moved onto the chart this week as well.
Here is a look at how many times the different brands hit the chart this week: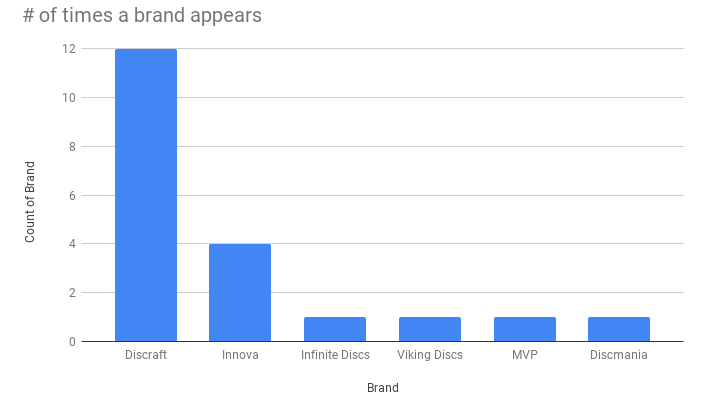 –> Each week we'll invite you to leave a prediction for a certain chart position on next week's TOP TWENTY TUESDAY report. The person to predict that chart position correctly in the comments will win a $10 gift card for the Infinite Discs website.
WINNER – This week the #9 spot was the Signature Cryztal FLX Zone, which it looks like nobody guessed this week. Sorry, no winner this time.
NEXT WEEK: Guess the #10 spot for next week. The first person to get it right (include the disc model and plastic type) will win!
THANKS FOR READING AND WATCHING EACH WEEK!