TOP TWENTY TUESDAY – JUNE 16TH 2020

It is time once again for our look back at the last week of sales. This weekly chart is generated from the sales figures at Infinite Discs – the purchases made by our customers are the only contributing factor to the statistics. We break the results down by disc model and plastic type so you can see which plastic types are selling the most. Here we go…
Top Twenty Tuesday for JUNE 16TH, 2020
#1 – Star DESTROYER
#2 – Jawbreaker ROACH
#3 – Z Line ZONE
#4 – Signature Titanium Misprint UNDERTAKER
#5 – Tour Z Swirl LUNA
#6 – Signature Z Misprint FORCE
#7 – ESP BUZZZ
#8 – VIP X Glimmer HARP
#9 – P-Line P2
#10 – Signature ESP ANAX
#11 – DX AVIAR
#12 – ESP Misprint AVENGER
#13 – Electron Soft PROXY
#14 – ESP Misprint BUZZZ
#15 – Tour ESP Misprint ANAX
#16 – Tour ESP Misprint LUNA
17 – Signature ESP Misprint ANAX
#18 – Opto Glimmer RIVER
#19 – XT NOVA
#20 – Star SHRYKE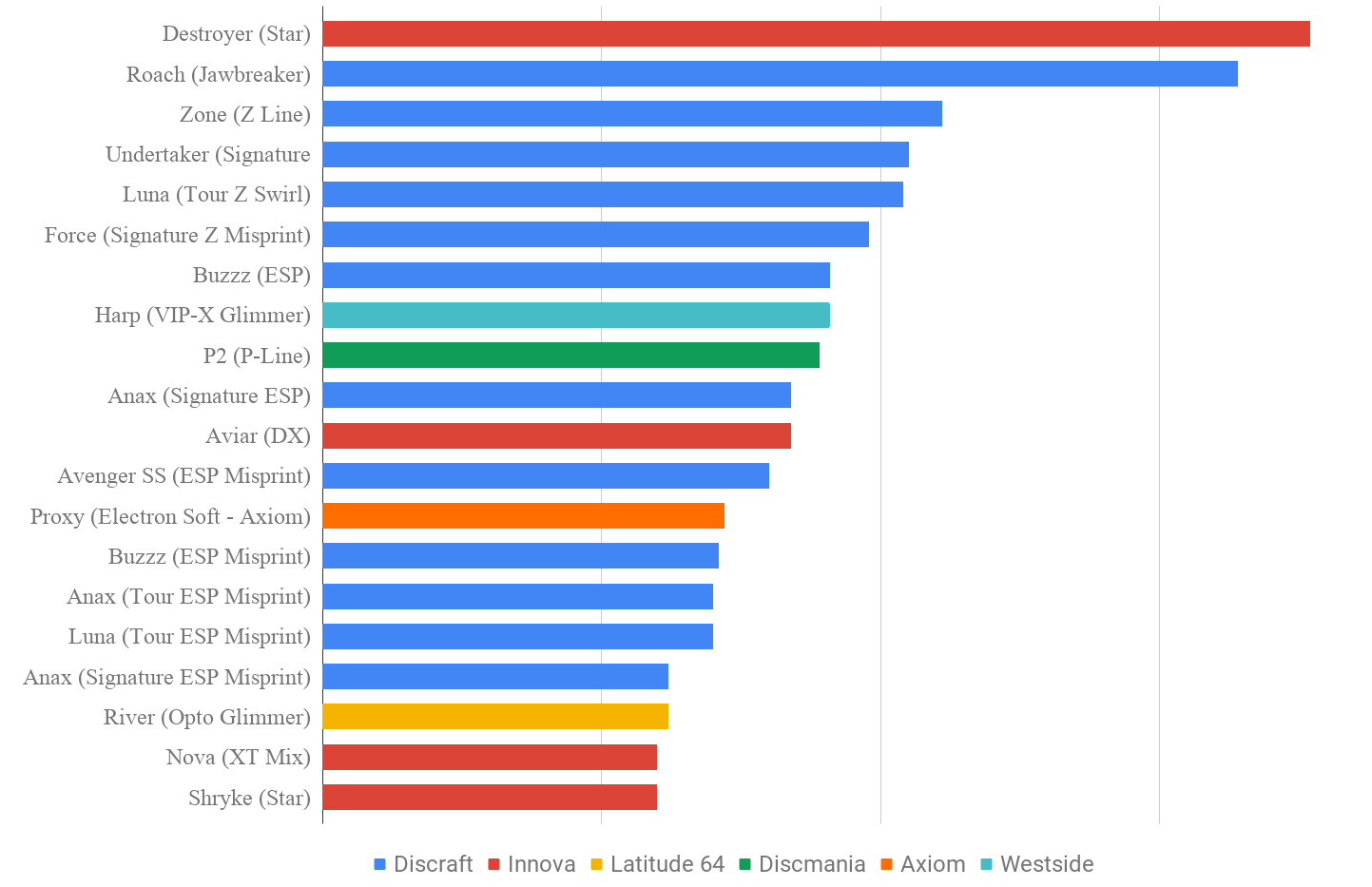 This week we have another crazy top-20 sales chart, influenced by the dramatic swings that come with disc availability challenges. As can be seen on this week's chart, Discraft misprints were a main item that we had on hand, but a lot of the standard top-sellers were unavailable. Also, a large Innova restock shipment arrived at the end of that week, which started bringing some of the popular Innova models back into the chart that had been absent for a while. That boosted the Star DESTROYER to the #1 position for the week while the DX Aviar, XT Nova, and Star Shryke also got into the chart with only a weekend of sales to get them there.
The new VIP-X Glimmer HARP hit #8 as a new release, and the Opto Glimmer RIVER also made an entry at #18. Those were some very pretty disc offerings from Trilogy.
Here is a look at how many times each brand hit the chart this time: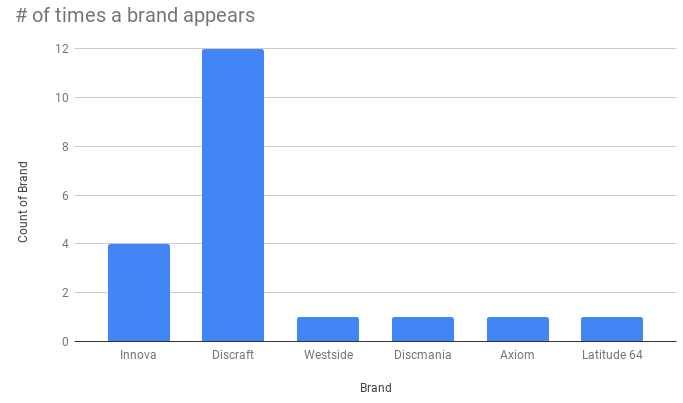 –> Each week we'll invite you to leave a prediction for a certain chart position on next week's TOP TWENTY TUESDAY report. The person to predict that chart position correctly in the comments will win a $10 gift card for the Infinite Discs website.
WINNER – The #6 spot this week was taken by the Signature Z Miprint FORCE.  That's pretty random, like a lot of the chart was this week. We had some excellent guesses for misprint discs, but nobody tagged the Force. It's been a rough couple of weeks for guessing with the weird inventory fluctuations.
GIFT CARD PREDICTION FOR NEXT WEEK:  Leave your comment below to guess the #7 spot for next chart.  It will go to the FIRST person to get it right. Good luck!