TOP TWENTY TUESDAY – JUNE 1st 2021

Welcome to the Top 20 Tuesday chart! Every week we take a look at the twenty top-selling discs on the Infinite Discs website, broken down by plastic type as well. So these are the top sellers for the last seven days in order.
Top Twenty Tuesday for June 1st 2021
#1 – ESP HORNET
#2 – Halo Star WRAITH
#3 – Elevation Rubber INTERCEPTOR
#4 –Star DESTROYER
#5 – Z Midnight ZONE
#6 – Neutron REACTOR
#7 – Halo Star LEOPARD3
#8 – Active Baseline SHOGUN
#9 – Active Premium ASTRONAUT
#10 – Active Premium ROCKSTAR
#11 – Cryztal FLX Sparkle BUZZZ
#12 – Big Z ZONE
#13 – Star WRAITH
#14 – Tour Series Z NUKE SS
#15 – Fission WAVE
#16 – Cryztal Sparkle STING
#17 – Royal Grand RIVE
#18 – D-Blend ALPACA
#19 – Proton INSANITY
#20 – Star VALKYRIE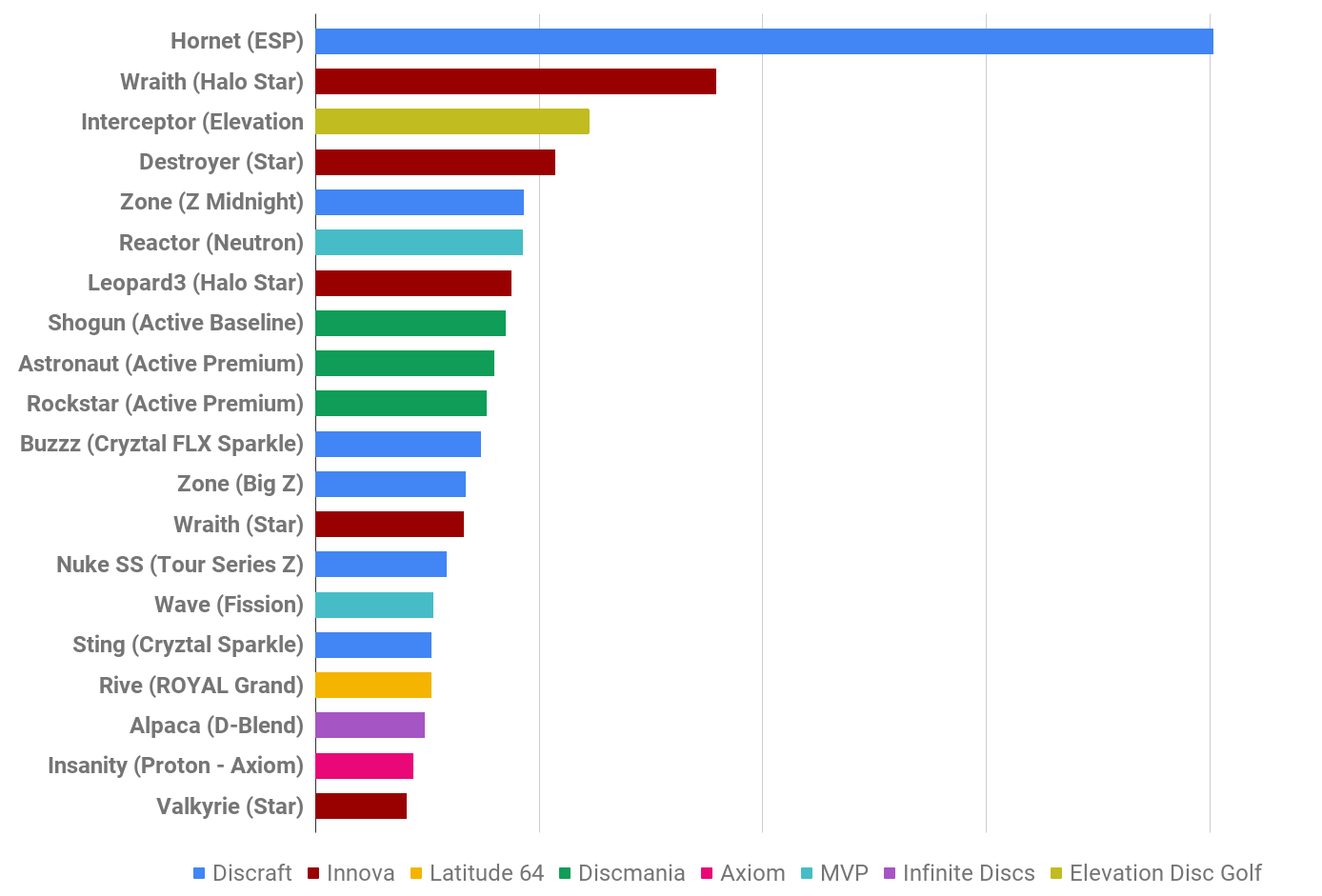 The top 20 chart for the past week is almost a complete shuffle once again, as the best-sellers are determined primarily by availability. Whatever is new or available seems to jump into the chart. The #1 spot was a special run of ESP HORNET mid-range discs by Discraft. The #2 spot was the Garrett Gurthie Signature Halo Star WRAITH, followed by the restock of the INTERCEPTOR by Elevation Discs (their debut rubber-blend putt-and-approach disc). Three new discs from Discmania's Active Line made it onto the chart with the SHOGUN, ASTRONAUT, and ROCKSTAR. There's a smattering of the usual Innova restock and Discraft Ledgestone discs. A restock of MVP and AXIOM also pushed a couple of those models onto the chart.
Here is a look at how many times the different brands appeared on this week's chart: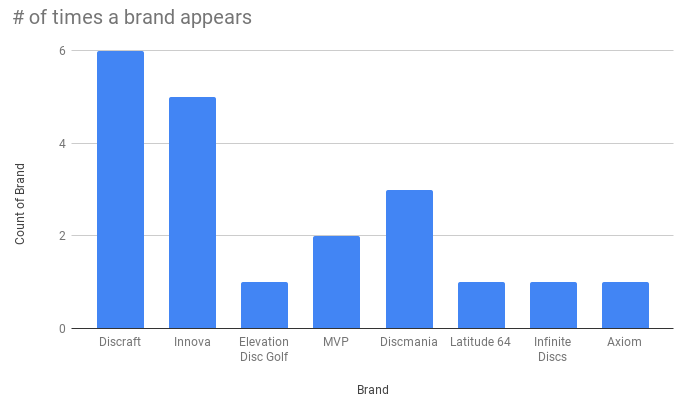 –> Each week we'll invite you to leave a prediction for a certain chart position on next week's TOP TWENTY TUESDAY report. The person to predict that chart position correctly in the comments will win a $10 gift card for the Infinite Discs website.
WINNER – This week the #7 spot was the Halo Star LEOPARD3 signature disc. There were some great guesses that pegged new releases and popular Ledgestone discs, but nobody picked the Halo Leopard3.
NEXT WEEK: Guess the #8 spot for next week. The first person to get it right (include the disc model and plastic type) will win!
THANKS FOR READING AND WATCHING EACH WEEK!