TOP TWENTY TUESDAY – JUNE 25TH 2019

We missed last week's "Top 20 Tuesday" update because we were on the road at the Ledgestone Open and didn't get a chance to write the blog, so this week's report will calculate the sales for the last two weeks.
We break these charts down by plastics as well so you can see which plastic types are most popular for each disc. New discs will often spike in the chart as other top sellers shuffle position. The chart is created by sales figures that are pulled from all Infinite Discs sales for the previous week — our customers decide the results with their purchases.
Top Twenty Tuesday for June 25th, 2019
#1 – Star DESTROYER
#2 – R-Pro PIG
#3 – ESP KONG
#4 – D-Line P2
#5 – Neo INSTINCT
#6 – Splatter S-Blend EMPEROR
#7 – Star Glow DESTROYER
#8 – Discraft Special Blend LUNA
#9 – Star WRAITH
#10 – ESP BUZZZ
#11 – Fuzion RAIDER
#12 – DX AVIAR
#13 – Star ORC
#14 – Plasma PILOT
#15 – Neutron ENTROPY
#16 – Star LEOPARD3
#17 – 400G D3 MAX
#18 – KC Pro AVIAR
#19 – XT Mix NOVA
#20 – Star VALKYRIE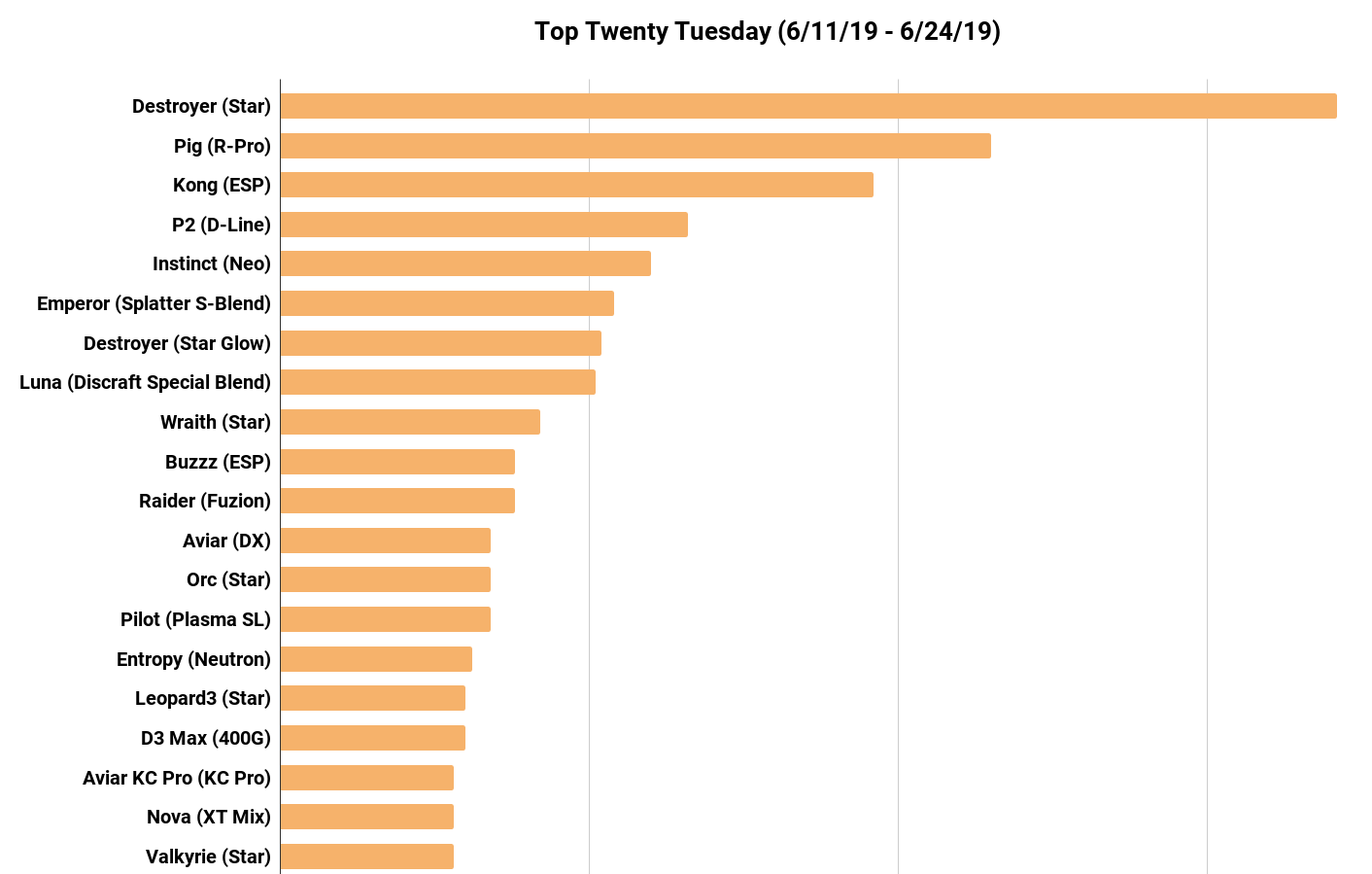 The Star DESTROYER jumped right back up to the #1 spot when calculating in the last two weeks, followed by the R-Pro PIG which gained new life (and wings) with the Infinite Discs special edition flying pig stamp (just restocked that one too). That put the ESP KONG into the #3 spot and we've picked up intelligence that the prototype run is over– Discraft is sold out of those.
The Splatter S-Blend Emperor made its debut in the last couple of weeks, so it stands at #6, followed by the Philo Star Glow Destroyer.  Other new releases still holding strong are the Fuzion Raider distance driver, the overstable putt-and-approach disc, the Entropy, and the D3 Max distance driver by Prodigy.
Here is a look at how many times different brands appeared on the chart, with Innova taking exactly half of the spots during this 2-week period: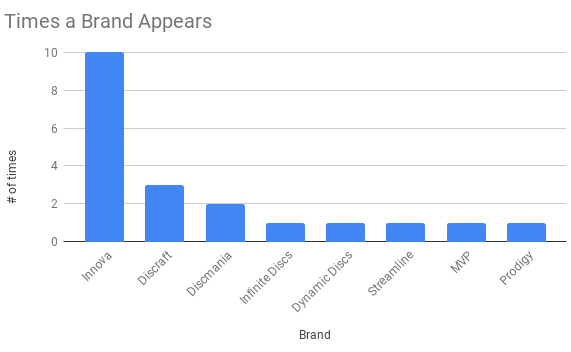 –> Each week we'll invite you to leave a prediction for a certain chart position on next week's TOP TWENTY TUESDAY report. The person to predict that chart position correctly in the comments will win a $10 gift card for the Infinite Discs website.
WINNER – Two people guessed that the #12 spot would be taken by the DX Aviar. Since we missed a week, we'll award both of those guesses, so congratulations Steven and Owen!
GIFT CARD PREDICTION FOR NEXT WEEK:  Leave your comment below to guess the #20 spot for next week. I don't believe we've ever requested #20 before.