TOP TWENTY TUESDAY – MARCH 16TH 2021

Welcome to the Top 20 Tuesday chart! Every week we take a look at the twenty top-selling discs on the Infinite Discs website, broken down by plastic type as well. So these are the top sellers for the last seven days in order:
Top Twenty Tuesday for March 16th 2021
#1 – C-Line X-Out MD
#2 – Signature Cryztal FLX ZONE
#3 – K1 STAL
#4 – Tour Series ESP BUZZZ
#5 – Z Glo RAPTOR
#6 – Z Sparkle ZONE
#7 – Aura MANTRA
#8 – K1 REKO
#9 – ESP HEAT
#10 – DX AVIAR
#11 – K1 KAXE
#12 – Signature I-Blend EMPEROR
#13 – K3 REKO
#14 – Star X-Out DESTROYER
#15 – R-Pro X-Out PIG
#16 – Star X-Out WRAITH
#17 – Star DESTROYER
#18 – Tour Series Z AVENGER SS
#19 – Crazy Tuff ZONE
#20 – OS Glo Jawbreaker BUZZZ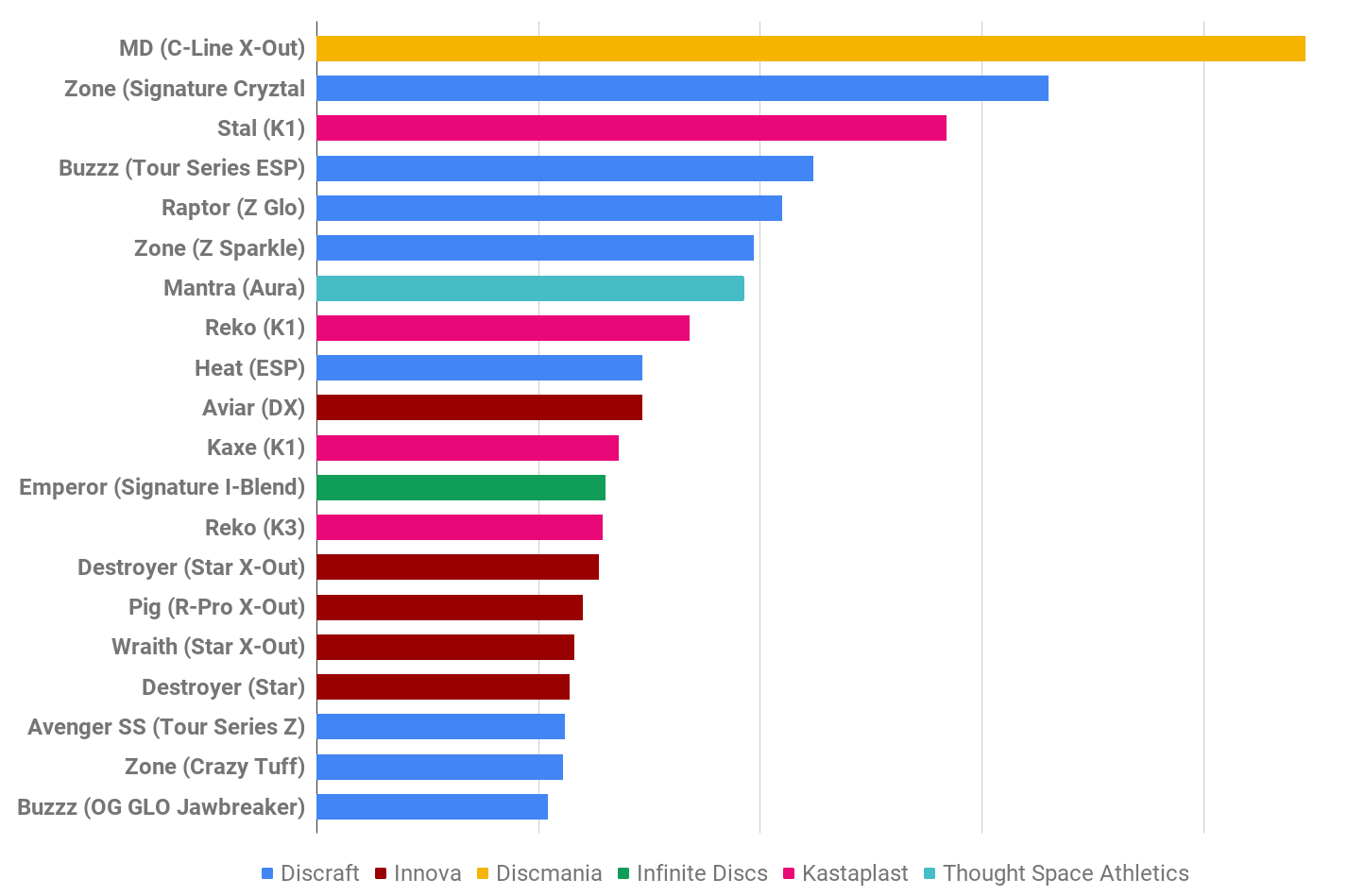 The number one disc this week is something of an oddity. We got several boxes of X-Out MD's that had been mis-stamped as MD2's, and they sold like crazy, taking the x-out up to number one. The 2nd place disc was the Signature Cryztal FLX ZONE with the "Get Freaky" stamp which came in stock last week. There's a healthy dose of special edition Discraft Ledgestone discs again, plus we restocked Innova X-Outs which boosted several X-Out models onto the chart. Kastaplast has had a strong showing this week as Infinite Discs has featured a couple of custom stamps, plus a Kastaplast logo stamp on some of their popular molds.
Kona Panis winning the Waco Charity Open gave her Signature I-Blend Emperor a boost for the week, plus the Mantra by Thought Space Athletics has kept a foot in the chart since it was released.
Here is a look at how many times the different brands appeared on the chart this week.
–> Each week we'll invite you to leave a prediction for a certain chart position on next week's TOP TWENTY TUESDAY report. The person to predict that chart position correctly in the comments will win a $10 gift card for the Infinite Discs website.
WINNER – The number 4 spot was the Tour Series ESP BUZZZ this week. Colby got it right with his guess and wins the gift card. Good job!
NEXT WEEK: Guess the #5 spot for next week. The first person to get it right (include the disc model and plastic type) will win!
THANKS FOR READING AND WATCHING EACH WEEK!