TOP TWENTY TUESDAY – MARCH 23RD 2021

Welcome to the Top 20 Tuesday chart! Every week we take a look at the twenty top-selling discs on the Infinite Discs website, broken down by plastic type as well. So these are the top sellers for the last seven days in order:
Top Twenty Tuesday for March 23rd 2021
#1 – Signature D-Blend ALPACA
#2 – Classic Blend EMAC JUDGE
#3 – C-Line X-Out MD
#4 – Signature I-Blend EMPEROR
#5 – Star DESTROYER
#6 – I-Blend PHARAOH
#7 – K1 STAL
#8 – DX AVIAR
#9 – K1 REKO
#10 – Z Sparkle ZONE
#11 – Metal Flake Glow C-Blend TOMB
#12 – Tour Series ESP BUZZZ
#13 – K3 REKO
#14 – Star WRAITH
#15 – Prime Burst JUDGE
#16 – Crazy Tuff ZONE
#17 – OS Glo Jawbreaker BUZZZ
#18 – Active Premium GENIUS
#19 – ESP HEAT
#20 – Signature Swirly S-Blend EMPEROR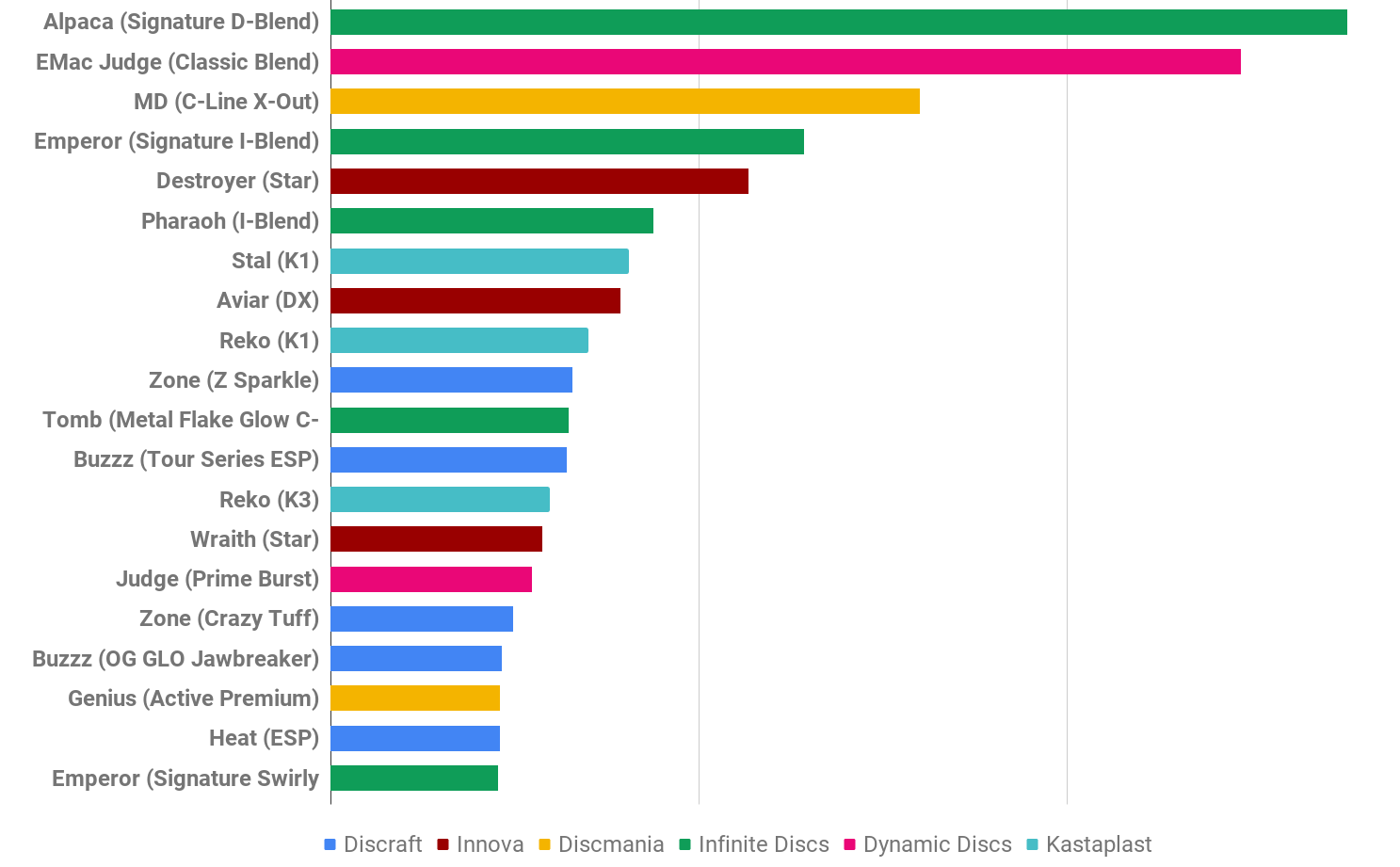 Infinite Discs had a very strong showing on last week's sales. The #1 spot was taken by the commemorative Kona Panis Signature D-Blend ALPACA after she took the #1 spot in FPO at the Waco tournament. Her Signature I-Blend Emperor also jumped back up to the #4 spot. Great job Kona!
The new EMac JUDGE by Dynamic Discs took a strong #2 spot and probably would have topped the chart if not for the fact that the sold out the same day they were listed. A lot of Discraft remained on the chart with the Ledgestone tournament support discs.
Here is a look at how many times the different brands appeared in this week's chart: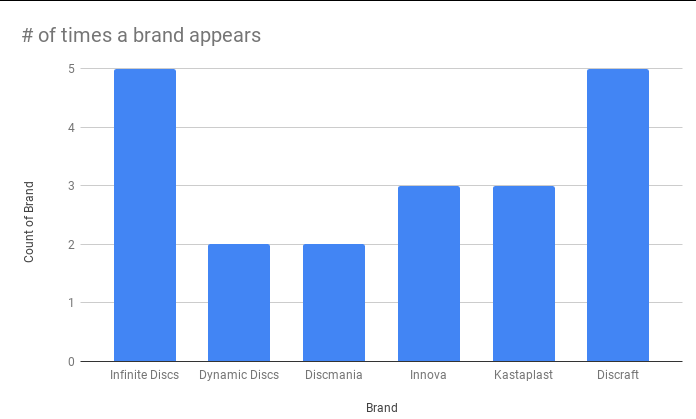 –> Each week we'll invite you to leave a prediction for a certain chart position on next week's TOP TWENTY TUESDAY report. The person to predict that chart position correctly in the comments will win a $10 gift card for the Infinite Discs website.
WINNER – The number 5 spot was the Star Destroyer this week. Colby got it right this week. Good job!
NEXT WEEK: Guess the #6 spot for next week. The first person to get it right (include the disc model and plastic type) will win!
THANKS FOR READING AND WATCHING EACH WEEK!