TOP TWENTY TUESDAY – MARCH 26TH 2019

Infinite Discs is happy to present another Top 20 Tuesday chart, looking back at the discs that sold the most during the last week. We break these charts down by plastics as well so you can see which plastic types are most popular for each disc. New discs will often spike in the chart as other top sellers shuffle position. It can be fun to see which discs keep up the pace.
Here we go…
Top Twenty Tuesday for March 26th, 2019
#1 – ESP KONG
#2 – Prism INSANITY
#3 – Discraft Special Blend LUNA
#4 – Elite Z RAPTOR
#5 – Champion Colored Glow FIREBIRD
#6 – Swirly Star BOSS
#7 – Signature ESP BUZZZ
#8 – Star DESTROYER
#9 – Star CORVETTE
#10 – D-Line P2
#11 – ESP BUZZZ
#12 – I-Blend X-Out EMPEROR
#13 – Fission PHOTON
#14 – Plasma MOTION
#15 – Star ORC
#16 – Metal Flake Glow C-Blend PHARAOH
#17 – Star WRAITH
#18 – Signature Elite Z ZONE
#19 – 400 X-Out D1 MAX
#20 – Elite Z BUZZZ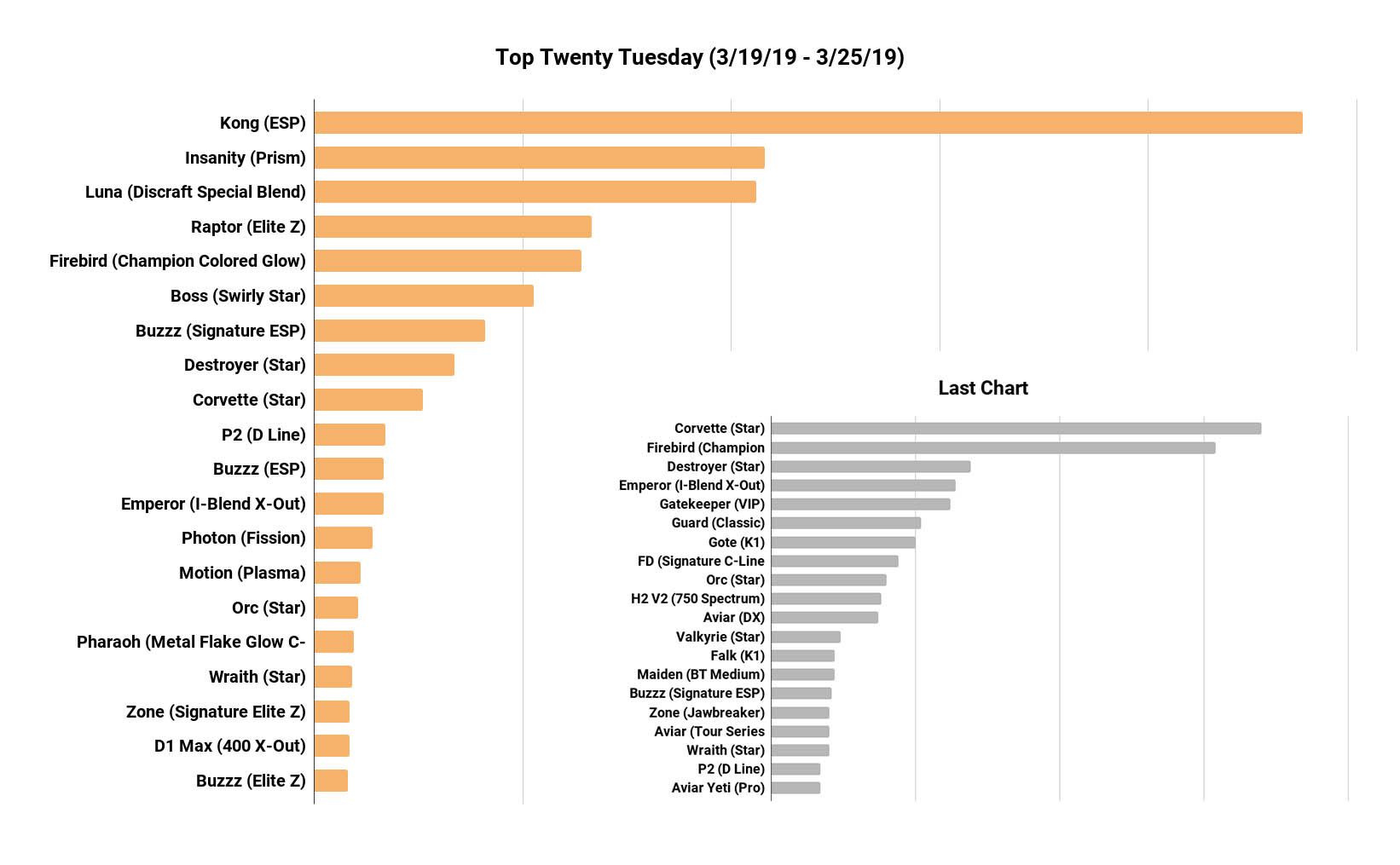 For anybody who knew in advance that the KONG was being released last Friday (which apparently was a lot of people) it was no surprise that that new disc from Discraft's Paul McBeth line would take the top spot this week. Coming in 2nd place was the Axiom INSANITY in the new Prism plastic– the first time we've seen a durable translucent rim on products from MVP / Axiom. The LUNA first run putter followed up closely in 3rd place. In strong 4th place went to the new RAPTOR from Discraft and 5th place went to the ever-popular Sexton glow FIREBIRD.
The Discraft BUZZZ mid-range took three spots in this week's top 20 with strong showings in the McBeth Signature ESP edition, the regular ESP edition, and the regular Elite Z edition. Two other strong movers this week were the Fission PHOTON and the Plasma MOTION by MVP.
The brand chart looks quite impressive for Discraft this week, where they took the most places on the chart with seven of the top 20, while Innova follows closely behind with 6 spots: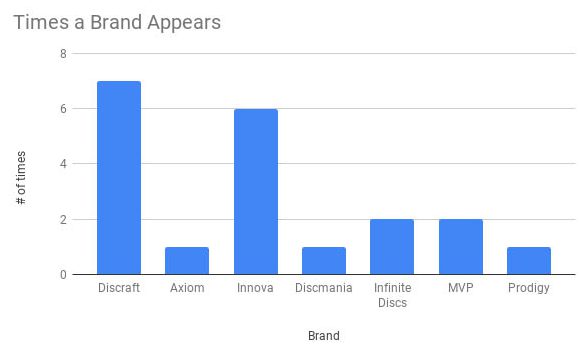 –> Each week we'll invite you to leave a prediction for a certain chart position on next week's TOP TWENTY TUESDAY report. The person to predict that chart position correctly in the comments will win a $10 gift card for the Infinite Discs website.
WINNER – The #5 spot this week was the Sexton Champion Colored Glow FIREBIRD and we had a few people give that disc a guess. We'll give it to the first three who guessed right, so congratulations to Derek, Christopher, and Clint!
GIFT CARD PREDICTION FOR NEXT WEEK:  Leave your comment below this blog to predict the #6 spot for next week's chart.