TOP TWENTY TUESDAY – MARCH 5th

Infinite Discs is happy to present another Top 20 Tuesday chart, looking back at the discs that sold the most during the last week. We break these charts down by plastics as well so you can see which plastic types are most popular for each disc. New discs will often spike in the chart as other top sellers shuffle position. It can be fun to see which discs keep up the pace.
Here we go…
Top Twenty Tuesday for March 5th, 2019
#1 – Star DESTROYER 
#2 – Swirly S-Line CD3
#3 – Signature ESP BUZZZ
#4 – ESP FORCE
#5 – Classic Blend Burst WARDEN
#6 – ESP BUZZZ
#7 – D-Line P2
#8 – 400 D1 MAX
#9 – Swirly S-Blend PHARAOH
#10 – S-Line TD RUSH
#11 – Star WRAITH
#12 – 750 Spectrum H2 V2
#13 – XT Mix NOVA
#14 – Apex ALPHA
#15 – 750 Spectrum M3
#16 – Metal Flake Glow C-Blend PHARAOH
#17 – Champion FIREBIRD
#18 – DX AVIAR
#19 – Champion THUNDERBIRD
#20 – I-Blend PHARAOH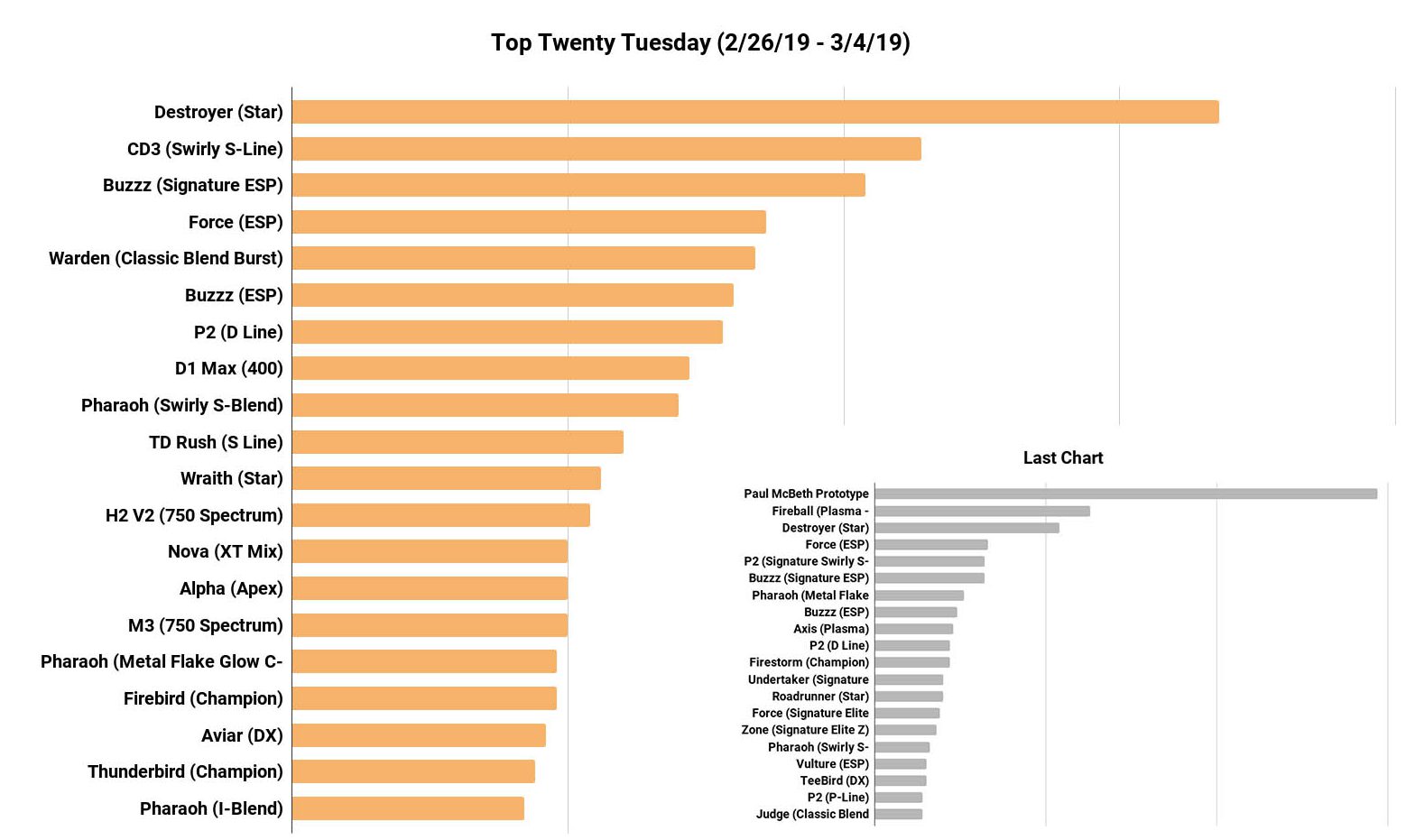 The first thing you may notice on this week's top 20 chart is that the Star Destroyer reclaimed its top position. With the sold out Paul McBeth putter, the top spot was surrendered. McBeth still held onto the #3 with his signature ESP Buzzz.  The #2 spot was claimed by a new plastic release for the Discmania CD3 in Swirly S-Line.  The Classic Blend Burst WARDEN surged to the 5th spot this time, gaining a little momentum with a slew of different stamp designs to choose from.
You'll also notice a strong entry into the charts for Prodigy as they released their D1 Max distance driver last week, along with a slew of pro signature discs. The Kevin Jones H2 V2 and M3 both hit the charts as popular sellers and are being restocked due to demand.  Also, three different plastic blends of the Pharaoh distance driver hit the top 20 this week as it continues to gain popularity as a trusty long-bomber.
Here is a chart showing how many times different brands appeared in the Top 20 this time: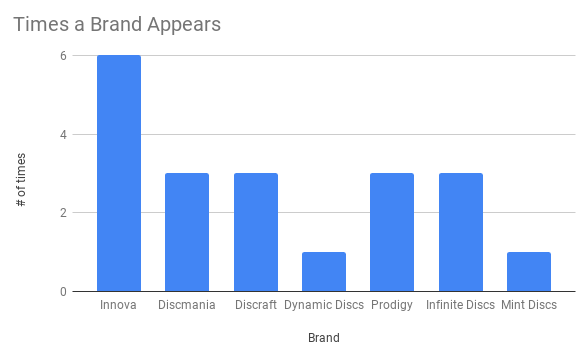 –> Each week we'll invite you to leave a prediction for a certain chart position on next week's TOP TWENTY TUESDAY report. The first three people to predict that chart position correctly in the comments will win a $10 gift card for the Infinite Discs website.
WINNER – There were a lot of people who guessed the #6 spot for this week. In fact, too many. As we've declared in the post every week, the first three people to guess right would win the gift card. So, according to the time stamps on the comments, we congratulate Javan, Drew, and Dustin for guessing the ESP Buzzz (not the Signature ESP Buzzz) as the #6 disc on the list.
GIFT CARD PREDICTION FOR NEXT WEEK:  Leave your comment below this blog to predict the #11 spot for next week's chart.