TOP TWENTY TUESDAY – MARCH 9TH 2021

Welcome to the Top 20 Tuesday chart! Every week we take a look at the twenty top-selling discs on the Infinite Discs website, broken down by plastic type as well. So these are the top sellers for the last seven days in order:
Top Twenty Tuesday for March 9th 2021
#1 – Z Sparkle ZONE
#2 – OS Glo Jawbreaker BUZZZ
#3 – Tour Series ESP BUZZZ
#4 – Rubber Blend Glo NUKE
#5 – Ethos MANTRA
#6 – Cryztal Glo FLX RINGER
#7 – Z Glo RAPTOR
#8 – Glo Sparkle VULTURE
#9 – Star DESTROYER
#10 – Star WRAITH
#11 – Tour Series Z AVENGER SS
#12 – Tour Series Jawbreaker METEOR
#13 – C-Line X-Out MD
#14 – Splatter S-Blend PHARAOH
#15 – Cryztal FLX Sparkle BANGER GT
#16 – Discraft Putter FIERCE
#17 – K1 KAXE
#18 – Big Z FLASH
#19 – ESP ZONE
#20 – DX AVIAR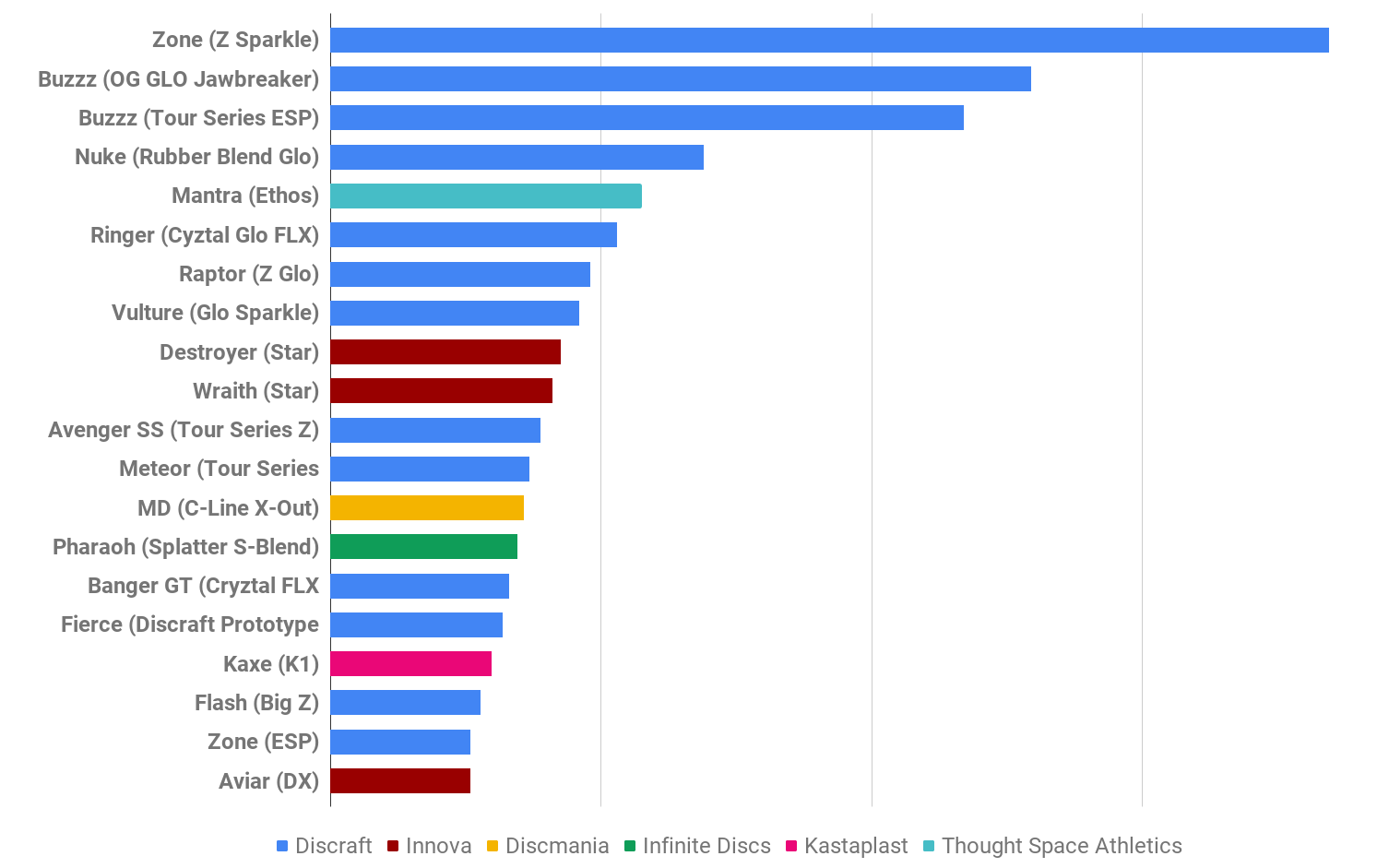 This week's chart was dominated by Discraft due to the Ledgestone tournament support disc drop. Those discs have only gone up in value year after year, so our customers tend to get excited about them. The Z Sparkle ZONE took the #1 spot with the OS Glo Jawbreaker and Tour Series ESP BUZZZ discs chasing at #2 and #3.
The Ethos MANTRA jumped up to #5 on the chart with a late release, trailing the other plastic types.
Here is a look at how many times the different brands showed up in the chart this week: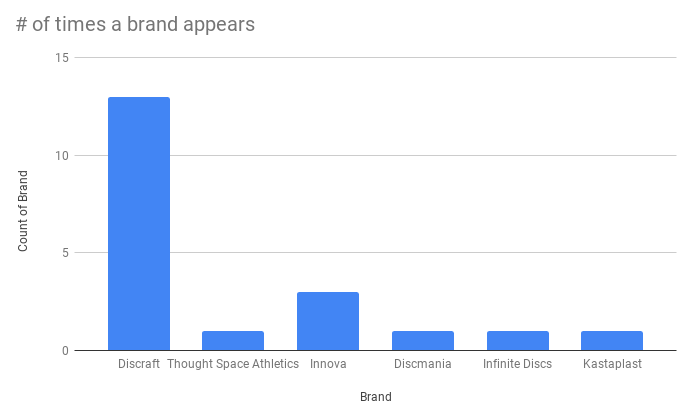 –> Each week we'll invite you to leave a prediction for a certain chart position on next week's TOP TWENTY TUESDAY report. The person to predict that chart position correctly in the comments will win a $10 gift card for the Infinite Discs website.
WINNER – The number 12 spot was the Tour Series Jawbreaker METEOR. Zack actually said "CT (Crazy Tuff) Glo Jawbreaker Meteor" which is close, but then corrected himself to the Wasp, which is a different disc. Dang it, Zack, you almost had it!
NEXT WEEK: Guess the #4 spot for next week. The first person to get it right (include the disc model and plastic type) will win!
THANKS FOR READING AND WATCHING EACH WEEK!