TOP TWENTY TUESDAY – MAY 11TH 2021

Welcome to the Top 20 Tuesday chart! Every week we take a look at the twenty top-selling discs on the Infinite Discs website, broken down by plastic type as well. So these are the top sellers for the last seven days in order.
Top Twenty Tuesday for May 11th 2021
#1 – Star DESTROYER
#2 – Halo Star X-Out TEEBIRD3
#3 – Ethereal MANTRA
#4 – P-Blend Glow ANUBIS
#5 – Halo Star X-Out SAVANT
#6 –  Halo Star X-Out SIDEWINDER
#7 – ESP ZONE
#8 – D-Blend ALPACA
#9 – Signature ESP MALTA
#10 – Star WRAITH
#11 – 350G PA-3
#12 –Jawbreaker BUZZZ
#13 – Prime Burst JUDGE
#14 – Pro Glow PIG
#15 – BaseGrip P MODEL S
#16 – Discraft Special Blend LUNA
#17 – Star VALKYRIE
#18 – Halo Star WRAITH
#19 – DX AVIAR
#20 – Champion X-Out MAKO3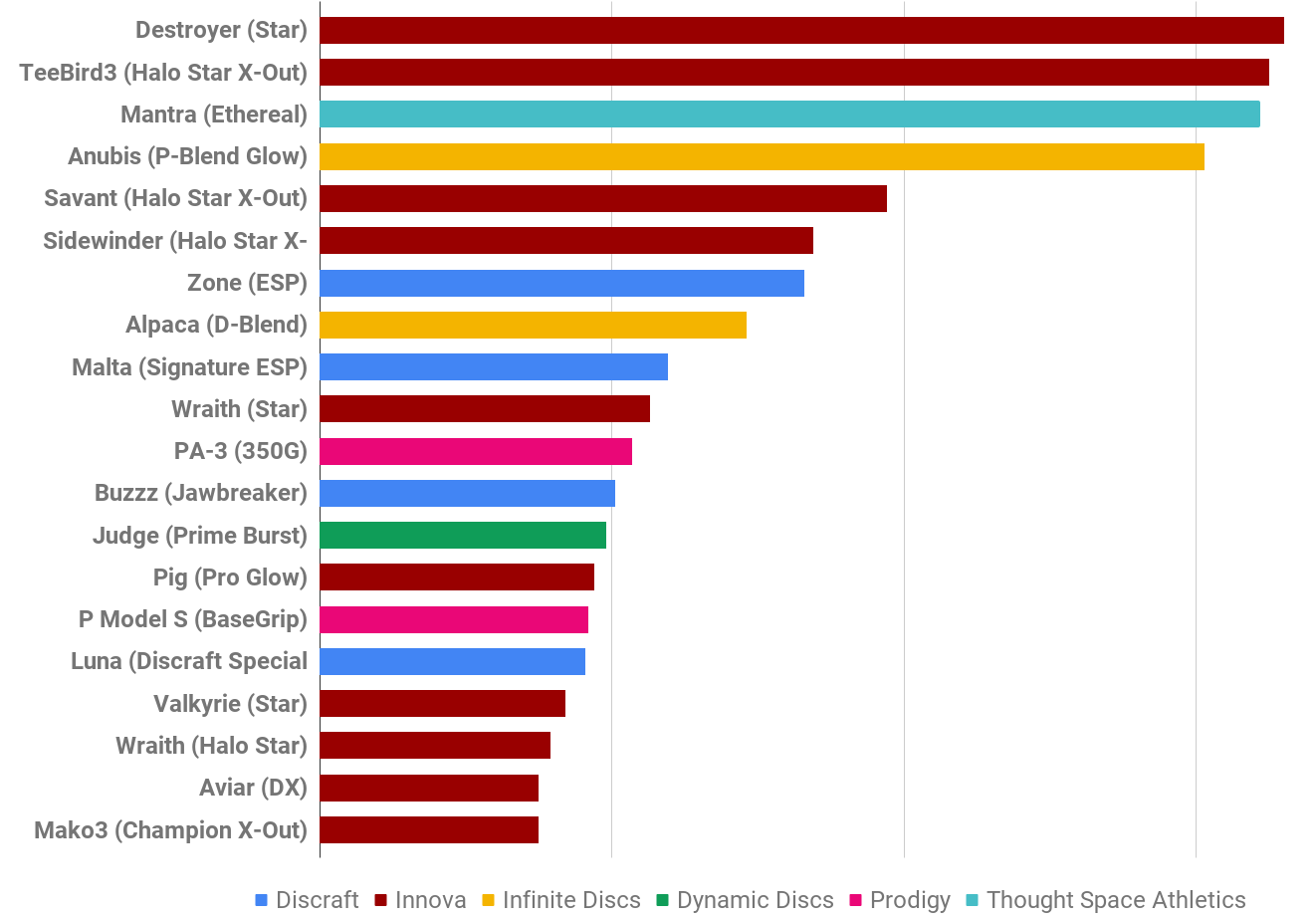 Innova jumped back into the top two spots this week with the #1 Star DESTROYER and the #2 Halo Star X-Out TEEBIRD3. They also filled out quite a bit of the top 20 chart with a mix of stock and X-Out discs. The P-Blend Glow ANUBIS debuted in the #4 spot this week, hot on the heals of the #3 Ethereal MANTRA which was added to the website with the Thought Space Athletics logo stamp.
Here is a look at how many times the different brands appeared in this week's chart: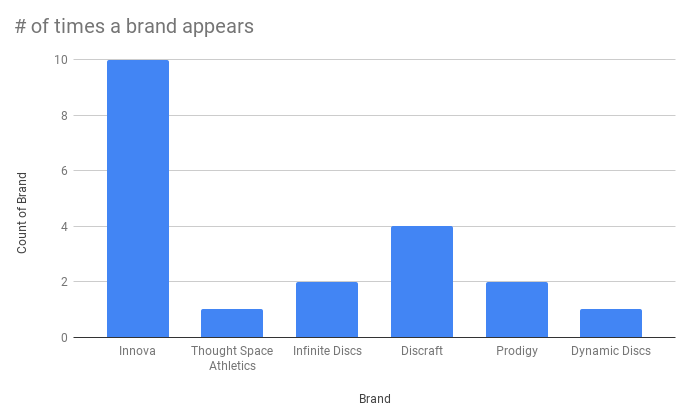 –> Each week we'll invite you to leave a prediction for a certain chart position on next week's TOP TWENTY TUESDAY report. The person to predict that chart position correctly in the comments will win a $10 gift card for the Infinite Discs website.
WINNER – This week the #11 spot was the 350G PA-3 putter by Prodigy. As the disc shortage continues to intensify, it will likely become more and more difficult to guess what is going to hit the chart when any restock tends to spur a run on that particular disc. There weren't any guesses for that Prodigy putter, so no winners this week.
NEXT WEEK: Guess the #5 spot for next week. The first person to get it right (include the disc model and plastic type) will win!
THANKS FOR READING AND WATCHING EACH WEEK!