TOP TWENTY TUESDAY – MAY 18TH 2021

Welcome to the Top 20 Tuesday chart! Every week we take a look at the twenty top-selling discs on the Infinite Discs website, broken down by plastic type as well. So these are the top sellers for the last seven days in order.
Top Twenty Tuesday for May 19th 2021
#1 – ESP SURGE SS
#2 – D-Blend ALPACA
#3 – Star DESTROYER
#4 – Splatter S-Blend PHARAOH
#5 – R-Pro PIG
#6 – ESP ZONE
#7 – Star WRAITH
#8 – Champion X-Out FIREBIRD
#9 – K1 GRYM
#10 – Signature ESP MALTA
#11 – Neo ESSENCE
#12 – XT NOVA
#13 – Egg Shell PTERODACTYLUS
#14 – Pro Glow PIG
#15 – Ethereal MANTRA
#16 – K1 SVEA
#17 – Champion X-Out MAKO3
#18 – Gummy C-Blend PHARAOH
#19 – Z-Line AVENGER SS
#20 – Star X-Out FIREBIRD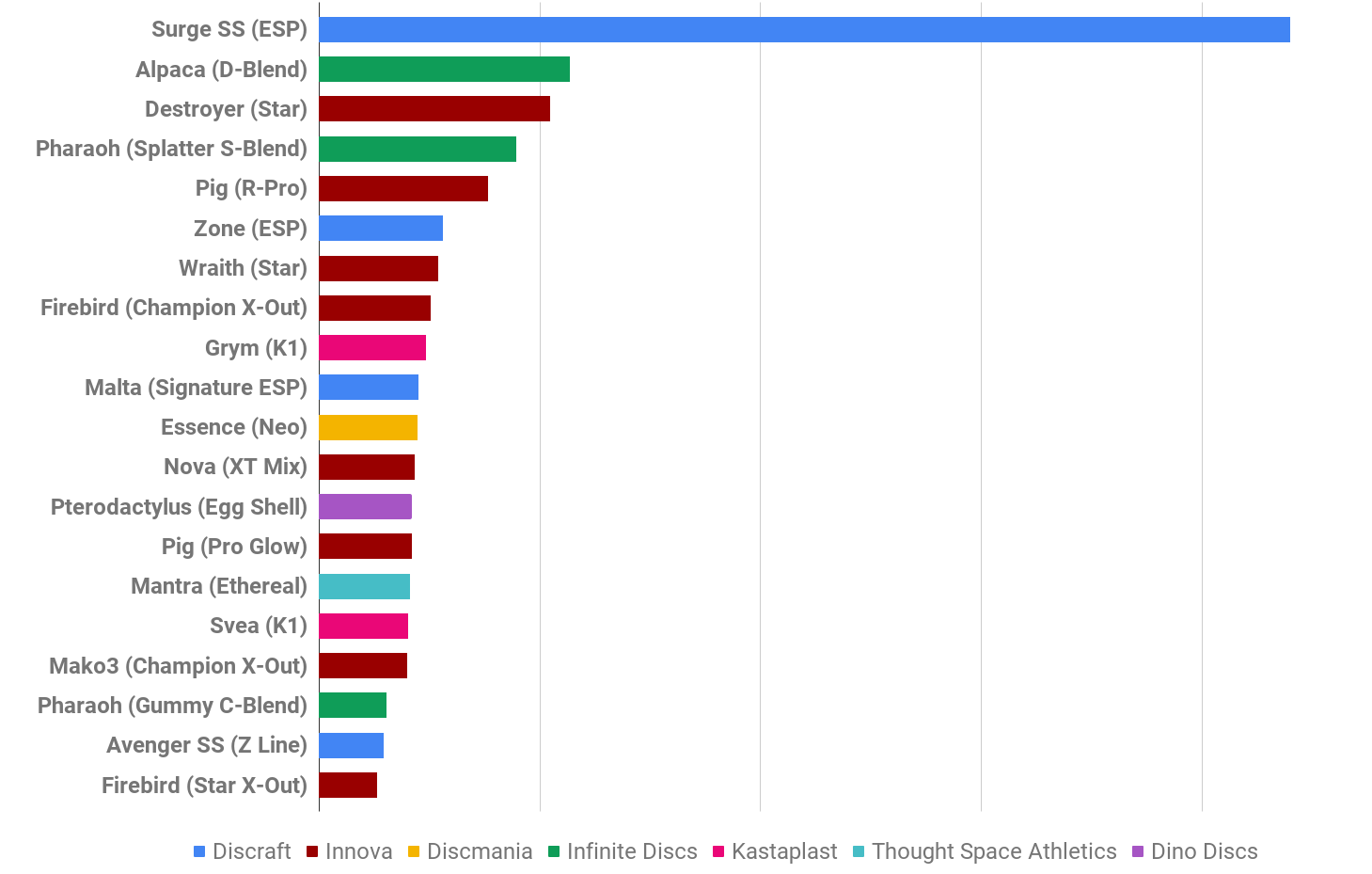 One of the major highlights of the last week was obviously the limited run of Surge SS discs from Discraft. They sold out in 24 hours as most limited runs by Discraft do. The #2 spot was taken by the D-Blend ALPACA, still gaining traction as a very popular putter in the market. The #3 spot was taken by an old favorite, the Star DESTROYER by Innova. As it has been for over a year, the chart was mostly decided by what Infinite Discs was able to get in stock. The demand for discs remains high, but the availability is spotty with only certain models coming in stock here and there.
Here is a look at how many times the different brands appeared on the chart this week: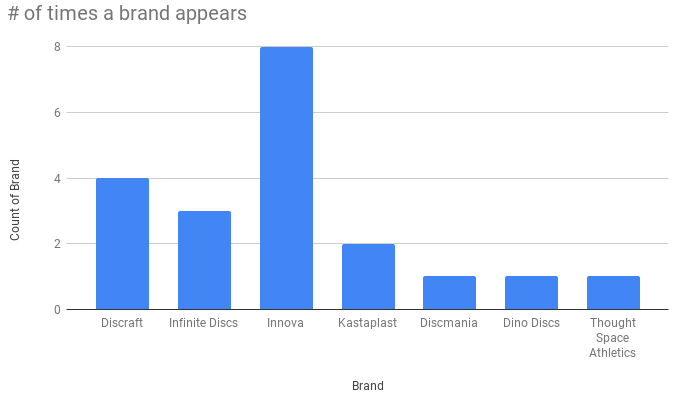 –> Each week we'll invite you to leave a prediction for a certain chart position on next week's TOP TWENTY TUESDAY report. The person to predict that chart position correctly in the comments will win a $10 gift card for the Infinite Discs website.
WINNER – This week the #5 spot was the ESP ZONE. It looks like this week's winner is MACK who picked the ESP Zone as the #5. Congratulations Mack!
NEXT WEEK: Guess the #6 spot for next week. The first person to get it right (include the disc model and plastic type) will win!
THANKS FOR READING AND WATCHING EACH WEEK!