TOP TWENTY TUESDAY – MAY 25TH 2021

Welcome to the Top 20 Tuesday chart! Every week we take a look at the twenty top-selling discs on the Infinite Discs website, broken down by plastic type as well. So these are the top sellers for the last seven days in order.
Top Twenty Tuesday for May 25th 2021
#1 – Royal Grand RIVE
#2 – Cryztal FLX Sparkle BUZZZ
#3 – Star DESTROYER
#4 – Big Z ZONE
#5 – I-Blend KON TIKI
#6 – D-Blend ALPACA
#7 – R-Pro PIG
#8 – Star FIREBIRD
#9 – DX AVIAR
#10 – Cryztal Sparkl BUZZZ SS
#11 – Tour Series Z SURGE
#12 – Tour Series Z NUKE SS
#13 – Titanium Swirl WASP
#14 – Halo Star DESTROYER
#15 – Titanium Swirl ZOMBEE
#16 – Cryztal Sparkle STING
#17 – Big Z CRANK SS
#18 – Tour Series ESP VENOM
#19 – Star WRAITH
#20 – Z-Line AVENGER SS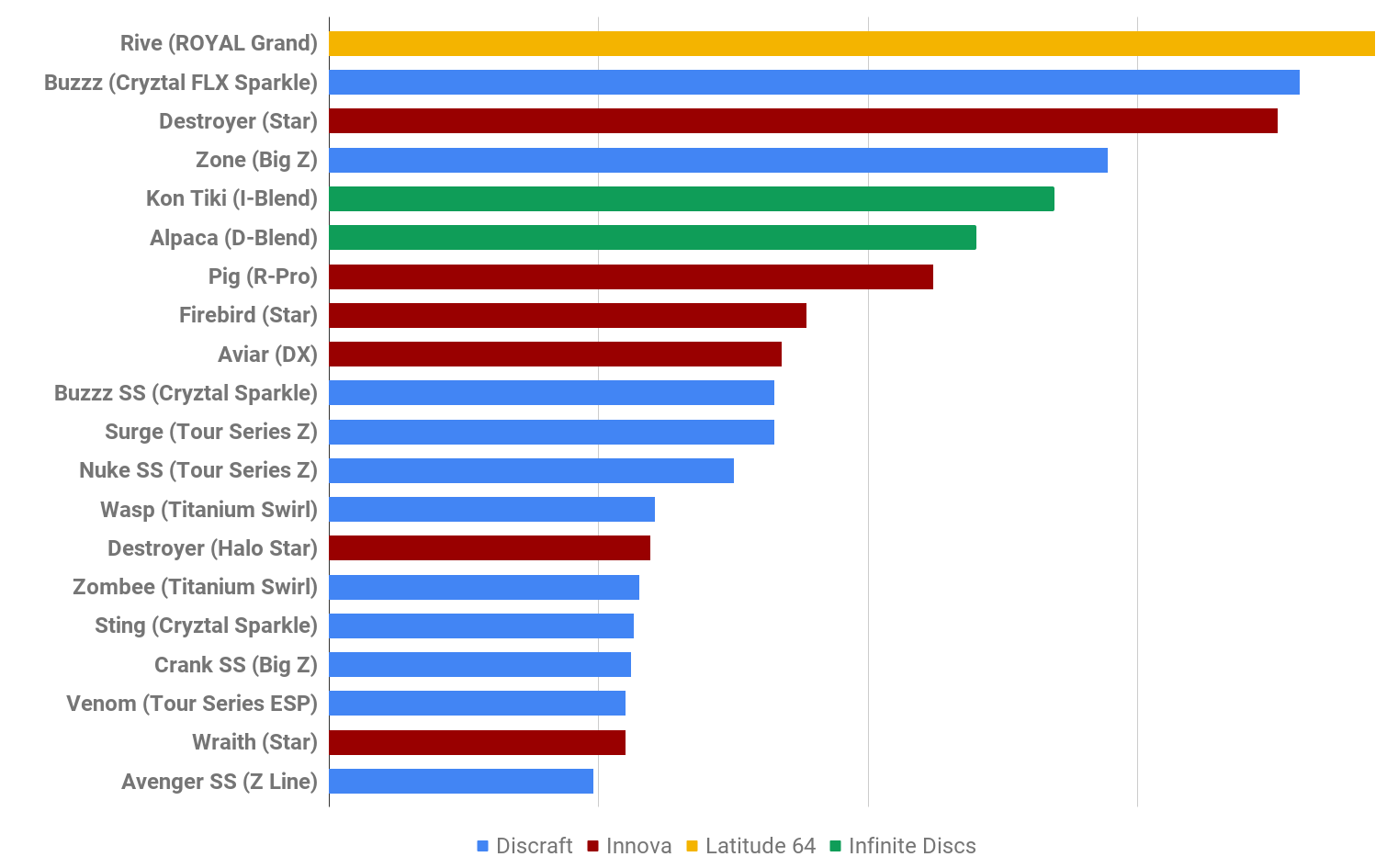 This week the new Royal RIVE from Latitude 64 took the #1 spot this week with its First Run launch. It's an overstable distance driver in a new Royal plastic blend. Much of the rest of the chart was dominated by some of the Ledgestone Edition discs from DISCRAFT which are always popular and sell quickly. Infinite Discs had a couple of discs on the chart with the #5 I-Blend KON TIKI and the #6 D-Blend ALPACA.
Here is a look at how many times the different brands appear on this week's chart: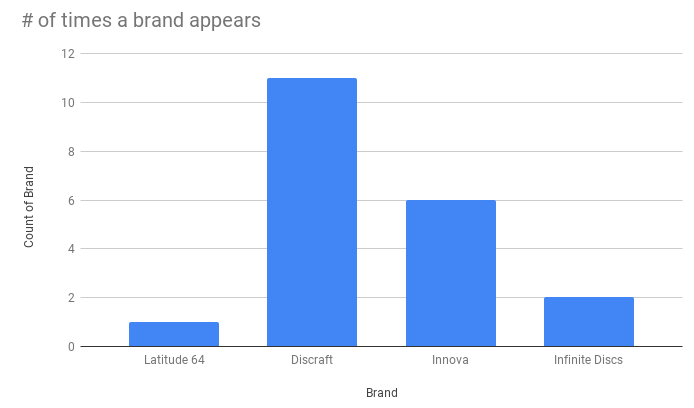 –> Each week we'll invite you to leave a prediction for a certain chart position on next week's TOP TWENTY TUESDAY report. The person to predict that chart position correctly in the comments will win a $10 gift card for the Infinite Discs website.
WINNER – This week the #6 spot was the D-Blend ALPACA. There were a couple of guesses for the D-Blend Alpaca, but it looks like ROB came in first. Congratulations Rob!
NEXT WEEK: Guess the #7 spot for next week. The first person to get it right (include the disc model and plastic type) will win!
THANKS FOR READING AND WATCHING EACH WEEK!