TOP TWENTY TUESDAY – NOVEMBER 10TH 2020

It is time once again for our look back at the last week of sales. This weekly chart is generated from the sales figures at Infinite Discs – the purchases made by our customers are the only contributing factor to the statistics. We break the results down by disc model and plastic type so you can see which plastic types are selling the most. Here we go…
Top Twenty Tuesday for November 10th 2020
#1 – Signature Cryztal FLX ZONE
#2 – Discraft Prototype Putter Blend FIERCE
#3 – Star DESTROYER
#4 – Lucid BOUNTY
#5 – Discraft Special Blend LUNA
#6 – Halo Star WRAITH
#7 – Cosmic Neutron TESLA
#8 – ESP STALKER
#9 – DX AVIAR
#10 – Z Glo BUZZZ
#11 – Cosmic Electron Soft PILOT
#12 – KC Pro AVIAR
#13 – Star WRAITH
#14 – Opto SAPPHIRE
#15 – Cosmic Electron Firm PILOT
#16 – Halo Star DESTROYER
#17 – Star MAKO3
#18 – Z-Line UNDERTAKER
#19 – Cosmic Electron PILOT
#20 – Tour Series Pro Color Glow ROC3
We've got a pretty diverse chart this week with the Cryztal FLX ZONE taking the #1 spot and the Paige Pierce FIERCE putter taking the #2 spot with the Star DESTROYER rising back to #3. The new Lucid BOUNTY by Dynamic Discs debuted in the #4 spot with a strong release. Also, the Streamline PILOT came out in Cosmic Electron plastic, hitting the chart with Soft, Medium, and Firm varieties. We continue to expect popular disc models to hit the chart and then drop off quickly as they come in stock, then sell out quickly.
Here is a look at the number of times the different brands hit the chart this week, with Innova taking the most spots: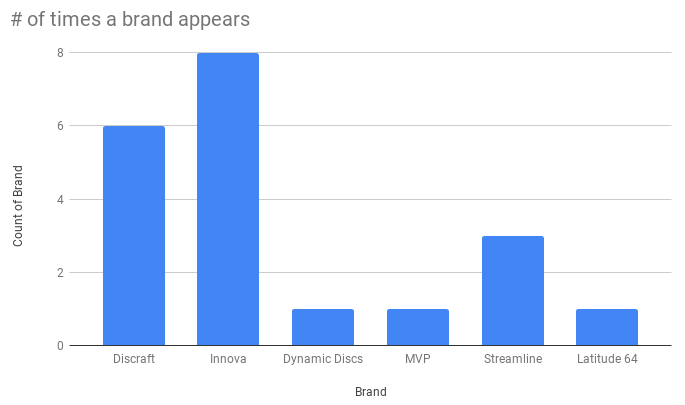 –> Each week we'll invite you to leave a prediction for a certain chart position on next week's TOP TWENTY TUESDAY report. The person to predict that chart position correctly in the comments will win a $10 gift card for the Infinite Discs website.
WINNER – The #6 spot this week went to the Halo Star WRAITH. It looks like Owen won the guessing this week for the gift card. Congratulations!
GIFT CARD PREDICTION FOR NEXT WEEK:  Leave your comment below to guess the #7 spot for next chart.  It will go to the FIRST person to get it right. Good luck!