TOP TWENTY TUESDAY – NOVEMBER 24TH 2020

It is time once again for our look back at the last week of sales. This weekly chart is generated from the sales figures at Infinite Discs – the purchases made by our customers are the only contributing factor to the statistics. We break the results down by disc model and plastic type so you can see which plastic types are selling the most. Here we go…
Top Twenty Tuesday for November 24th 2020
#1 – ESP BUZZZ
#2 – Signature Cryztal FLX ZONE
#3 – DX X-Out SONIC
#4 – Discraft Prototype Putter Blend FIERCE
#5 – Z Line AVENGER SS
#6 – Star X-Out MAMBA
#7 – Star X-Out MAKO3
#8 – Halo Star DESTROYER
#9 – Halo Star WRAITH
#10 – Ground Plastic AXE
#11 – Star DESTROYER
#12 – Star WRAITH
#13 – ESP THRASHER
#14 – Z Line UNDERTAKER
#15 – Star X-Out TEEBIRD
#16 – Star X-Out LEOPARD
#17 – Neo ORIGIN
#18 – Moonshine DD VANDAL
#19 – Neutron RELAY
#20 – DX AVIAR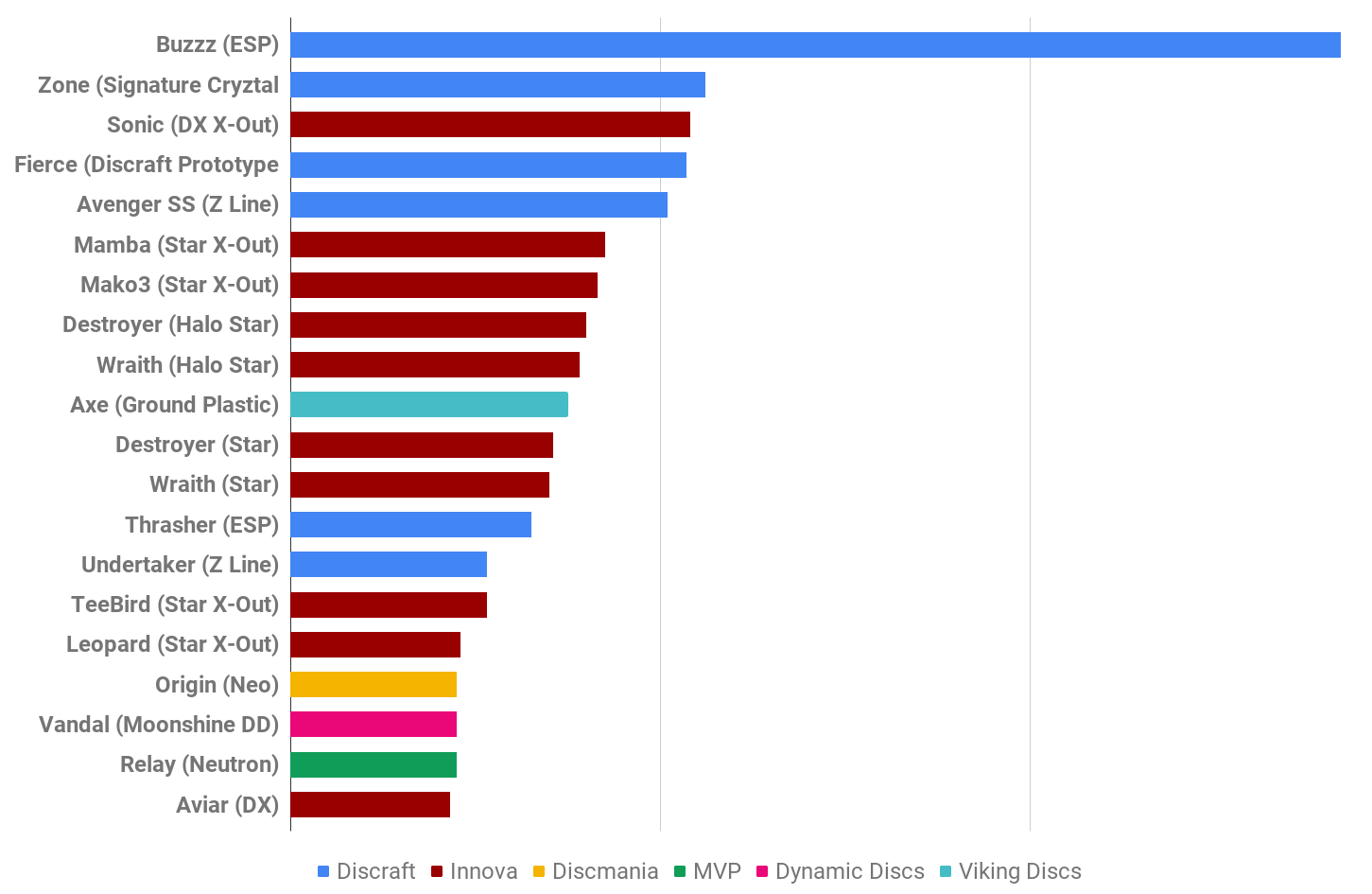 The chart for the last week has a surprising number of X-Out (factory seconds) from Innova. We did get a load of X-Outs that we wanted to add to the online store in time for holiday shopping, but it looks like our customers got an early jump on those deals. The X-Out Sonic even hit #3 with a total of five different X-Out molds on the chart for Innova.
Here is a look at how many times the different brands appeared on this week's chart:
–> Each week we'll invite you to leave a prediction for a certain chart position on next week's TOP TWENTY TUESDAY report. The person to predict that chart position correctly in the comments will win a $10 gift card for the Infinite Discs website.
WINNER – The #8 spot this week was taken by the Halo Star Destroyer. There was a battle to select Star Destroyer, but Colby was the first to pick Halo Star Destroyer, so he's the winner this week. Congratulations!
NOTE: There will be no Top 20 Tuesday for a couple of weeks as Infinite Discs launches the Black Friday "Week of Deals" that will features a lot of special edition releases. Because of the chaos surrounding this annual event, we will take a break from the charting until after the dust settles. Then we'll come back with a Top 20 Tuesday that will show how all of the special editions faired. 
THANKS FOR READING AND WATCHING EACH WEEK!