TOP TWENTY TUESDAY – OCTOBER 29TH 2019

Welcome to another Top 20 Tuesday sales chart. We break these charts down by plastics as well so you can see which plastic types are most popular for each disc. New discs will often spike in the chart as other top sellers shuffle position. The chart is created by sales figures that are pulled from all Infinite Discs sales for the previous week — our customers decide the results with their purchases.
Top Twenty Tuesday for October 29th, 2019
#1 – Eclipse CRAVE
#2 – R-Pro PIG
#3 – Star DESTROYER
#4 – Lucid X SUSPECT
#5 – Discraft Special Blend LUNA
#6 – Star WRAITH
#7 – D-Line P2
#8 – Prism Neutron PYRO
#9 – Electron MATRIX
#10 – Z Glo BUZZZ
#11 – Cosmic Neutron PILOT
#12 – ESP BUZZZ
#13 – Luster AVIAR3
#14 – Fission PHOTON
#15 – Cosmic Neutron DRIFT
#16 – ESP ANAX
#17 – Tortoise Line TOMAHAWK
#18 – Neutron INERTIA
#19 – Plasma SHOCK
#20 – Plasma CRAVE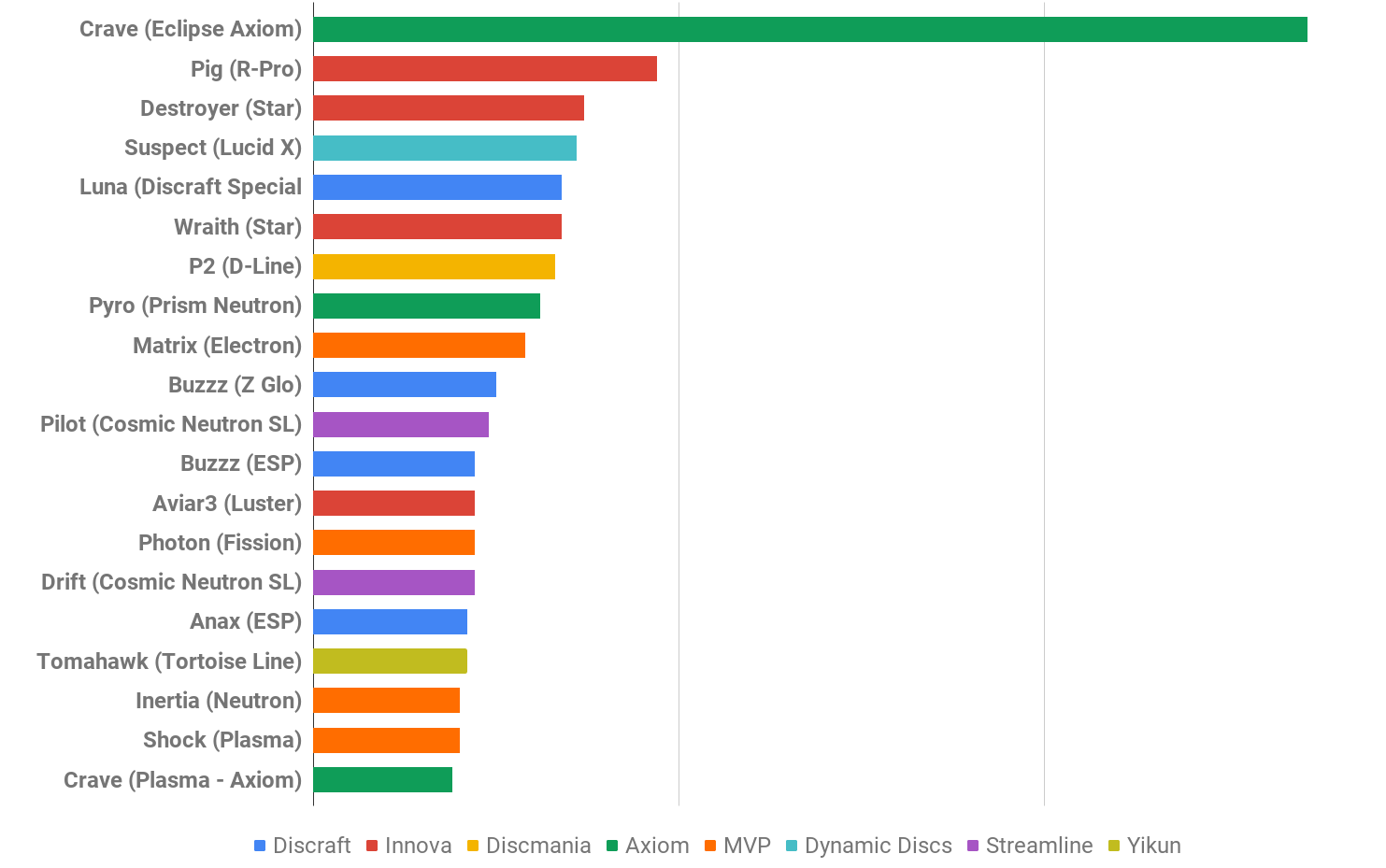 The chart was ruled by new releases this week, with the new Eclipse CRAVE by Axiom taking the #1 spot. Other new releases by Axiom, MVP, and Streamline all his the top 20 as well. The Prism Neutron PYRO hit at #8, the Cosmic Neutron Pilot at #11, the Cosmic Neutron Drift at #15, and the Plasma Shock at #19, along with some other molds from the brand that touched the chart because of the Goblin King stamp release through Infinite Discs.
The R-Pro PIG jumped up to the #2 spot with another fun stamp release. The Lucid X Suspect took the #4 spot because of the Paige Pierce signature release (now a 5-times world champion). The Z Glo Buzzz hit the chart at #10 because of the spooky Halloween edition. The Luster Aviar3 had an XXL limited edition stamp that took it onto the chart at #13, etc. So, a lot of new releases were in there.
Let's take a look at how many times different brands hit the chart. If you add up Axiom, MVP, and Streamline (all the same manufacturer) then there were NINE of the 20 spots taken by them: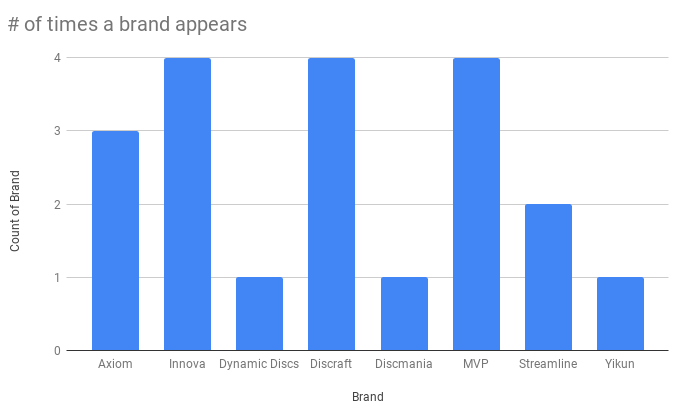 –> Each week we'll invite you to leave a prediction for a certain chart position on next week's TOP TWENTY TUESDAY report. The person to predict that chart position correctly in the comments will win a $10 gift card for the Infinite Discs website.
WINNER – The number 10 spot went to the Z Glo Buzzz this week, getting a boost from the Halloween stamp. There were a couple of ESP Buzzz guesses, but nobody picked the Z Glow Buzzz. No winner this week 🙁
GIFT CARD PREDICTION FOR NEXT WEEK:  Leave your comment below to guess the #5 spot for next week. It will go to the FIRST person to get it right. Good luck!