TOP TWENTY TUESDAY – OCTOBER 6TH 2020

It is time once again for our look back at the last week of sales. This weekly chart is generated from the sales figures at Infinite Discs – the purchases made by our customers are the only contributing factor to the statistics. We break the results down by disc model and plastic type so you can see which plastic types are selling the most. Here we go…
Top Twenty Tuesday for October 6th 2020
#1 – Discraft Special Blend LUNA
#2 – DX Color Glow AVIAR
#3 – Egg Shell STEGOSAURUS
#4 – Signature Swirly S-Blend SPHINX
#5 – Egg Shell BRACHIOSAURUS
#6 – Star WRAITH
#7 – D-Line FD
#8 – Star DESTROYER
#9 – Halo Star TERN
#10 – Egg Shell PTERODACTYLUS
#11 – DX AVIAR
#12 – Z Line ZONE
#13 – Egg Shell TYRANOSAURUS REX
#14 – Star MAKO3
#15 – I-Blend X-Out ANUBIS
#16 – Champion MAKO3
#17 – I-Blend MAYA
#18 – S-Line P2
#19 – Star ROADRUNNER
#20 – Jawbreaker ROACH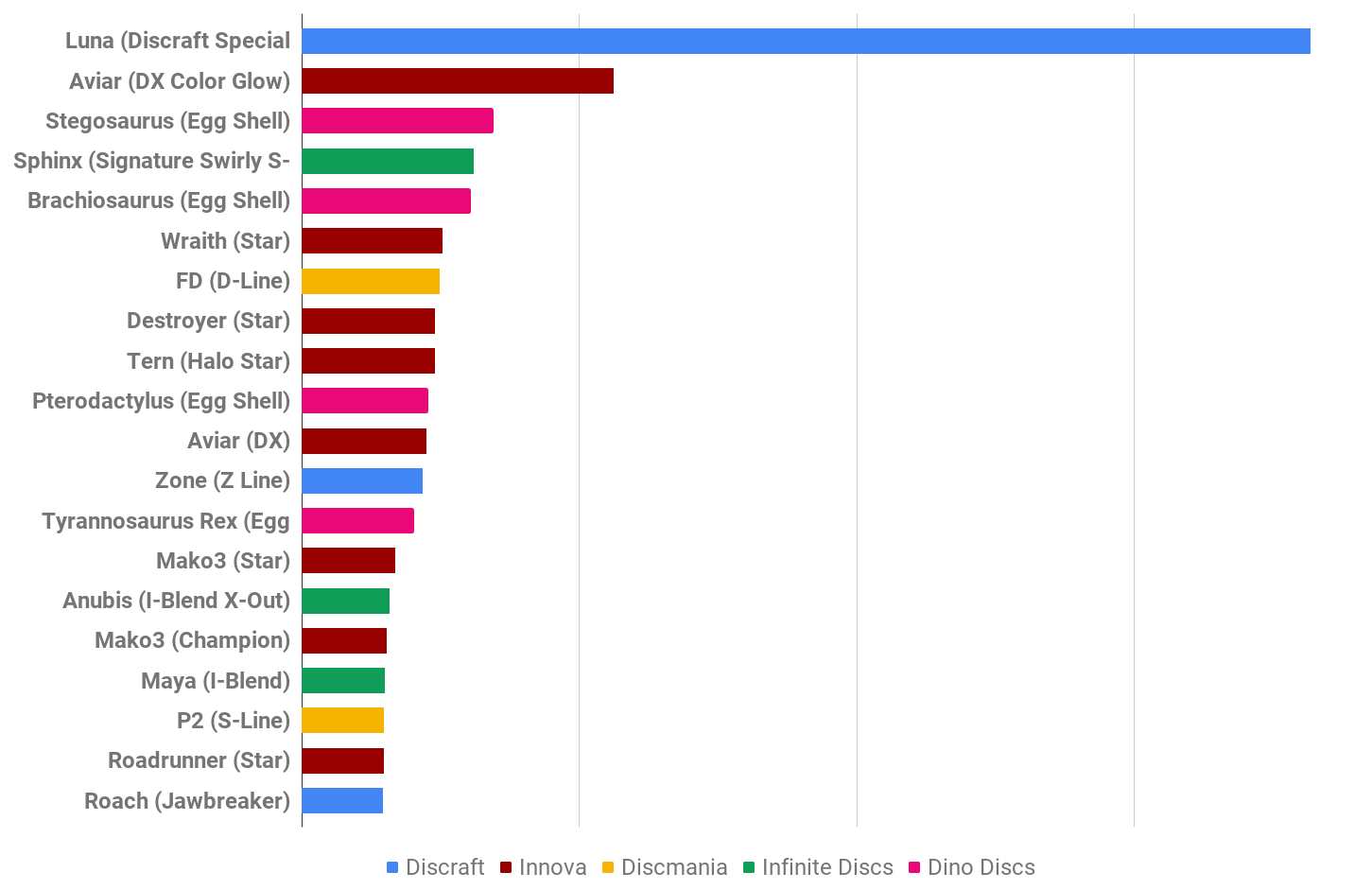 We've got another very odd chart this week as the ebb and flow of inventory washes through the warehouse. Luna's showed up on Monday, instantly kicking that disc to the #1 spot by a long-shot. The DX Color Glow AVIAR came in #2 with it's annual pumpkin stamp release. Oddly, we had all 4 of the Dino Discs that were released last week show up on the chart. Apparently a good number of disc golfers want lightweight discs for their kids and scooped those up right away.
Here is a look at how many times the different brands hit the chart this week with Innova taking the top spot with 8 discs in the top 20: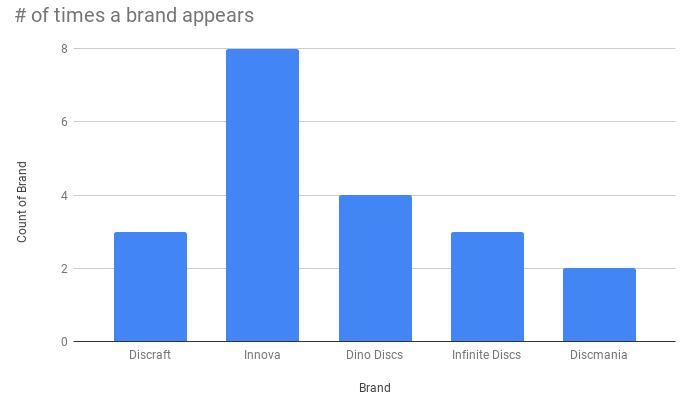 –> Each week we'll invite you to leave a prediction for a certain chart position on next week's TOP TWENTY TUESDAY report. The person to predict that chart position correctly in the comments will win a $10 gift card for the Infinite Discs website.
WINNER – The #12 this was the Z Line ZONE by Discraft. It looks like Jared guess it this week and is our $10 gift card winner. Congratulations!
GIFT CARD PREDICTION FOR NEXT WEEK:  Leave your comment below to guess the #13 spot for next chart.  It will go to the FIRST person to get it right. Good luck!