TOP TWENTY TUESDAY – SEPTEMBER 10TH 2019

Welcome to another Top 20 Tuesday sales chart. We break these charts down by plastics as well so you can see which plastic types are most popular for each disc. New discs will often spike in the chart as other top sellers shuffle position. The chart is created by sales figures that are pulled from all Infinite Discs sales for the previous week — our customers decide the results with their purchases.
Top Twenty Tuesday for September 10th, 2019
#1 – Swirly S-Blend PHARAOH
#2 – Opto-X Chameleon PURE
#3 – D-Line P2
#4 – Opto DIAMOND
#5 – Star DESTROYER
#6 – Neo ENIGMA
#7 – ESP ZEUS
#8 – R-Pro PIG
#9 – ESP ANAX
#10 – Lucid RAIDER
#11 – DX X-Out AVIAR
#12 – S-Blend PHARAOH
#13 – Concrete SLAB
#14 – Prime Burst DEPUTY
#15 – Nexus FIREFLY
#16 – EXO Soft LINK
#17 – EXO Hard Link
#18 – Swirly S-Blend X-Out PHARAOH
#19 – Star VALKYRIE
#20 – Fuzion RAIDER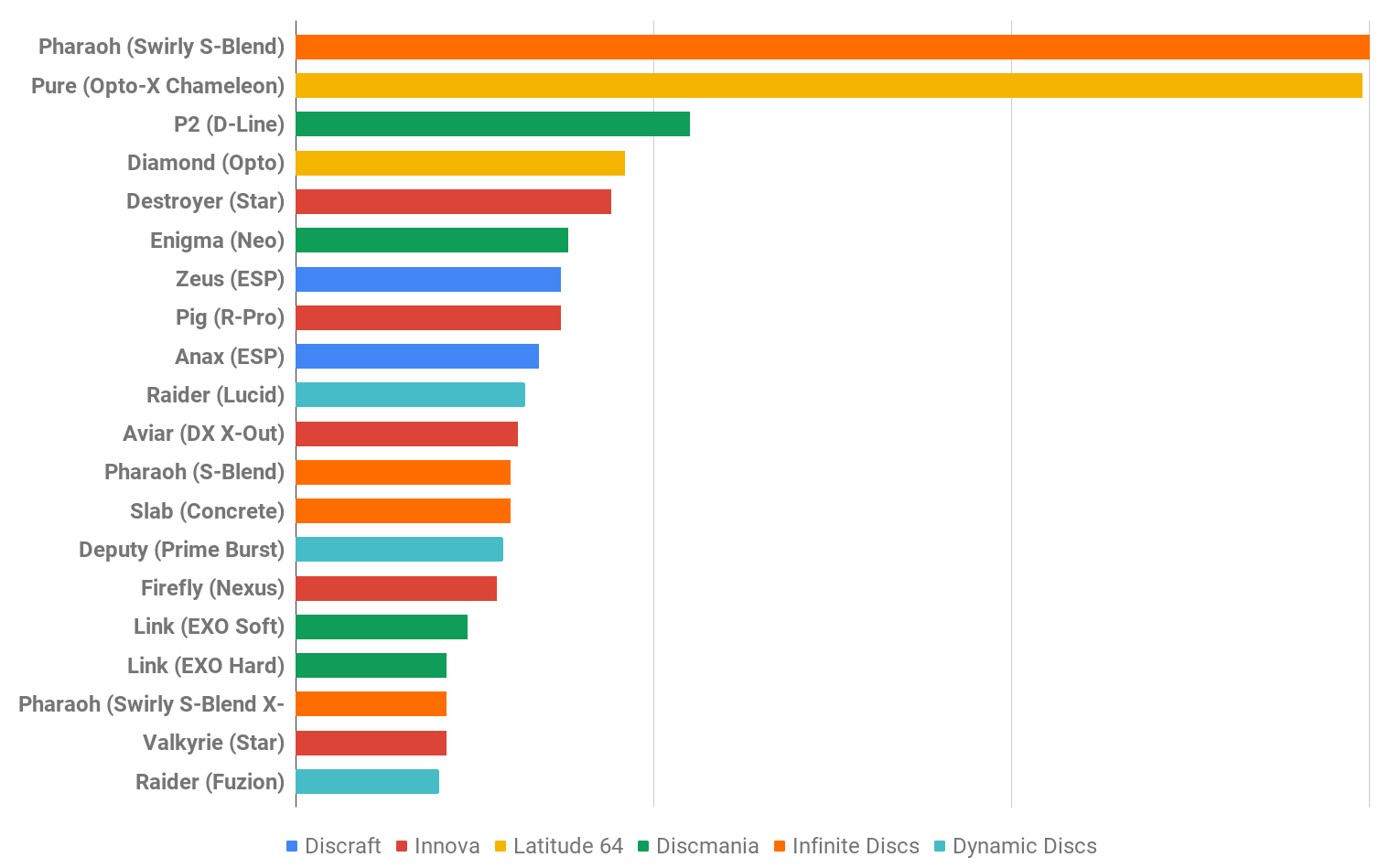 The PHARAOH by Infinite Discs had a good week with some "Eye of Horus" stamped discs that came in from the factory, including the remaining Swirly S-Blend discs from both Run 2 and Run 5, plus a few S-Blend "Run 6" white discs. The Pharaoh hit the chart three times, including in X-Outs. The very collectible and visually impressive Opto-X Chameleon PURE discs from Latitude 64 also sold-out immediately and took the #2 spot on the chart, while the heavy Opto DIAMOND release lifted that disc to the #4 spot– a good week for Latitude 64.
The RAIDER by Dynamic Discs hit the chart twice with the new Lucid stock release and also the steady-selling Fuzion edition. Discmania also hit the #6 spot with only one day of sales, since it was released just yesterday (Monday).
Here is how the brands panned out this week, showing how many times each hit the Top 20 Chart: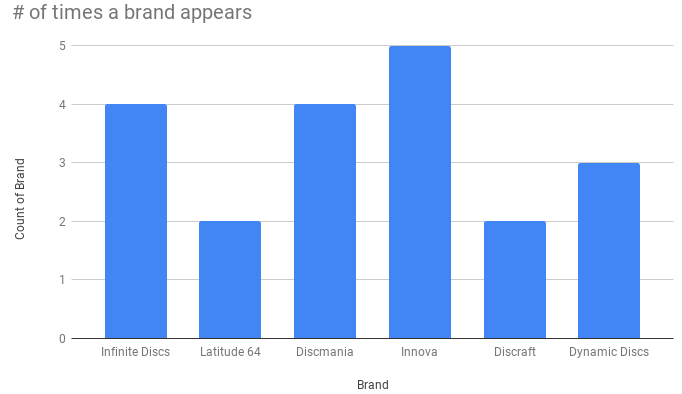 –> Each week we'll invite you to leave a prediction for a certain chart position on next week's TOP TWENTY TUESDAY report. The person to predict that chart position correctly in the comments will win a $10 gift card for the Infinite Discs website.
WINNER – The number 6 spot this week was taken by the new NEO ENIGMA by Discmania. We didn't see any picks for that disc, which was newly released just this week, with only one day of sales to lift it to the six spot.
GIFT CARD PREDICTION FOR NEXT WEEK:  Leave your comment below to guess the #4 spot for next week. It will go to the FIRST person to get it right. Good luck!