TOP TWENTY TUESDAY – SEPTEMBER 3RD 2019

Welcome to another Top 20 Tuesday sales chart. We break these charts down by plastics as well so you can see which plastic types are most popular for each disc. New discs will often spike in the chart as other top sellers shuffle position. The chart is created by sales figures that are pulled from all Infinite Discs sales for the previous week — our customers decide the results with their purchases.
Top Twenty Tuesday for September 3rd, 2019
#1 – Big Z ZEUS
#2 – D-Line P2
#3 – Concrete SLAB
#4 – Star DESTROYER
#5 – Discraft Special Blend LUNA
#6 – R-Pro PIG
#7 – Pro PIG
#8 – ESP ZEUS
#9 – Nexus FIREFLY
#10 – ESP ANAX
#11 – DX Aviar
#12 – Star TEEBIRD
#13 – Star WRAITH
#14 – Jawbreaker ZONE
#15 – Star VALKYRIE
#16 – DX ROC
#17 – EXO Soft LINK
#18 – Gold Line Burst RIVER
#19 – ESP Eclipse
#20 – S-Line DD3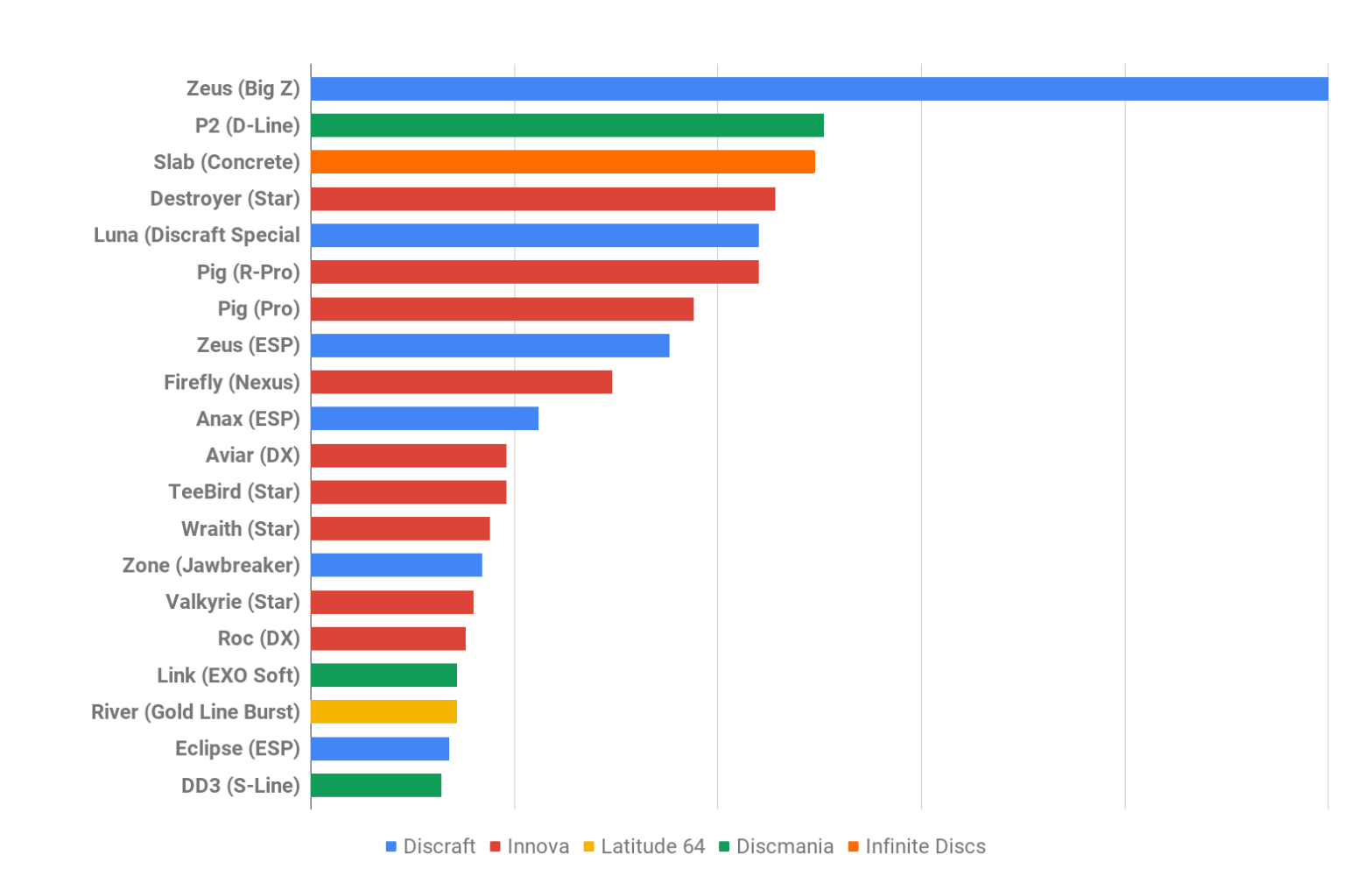 The Big Z Zeus wraps up its final week in the Top 20 for a while. Why can we say that? Because that's all we have and it was a limited edition run, so until it gets a stock release or another special edition down the road, it is highly unlikely to hit the chart again. The D-Line P2 by Discmania still holds a high spot in this week's chart, followed very closely by the new Signature Jeremy Koling (Big Jerm) Concrete SLAB, which is an flat, super-overstable distance driver. The Star Destroyer is one again in the mix, along with the PIG.  Some old favorites popped back up again.
For your entertainment, we've put together an animated graph for the Top 10 best-sellers for the week which shows how they moved day-to-day. Some tend to have sold in spurts, which others kept a slow but consistent pace. Here is the moving chart (click to play the video):
–> Each week we'll invite you to leave a prediction for a certain chart position on next week's TOP TWENTY TUESDAY report. The person to predict that chart position correctly in the comments will win a $10 gift card for the Infinite Discs website.
WINNER – The number 8 spot this week was taken by ESP ZEUS. We saw two guesses for the ESP Zeus with JANET getting hers in earlier for the win. Congratulations Janet!
GIFT CARD PREDICTION FOR NEXT WEEK:  Leave your comment below to guess the #6 spot for next week. It will go to the FIRST person to get it right. Good luck!