2018 Disc of the Week–Week 8–Vibram Solace, Notch, Obex, and Sole
It is the final week of Infinite Discs Disc of the Week this year! And we are going out with a bang by featuring not just one, but FOUR disc golf discs this week! And those four discs are the Vibram Solace, Notch, Obex, and Sole!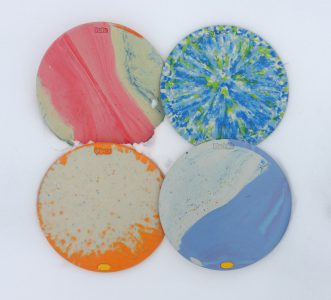 Vibram announced last week that they will stop manufacturing disc golf discs, so we thought it appropriate to feature four overstable discs from this often overlooked disc golf manufacturer.
First, we have the distance driver, the Solace. The Solace was first released under a different name, the controversial Vibram Four20, and then was quickly renamed the Solace after the initial run. The Solace is the  SOOOOO overstable version of the Vibram Lace. This disc is a meathook that can handle throws from big arms. It won't turn over, but it will hold a nice straight line before dumping out of the flight at the end.
Next we have the Notch, which is one of the newer fairway drivers that Vibram added to their arsenal when they revamped their fairway lineup. The Vibram Notch is overstable, but it isn't as beefy as the Solace. That being said, this disc is still a beast! This fairway driver will hold straight and maintain a predictably strong fade at the end of the flight.
The midrange we are featuring is one of the old reliables in the Vibram lineup. The Vibram Obex is the overstable counterpart to the Vibram Ibex. The Obex has a nice comfortable rim and is a perfect midrange when you need to tackle windy conditions. It will hold straight through a headwind, and then fight to fade at the end. In non windy conditions, you can trust the Obex to finish with strong fade when you need to land a short shot around an obstacle.
Another oldie but a goodie, the Vibram Sole is one of the more popular Vibram Putters. The Sole has a unique lip on the rim and a deeper dish that fits well in the hand. This disc can be trusted as a putting putter as well as a driving putter when you need a long straight drive with a nice soft fade at the end.
So this week only, take 15% off all four of these Vibram molds at Infinite Discs by using the discount code: DWVIBRAM18. As always, make sure to check out our Facebook page later today for a giveaway!
But Wait, Isn't this the End for VIBRAM?!?!
Now, you might be thinking, "Why would I want to try these discs now if they are done making them?" Well I have two responses for that–First, Vibram discs are made with rubber, not plastic. They don't beat in like plastic discs, so they hold their flight characteristics for much longer, and don't need to be replaced nearly as often.
Second, we have some exciting news! Infinite Discs will be getting in over 1,000 of the remaining Vibram discs from Vibram. So though these discs are going to be harder to find, Infinite Discs should have a healthy stock for the foreseeable future. So buy with confidence knowing that if you like one of these four discs, Infinite Discs should have more for you to stock up on.
And something else to consider…I think it is safe to say that the collector value of all Vibram discs took a nice bump over the last week. I'm sure I'm not the only one who will be grabbing some discs to hang onto for a while!