2019 Infinite Discs Signature Series Discs

As we're enjoying the summer disc golf months, we thought that we'd introduce you to this year's signature disc collection on the Infinite Discs brand. These are discs that we release in cooperation with professional players so that we can help to financially support their travels during the tournament season. By purchasing these great discs, you also help to contribute to their touring. If you enjoy watching these players, you want to help to grow the sport, and you want to try some new discs, we encourage you to spend the couple of dollars extra to get a signature series disc, no matter what the brand.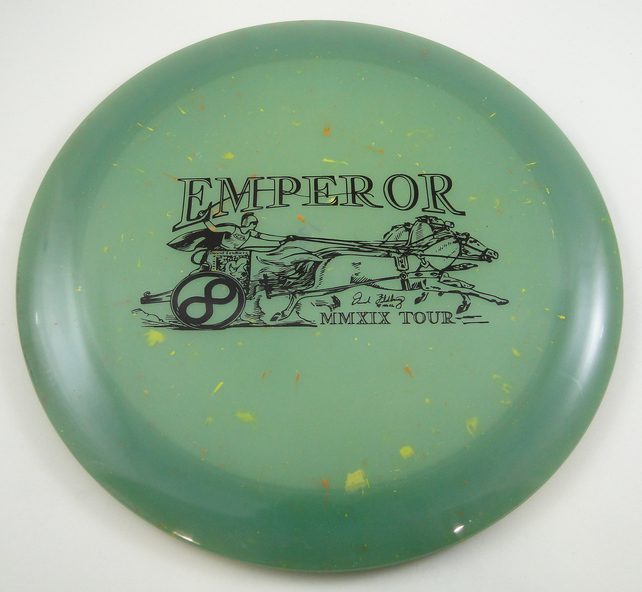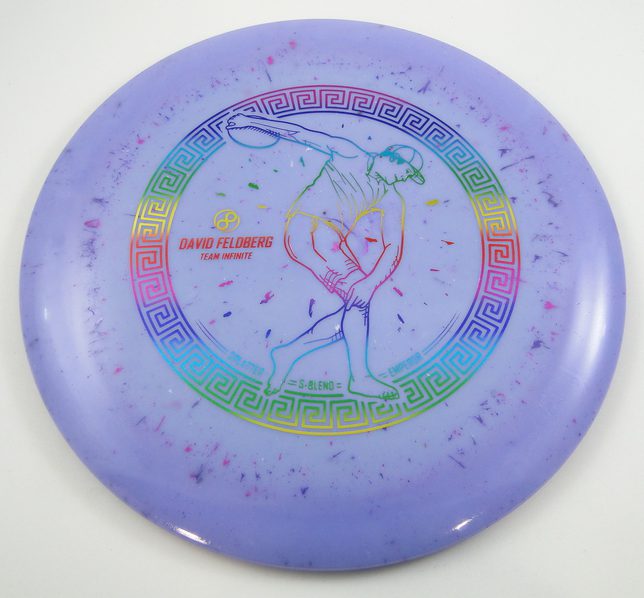 The Splatter S-Blend run of Emperor discs is technically "Run 2" and is a very solid distance driver that came out more overstable than the Run 1 I-Blend edition. The entire run is dedicated to Team Infinite player, DAVID FELDBERG, who wanted to show that quality players can use a mixed bag of different brands and still play at a high level. Yes, he does use the Emperor by Infinite Discs as a primary driver, but it fits in his bag along with discs from many great brands, and we're happy to have him on the team.
We thought it would be fun to present two different stamps for David's signature disc– one that focuses more on him and that has a play on the classic, Greek Olympian pose, and another that has more of a stock stamp flavor with a touch of ancient Rome.
GARRETT GURTHIE – METAL FLAKE GLOW C-BLEND PHARAOH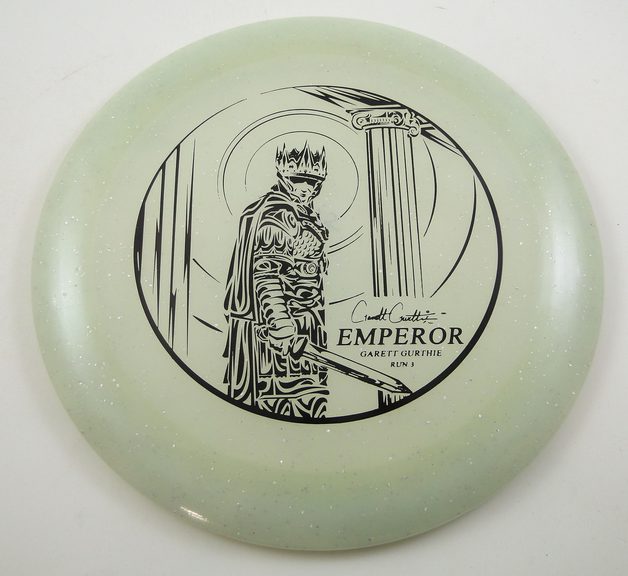 Infinite Discs was happy to sponsor Garrett Gurthie starting in 2018 when he was making his touring comeback. He had a 2018 signature Pharaoh and a signature Slab, but for 2019 he wanted to have a signature edition Metal Flake Glow C-Blend Emperor so that he could add it to his distance driver arsenal. Garrett is best known for his ability to throw amazing distances and he has already started to stack up some big wins in the 2019 season. Garrett is also a member of Innova's Champion team.
This is the first edition of the Garrett Gurthie signature stamp and there will be another later in the year, so keep your eyes open!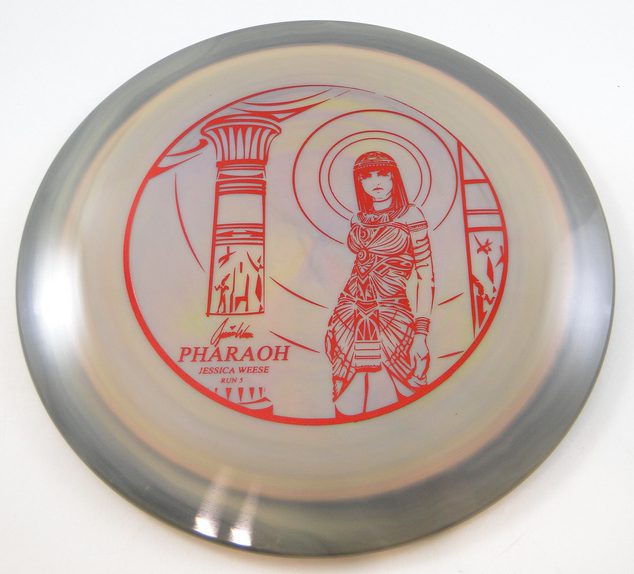 We've been happy to work with Jessica Weese since 2018 as well. She is a member of Innova's Star team and one of the best FPO players in the game. Last year Jessica had a signature Chariot mid-range with Infinite Discs, and for 2019 she has a signature Swirly S-Blend Pharaoh which was part of a very flat-topped run with extra stability for distance throwers.
NICOLE "PICKLE" DIONISIO – C-BLEND SCEPTER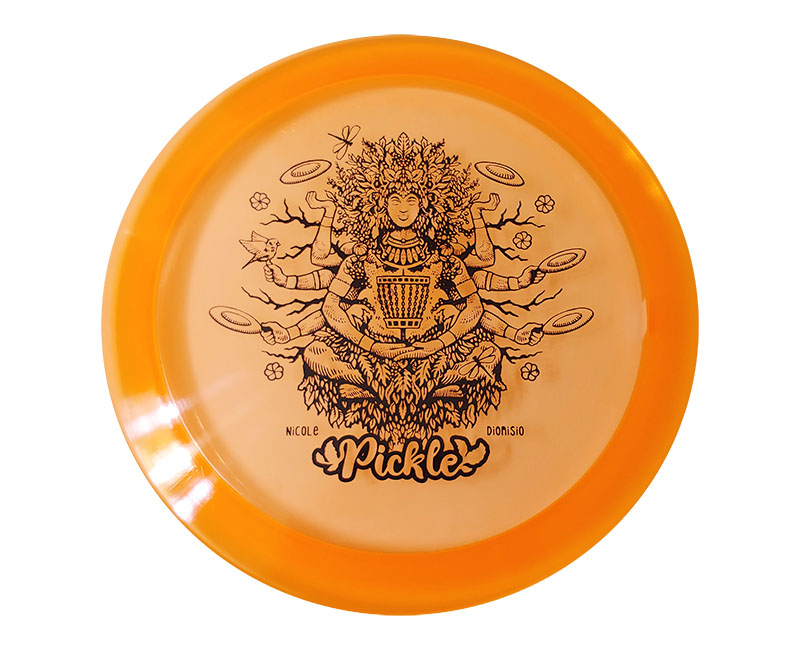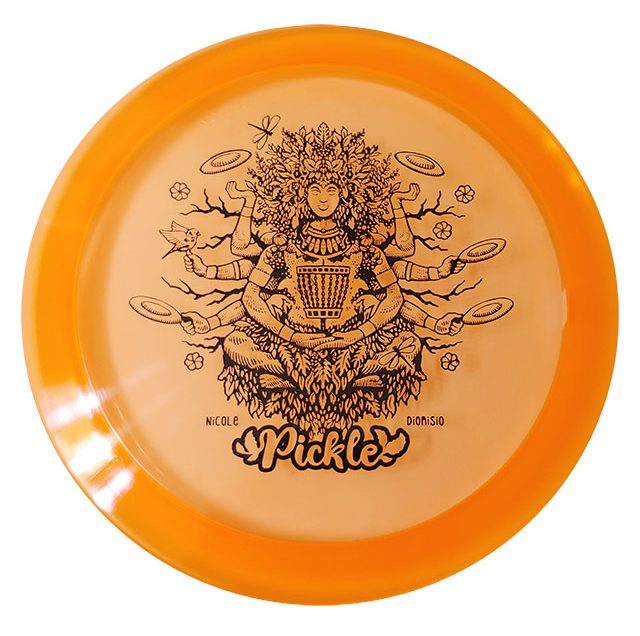 Nicole Dionisio is an FPO player from Maine who works closely with her local disc golf scene and who is loved by other professional players wherever she plays. Known affectionately as Pickle, she's a great ambassador for the sport and is proudly sponsored by Infinite Discs. For 2018 she had a signature S-Blend Exodus, and for 2019 she fell in love with the new Scepter, which is a very overstable, flat-topped fairway driver in the Infinite Discs line.  Pickle throws a lot of forehand drives and her signature C-Blend Scepter works into her style perfectly with its beefy fade and wind-fighting power.
JOEL FREEMAN – X-BLEND SCARAB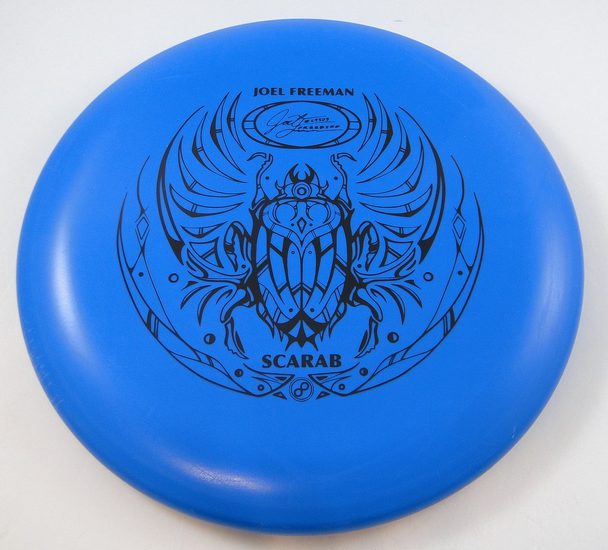 Joel Freeman is another great player on Innova's Champion team and who started working with Infintie Discs in 2019 for a special signature edition disc. He wanted to take his putting game to the next level for the 2019 touring season and requested a run of putters now known as the Scarab. Joel prefers the X-Blend for its good grip in all weather conditions, including rain or cold. Check out Joe's signature X-Blend Scarab for a great, beaded putter with nice glide for both long and short putts.
COMING SOON…
Infinite Discs is also excited to announce another fun signature edition disc for 2019 which we hope to release in the end of July.
JEREMY KOLING "BIG JERM" – CONCRETE SLAB
Big Jerm got his hands on a Slab early in the 2019 season and pulled it out of his bag during a tournament to give it a try. He ended up loving its flat profile and overstable, high-speed flight. While doing commentary for a professional disc golf round on Youtube, he jokingly called the plastic type "concrete" so that he could say he was throwing a "Concrete Slab," so Infinite Discs decided to run with that name. The signature Slab for Big Jerm is a mix of metal flake and luster C-Blend plastic which we'll obligingly call "Concrete."
Other partnerships with other great players are in the works. Infinite Discs is excited to help support these great players with fun discs that they enjoy throwing.