2023 State of Disc Golf Survey

The President of the United States issued the State of the Union address last night. Now it's time to find out the State of Disc Golf.
The State of Disc golf survey is conducted annually by Infinite Discs to help us find out trends and opinions among the disc golf community. After survey results are gathered, analysis of the results are published here weekly on our blog.
Past years surveys have discussed topics such as who we are as disc golfers, disc golfer demographics, brand popularity, how we play, practice, tournaments, disc golf clubs, favorite pros, disc golf media, discs we own, bag/cart preferences, and some controversial topics.
Take the State of Disc Golf Survey Here
Use this link to take the 2023 Survey
Why Take The State of Disc Golf Survey?
By taking this survey you are gathering fun information and helping out stakeholders within the disc golf industry. Results are valuable to disc golf companies, sponsors, tournament directors, course designers and local communities.
Win Awesome Disc Golf Prizes!
By taking the survey you're also available for a variety of different disc golf prizes. In the past we've given away disc golf bags baskets carts, gift cards and lots of discs.
Prize winners are randomly selected and all you need to do to be eligible is to take the survey!
Read Previous State of Disc Golf Results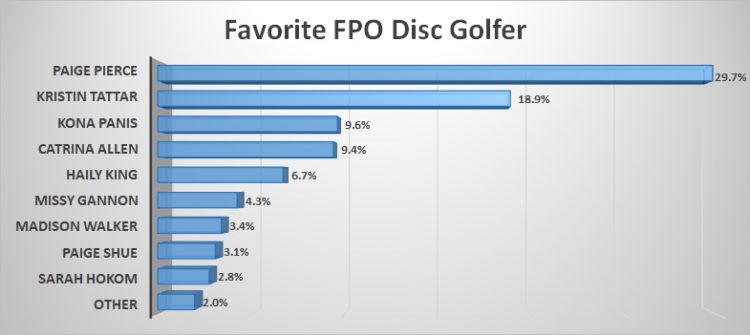 According to the 2022 survey results, Paige Pierce was overwhelmingly the most popular FPO player. We have a feeling this years results will be much different. With disc golf trends and popularity changing so quickly it's fun to compare the different year by year trends.
Check out previous years state of disc golf articles state of disc golf articles here: