New Checkout Upgrade Options
We have made some changes to our site to make it easier for customers to select different shipping upgrades. These enable you to get your order how you want it, when you want it, or add some additional products to your order at a bargain price.
On the first page of the shopping cart, you will notice that four different upgrade options appear.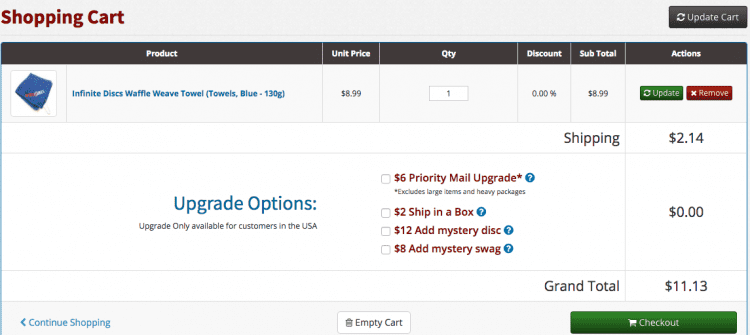 Priority Upgrade – This option bumps your order to the beginning of our pulling queue (we ship almost 200 packages every day) and upgrades your shipping from first class to USPS Priority Mail 2-3 delivery. Medium size packages between one and ten pounds will usually be shipped by Priority mail, even without paying for the priority upgrade.
Ship in a Box – Most of our smaller packages (orders of less than five discs) ship in poly bubble mailer bags. This upgrade option gives you the additional protection of a cardboard box. This upgrade is especially valuable for customers who live in apartment complexes or homes with small mailboxes where mail carriers try to bend and cram a package in the mailbox.
Mystery Disc – The mystery disc option is new and gives you a premium plastic disc at a bargain price, and with no additional shipping charge. This is a great way to try new discs.
Mystery Swag – Like the mystery disc, mystery swag gives you a bonus surprise with your order. Mystery swag may include shirts, hats, towels, socks, mini discs, decals, stickers, lights, water bottles, or a variety of other accessories. The mystery swag you receive will always have a value exceeding $10.
The shipping option upgrades are currently only available for customers in the lower 48 states.