December Deal for Luxury E3 Bag – $50 Voucher!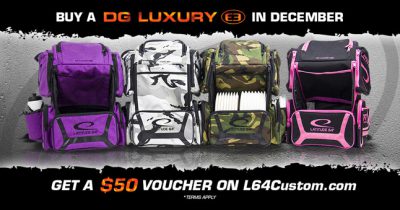 It has been a fantastic 2016 and Latitude 64 will finish it off with a great deal that includes their specialty disc department – L64 Custom.
Buy a Luxury E3 Backpack in December from Infinite Discs, send Latitutde 64 a copy of the receipt together with a picture of you and the bag, and get a voucher for $50 to spend at L64custom.com.
So, if you need a great backpack bag for the yourself or for the disc golfer in your life as a gift this holiday season, you can now get an even sweeter deal! On top of the great new backpack, you can get a voucher for custom discs and apparel!
PLUS, Infinite Discs will extend our Black Friday bag deal on the Luxury E3 only. When you buy your E3 from us, we'll toss in a $20 gift card to use on anything else you want from the store! Once you buy your bag, you'll receive a $20 gift card to use on future purchases at Infinite Discs (cannot be applied to the purchase of the E3 bag).
CLICK HERE after receiving your new Luxury E3 Bag to claim your $50 L64 Custom voucher!
The Luxury E3 Bag is one of the highest quality bags on the market! Take advantage of this great deal, December 2016 only!