2019 Disc Golf Pro Tour Trading Cards Now Available!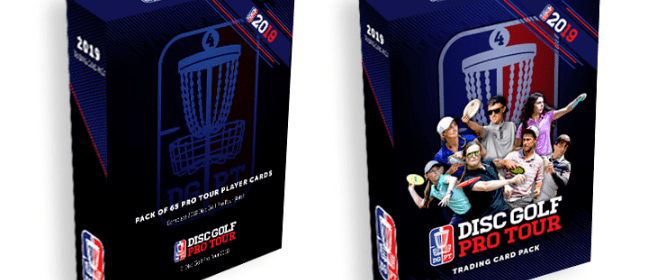 The 2019 Disc Golf Pro Tour Trading Cards are now available. Owning professional disc golfer trading cards is a great way to follow your favorite disc golf pros, track their stats, and learn more about them. Like with other sports trading cards, some are more sought after and will become more valuable than others.
There are two ways to purchase trading cards:
Complete Deck – The complete deck guarantees that you will receive all 65 2019 cards. There is a limited number of complete decks available, and we sold out of all the ones we had last year very quickly. Purchase your complete deck here.
Pro Tour 9 Packs – A Pro Tour Pack gives you a random selection of nine different cards. The cost is much more affordable in the 9 packs, but you don't know which cards you will actually get which provides a of fun element of surprise and mystery each time you open a pack. Purchase a 9 Pack here.






What do the 2019 packs include?
Player Cards
There are a total of 65 different disc golf professionals that have trading cards. 50 Males and 15 Females.
Team Innova:
Paul McBeth
James Conrad
Nate Sexton
Garrett Gurthie
Jeremy Koling
Drew Gibson
Gregg Barsby
Calvin Heimburg
Joel Freeman
Anthony Barela
Philo Brathwaite
Bradley Williams
Jessica Weese
Lisa Fajkus
Madison Walker
Ellen Widboom
Kona Panis
Holly Finley
Jennifer Allen
Team Latitude 64:
Ricky Wysocki
JohnE McCray
Emerson Keith
Bobby Musick
David Feldberg
James Proctor
Devan Owens
Reid Frescura
Alex Russell
Zakeriath Johnson
Willie Prince
Rebecca Cox
Team Prodigy
Paul Ulibarri
Chris Dickerson
Seppo Paju
Cameron Colglazier
Dutch Napier
Will Schusterick
Team Discmania
Eagle McMahon
Grady Shue
Nate Perkins
Simon Lizotte
Colten Montgomery
Team Dynamic Discs
Eric Oakley
Zach Melton
AJ Risley
Chris Clemons
Paige Pierce
Paige Bjerkaas
Tina Oakley
Team Discraft
Michael Johansen
Tim Barham
Austin Turner
Brian Earhart
Team Prodiscus
Kevin Jones
Austin Hannum
Team Legacy
Charlie Goodpasture
Sarah Hokom
Team Fly Life – Nikko Locastro
Team Full Turn Discs – Andrew Presnell
Team Infinite – Nicole Dionisio
Venue Cards
In addition to player cards, 1 in 5 packs also include venue cards that feature information about each of the different events of the 2018 Disc Golf Pro Tour.
Award Cards
1 in every 8 packs contains an "Award Card" which features awards such as Golden Putter, Sniper, Best Scrambler, Hail Mary, Rookie of the Year, Player of the Year, TD of the Year, and Staff of the Year.
TV Cards
1 in 12 Packs may also include a TV Card which features information about Ace's that occurred during the Pro Tour, as well as Paul McBeth's Historic 18 under par round.
Champion Cards
1 in 20 packs contain one of four different rare Champion Cards. The four pro tour champions for 2018 were Paul McBeth (Points Champion), Sarah Hokom (Points Champion), Chris Dickerson (Tour Champion), and Sarah Hokum (Tour Champion).