Drew Gibson Joins Infinite Discs for 2020 Season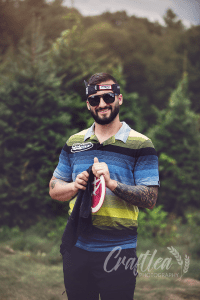 Photo Credit: Craftlea Photography
Infinite Discs is proud and excited to announce our partnership with with touring pro Drew Gibson. Drew will be representing Infinite Discs for the 2020 season. Both Infinite and Drew are happy with the partnership. Drew will be throwing a mixed bag, including Infinite brand molds. He is looking forward to representing Infinite Discs.
"I think the (Infinite) brand is headed in the right direction, " said Drew, "and I wanted to be a part of something that is growing."
Get To Know Drew Gibson
Drew played in his first pro event late in 2012, and has been part of the touring scene ever since. He is well known for his ability to crush a drive over 600 feet, and do so with accuracy. He attributes his power to his fitness and form.
"I'd say my core strength and hips create most of the power. It's just about being smooth,"said Drew, "and having a form that is duplicatable".
That power and accuracy helped Drew cash at nearly every event he played this year. He feels that part of what gave him success this year was his progress on his mental game.
"I feel I'm on the final leg of becoming a well-rounded player, " said Drew, " not only physically, but mentally as well."
Drew Gibson grew up in Sacramento, California playing baseball and racing dirt bikes. An injury in a preseason baseball game prevented him from throwing well and spelled the end of his baseball aspirations. So, he picked up disc golf to fill the competitive void. When he started playing disc golf he was surrounded by many of the big names in disc golf. He received encouragement from them and other locals, which pushed him to get better.
"There were a lot of players who had an influence on me over the years, " said Drew. "Just to name a few would be Josh Anthon, Derek Billings, and Jim Oates."
The Future
Drew said he was excited to represent Infinite for 2020. Not only for the freedom of disc selection, but with the opportunity to work with various manufacturers on special projects.
"I think the (Infinite) brand is headed in the right direction and I just wanted to be a part of something that is growing and see if we can't work as a team to show the community what Infinite has to offer," said Drew. "I think the goals for this year are large, and I think we can obtain them."
When it comes to the near future, Drew has some simple, yet ambitious goals for the upcoming season.
"I just want to put myself in a position to win as many times as possible. I feel the more chances I have to close out an event the easier they'll come", he said. "I'd love to just have a strong season in 2020 and prove I can be consistent and battle for the big wins week in and week out."
In addition to being optimistic about his future, he believes the sport will continue the growth it has been experiencing lately. He points toward Paul Mcbeth's contract last year as evidence of a bright future for the sport.
"I think in 5 years the sport will grow tremendously. The stuff Mcbeth has done with promotion and such is just a peek into the potential I believe the sport has to offer."
As for his longer-term outlook, Drew said, " I'd just love to be in the mix in 5 years with Infinite on my back playing at the highest level still. I don't think the sport or myself have cracked the potential of where it will be in 5 years."
Pro Tip
Asked for any advice Drew could give up-and-coming disc golfers, Drew said, "Smooth is far. The harder you try the more difficult it'll be! Be smooth and find your groove. Don't try to copy someone else's throw, just work on your form and if you put in the time it'll come."
Drew has shown he has the talent, ambition, and knowledge to succeed in the challenging world of professional disc golf. All of us at Infinite Discs would like to welcome him to the family, and wish him all the best as he builds on last year's successes heading into the 2020 season, and beyond!