Dynamic Discs & Handeye Supply Co. Bags

Dynamic Discs has recently released some new patters for some of their bags, all the while Handeye Supply Co. has released a new bag of their own. These bas are quality made bags, that have been designed with the disc golfer in mind. Which will give you the features that you need while on the course, and will last you a long time. So be sure to check out these new patterns, and Handeye's latest bag:
Handeye Supply Co. Mission Rig Bag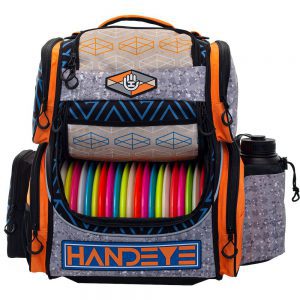 The Mission Rig is Handeye's first "big bag". This bag has all of the things that you would need in a disc golf bag. This can hold 18-20 discs along with a lot of storage for other needed items.
The top pocket in front of the putter pouch is a large and deep pocket. Within it you can fit more discs, a hoodie, or any large item that you have with you while out on the course. While the three side pockets allow for the smaller needed items. Such as towels, sharpies, wallet, keys, or a phone.
Along the handle there are two D-rings of which you can use to clip towels, bag tags, or your Bluetooth speaker. The water bottle holder is large enough to hold most water bottles. Additionally it has a cinch strap to allow for it to hold small water bottles too. Check this new Handeye Supply Co. Mission Rig bag out today on our site for $149.99.
Features
3 different pattern options
An upper storage compartment that can hold extra discs, multiple jackets, or towels
A zippered putter pouch that is easily accessible
Removable lightweight disc divider located inside main disc compartment
PVC Handeye Supply Co Patches
Large adjustable water bottle holder
Exterior Towel Clips
Two interior mesh pouches
Two exterior pockets for discs or larger items
Three medium exterior pockets
Padded back and shoulder straps
Reinforced feet and water resistant bottom to keep your bag upright and dry
Exterior mesh and canvas pockets
Dynamic Discs Trooper Bag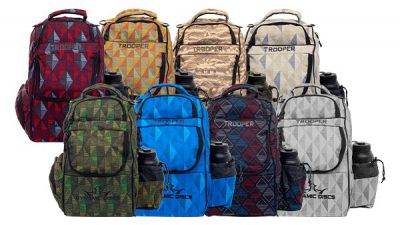 This isn't a new bag, but there are a lot of new patterns to show. Dynamic Discs has released 8 new patterns: Desert Guide, Expo, Jungle Guide, Mirage, Mountain Guide, Ocean Guide, Prairie Guide, and Trail Guide. Be sure to pick your favorite DD Topper Bag, they are available for $39.99 -$49.99.
The Dynamic Discs Trooper Backpack is a great introduction to the disc golf backpack styled bags. The Trooper is an affordable option for those Disc Golfers looking to upgrade to a backpack bag.
The Trooper holds 18+ discs in the main compartment as well as 4 more putters in the top compartment. The water bottle pocket has a drawstring to adjust to popular bottle sizes. The Trooper has two smaller side pockets for storage of keys, phones, minis, snacks, and anything else you need on the course. The Trooper has a lightweight frame and a sturdy base, making it a durable, easy to carry backpack.
Features:
Low center of gravity to avoid tipping
Padded straps and back panel
Main compartments holds 18+ discs
Upper pocket holds 3-4 discs
Two external pockets
Reinforced haul handle
Drawstring-enclosed water bottle holder
Zipper pulls on all zippers
Velcro tabs keep the front flap out of the way
Three accent colors to choose from
Dynamic Discs Combat Sniper Bag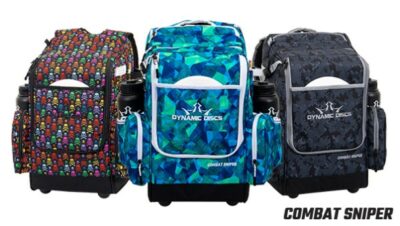 Even though the Combat Sniper bag has been around for some time, DD has made it available in some new patterns: Rainbow Skull, Geo Stitched, and Midnight Camo. These Combat Snipers are available now on our site starting at $149.99 – $154.99.
The Combat Sniper starts with the original Sniper design with a 16+ disc main compartment, two water bottle holders, and a deep top zippered pocket and takes it to a new level with new elements like the top putter compartment, two side pockets, a front flap pocket for a go-to disc, oversized feet for stability, and additional padding on the backpack straps. Aim for lower scores with the Combat Sniper.