Focus Friday – Harp

Focus Friday is back! We are starting it off with the Westside Harp. That means over the weekend, you can buy this disc at InfiniteDiscs.com at a 10% discount!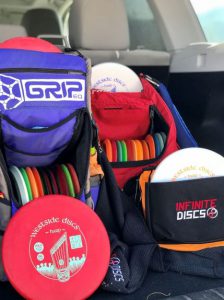 The Harp is a very overstable approach putter. I've had great success flicking it, using it on hyzer throws, and for straight approaches. It is a trusty putt-and-approach disc that can handle some power. I've been throwing the Harp in BT Hard plastic which has some good grip to it and it can handle some tree hits and rough landings on rocks. Despite all the collisions I've put it through, I haven't noticed much of a loss in the BT Hard Harp's stability.
Here is a look at a few of my throws with the Harp, trying it out both forehand and backhand at different angles. This helps illustrate the difference between my old, beat-in Harp and a brand new one.
Head on over to our site and pick one up this weekend. Use the discount code FOCUSHARP and you'll get 10% off. It's a great time to restock or try out the disc.
Note: After placing your discs in the shopping cart and before checking out, click on the "Discount Code" box under the shopping cart and enter that code. Then proceed to checkout.
Which disc would you guys like for us to focus on next week? Post in the comments below.