Focus Friday Legacy Nemesis
Another weekend is upon us all, happy Friday! For this weekend we will shine the Focus Friday spotlight on the Legacy Nemesis. From now till Monday you'll be able to buy as many Nemesis' as you want at a discount of 10%, you'll simply need to use the promo code: FOCUSNEMESIS.
The Nemesis from Legacy is a understable fairway/control driver. This is an excellent beginner friendly disc that also has longevity to it, as an advanced player can find uses for it as well. You can use this disc to learn how to throw far, or for those big turnover shots, or as a hyzer-flip straight shot, or a roller. As a 10 speed driver, this has a rim pretty typical to that speed. Making this a comfortable grip around the rim that isn't too small nor too large. We have given these discs out as a mystery disc, and many customers have returned and bought an additional one as this disc found a spot in their bag. If you've gotten one as a mystery disc, or you want to try it out. Now is a great time to do so, as you can buy this disc 10% off the normal price by using the promo code FOCUSNEMESIS.
How to Use the Discount Code
You can select your disc by clicking here. Simply add as may Legacy Nemesis' to your shopping cart as you want, then BEFORE you click to checkout, look below the shopping cart. Right below the shopping cart is a box for Discount Codes. Click there and paste the code, FOCUSNEMESIS, into the box. Then proceed to checkout and you'll get the discount.
Here is a screenshot to help you out, though it doesn't necessarily show Legacy Nemesis in the cart – it's just a generic visual to help you find the discount code box: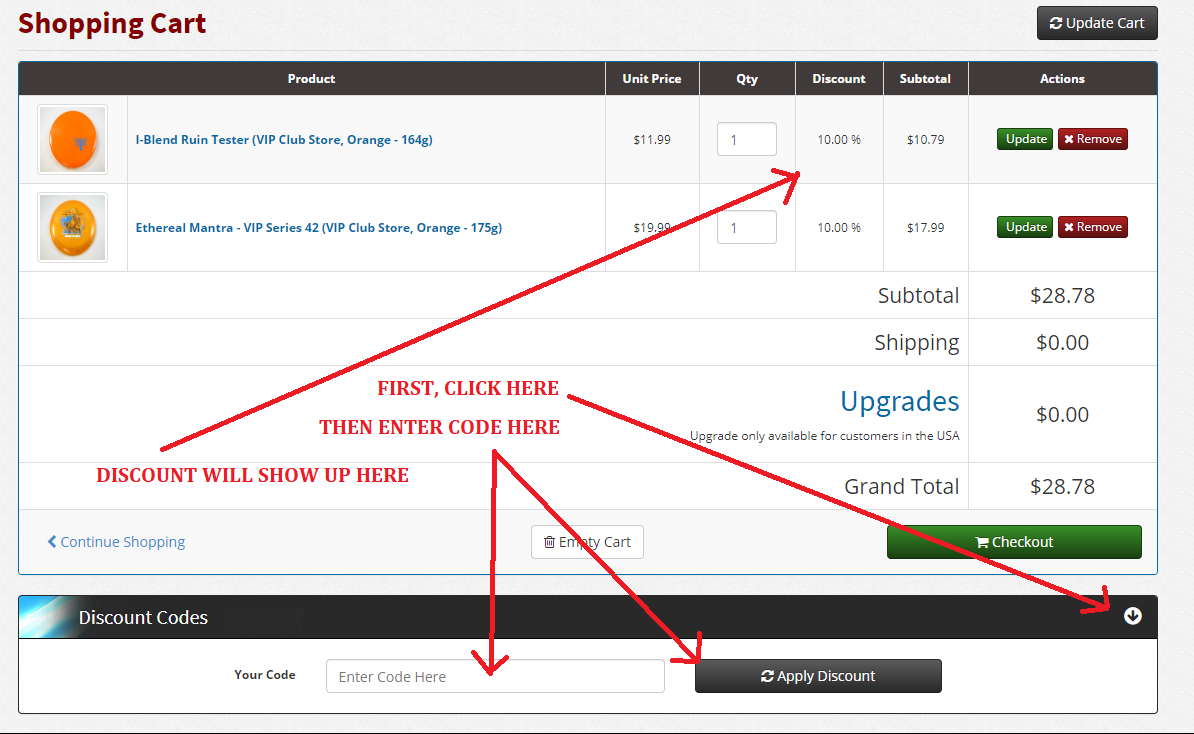 We hope that you love throwing the Nemesis. If you've thrown the disc, feel free to share what you think of it. Thanks!
For what type of shots do you use the Nemesis?
STAY TUNED for our next Focus Friday for another chance to try a featured disc at a nice discounted price!