Focus Friday – Pilot
This week we will shine the Focus Friday light on the Streamline Pilot. Use the promo code FOCUSPILOT to get 10% off this weekend till Monday night.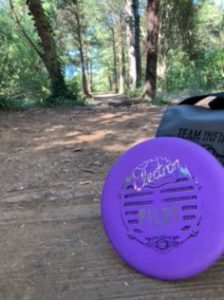 This is a well rounded putter with a pretty close to straight flight path. Driving with this putter, you'll be able to throw it straight with a slight curve out to the right before it'll fade slightly back to the left (RHBH). Putting with this one, you can have confidence that it will fly straight (at the circle's edge and a little beyond). Holding the putter, it is comfortable in your hand. All the plastic types it comes in, have a nice in-the-hand feel. Whether your old putter is no longer hitting the chains like it used to, or you need a new driving putter the Streamline Pilot is worth trying out. What better time to try it out than this weekend, as you can get it at a discounted rate of 10% off.
Do you use the Pilot as a putter or a driver?
Head on over to https://infinitediscs.com/Streamline-Pilot to select your Pilot. Once everything you want is in your cart, you can apply the discount code FOCUSPILOT and get 10% off all Pilots in your cart.
Note: After placing your discs in the shopping cart and before checking out, click on the "Discount Code" box under the shopping cart and enter that code. Then proceed to checkout.