Focus Friday TSA Votum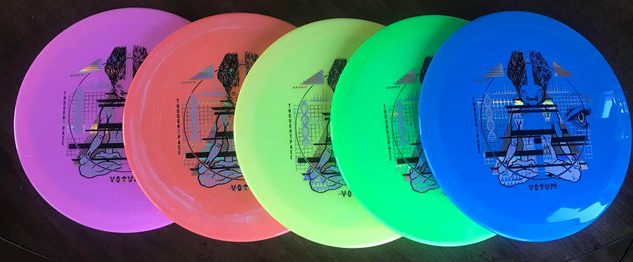 Alright, lets get into this Friday and the weekend with this week's Focus Friday. It should be a good one. The weather is warming up, the sun is up for longer hours. Spring is almost truly here, I can feel it, and it is exciting!
This weekend's focus is on the Thought Space Athletics Votum. You can use the discount code FOCUSVOTUM to save 20% off all Votums. Starting from now till the end of the weekend (Monday), this discount code will be active.
TSA Votum
The Votum is a a stable fairway driver that doesn't offer a lot of fade. Its stability provides a disc that can handle power, but is not too difficult to control. Because of these attributes, this makes for a good workhorse fairway disc. It is said to have straight flying tendencies with a reliable fade at the end. Something similar to a Teebird3.
Overall the Votum is a good stable to overstable disc. it has a comfortable feel to it. The plastic is quite durable and grippy, regardless of which plastic you end up chosing. The flight path of this disc is a favorable flight as well.
The Discount Code
Here is the deal, head over to our website and select the Votums that you want and any other item that you need. Once everything you need is in your cart, you can apply the discount code FOCUSVOTUM and get 20% off all Votum discs in your cart.
Note: After placing your discs in the shopping cart and before checking out, click on the "Discount Code" box under the shopping cart and enter that code. Then proceed to checkout.