How Many Discs Do We Own
2021 State of Disc Golf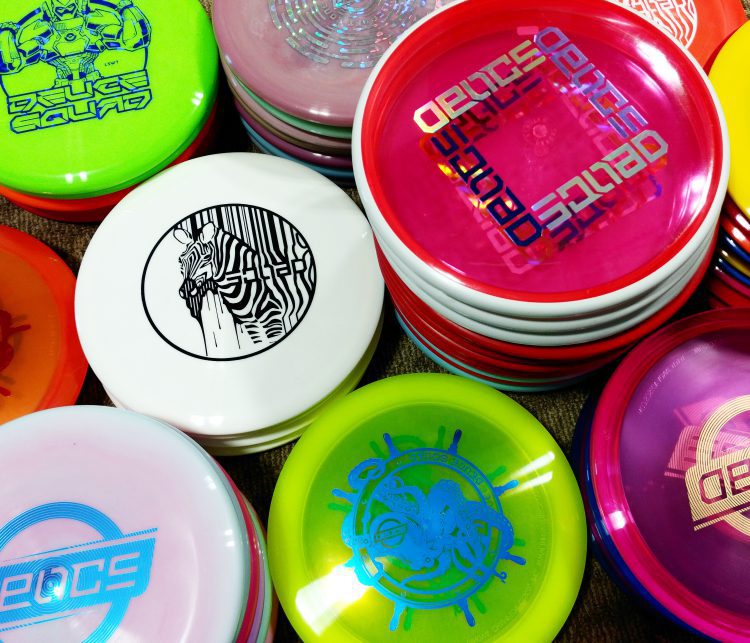 Buying And Holding Discs
One of my favorite survey subjects to write about is questions about the numbers of discs that we own and how many we purchased the prior year. I've been buying discs regularly since I started playing. Like a lot of us, initially I bought discs like a lot of new disc golfers: because they were 'high speed', 'long distance', or 'super long distance'. After gaining a little more experience, I started choosing my discs by their flight ratings. Then I moved into choosing plastic types that felt good in my hand. Finally, I started buying discs just to collect. (I'll be doing an upcoming blog about disc collecting) Not everyone has the same reasons for buying or keeping a disc.
Having been in the disc golf business for a few years, and a regular player for about 9 years, I've seen people whose opinions about buying discs run the gamut from people who only throw a couple discs, most of which were either found or were a gift, to those people who are constantly trying out new discs and eager to throw the latest, greatest mold. I've seen customers spend an hour in a disc golf store, pouring over the inventory looking for the new discs. And other customers who would be looking for a specific flight, but didn't care about brand or plastic, and would usually take the first mold suggested.
How Many Do We Buy
This blog post will shed a little light on our buying habits for last year. And it will show how many discs we are keeping in our possession. We can then look back at past year's results and see if those habits have changed. We will also look at the number of people who buy discs for collecting, and see if that number is trending.
Let's start with how many discs we own. The answers in the survey maxed out at 200+. I think I've been selecting the '200+' option for about five or six years. Part of that is because I started collecting years ago. (For next year's survey, I would like to include a question of how many of our discs will never be thrown.) But, I also like to try new discs. Let's see how many discs we have squirrelled away in our closets, bedrooms, hanging on walls, or hiding in the trunks of our cars.
The question we asked was, 'How many discs do you own?'. Here are the results: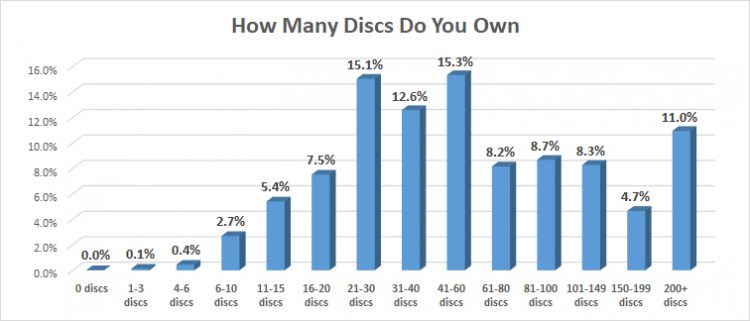 Nearly a quarter of us, 24%, have over a hundred discs! As the chart shows, about 43% of us carry between 21-60 discs. That seems reasonable to be, based on the disc golfers in our club. If you carry 15-18 discs when you play, keep some backups at home, and have kept discs that you no longer throw or have aced with and want to keep as a trophy, you would likely have between 21-60 discs.
Let's see if that percentage has changed over the last couple of years that we asked the questions. Here are the numbers for 2019: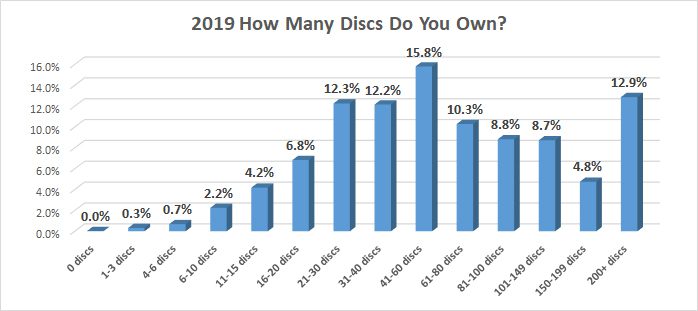 We can see changes in individual categories, so let's clump some of the groups together and look at the data. Considering people who have 100+ discs, we see a little more than 26% of us own more than 100 discs. In contemplating why we would have fewer discs now than two years ago, I would have guessed that more of us were hanging on to discs and buying whatever we could. I figured that discs, like toilet paper, would be hoarded due to the diminished supply on the shelves. Disc golf suppliers couldn't keep up with the growing demand and many molds would fly off the shelf as soon as we would put them online. But, the hoarder mentality didn't kick in with discs last year.
The other range we talked about for last year was the 21-60 disc category. For 2019, this group was a little lower at about 40%. In 2017 and 2015, that range was similar, around 41%.
Here are the charts for 2017 and 2015: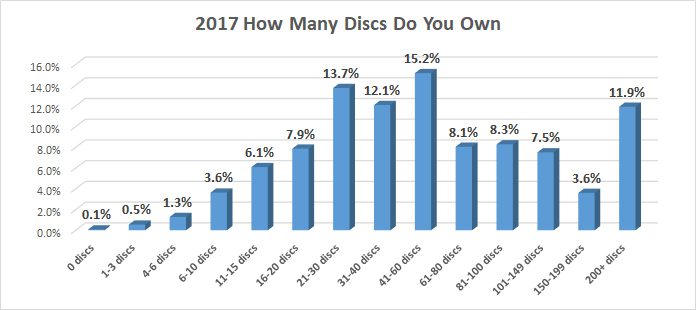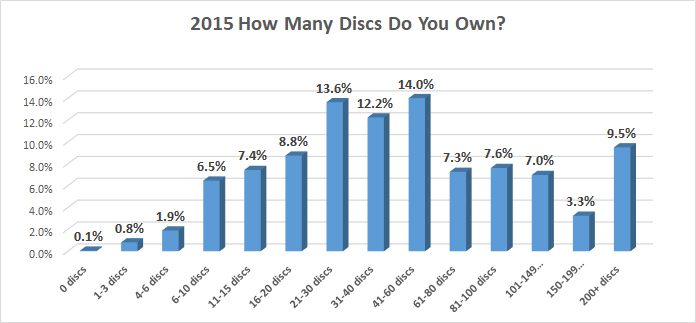 Let's turn our focus on how many new discs we added to our collection last year. Our survey question asked, 'How many new discs did you purchase via retail (at a store or online) in 2020?' Here are the results:
Nearly 46% of us bought between 10 and 29 discs last year. That's about where I would fall. A disc or so per month is not bad (I keep telling myself). A small percentage of us bought zero new discs last year, while a slightly higher percent, 3.3%, bought 100+ discs! We were especially interested to compare last year to previous years to see how the pandemic and limited supplies affected our disc golf buying habits. Let's compare last year to two previous years.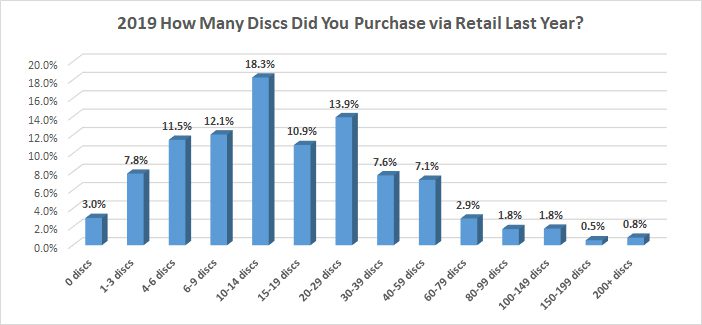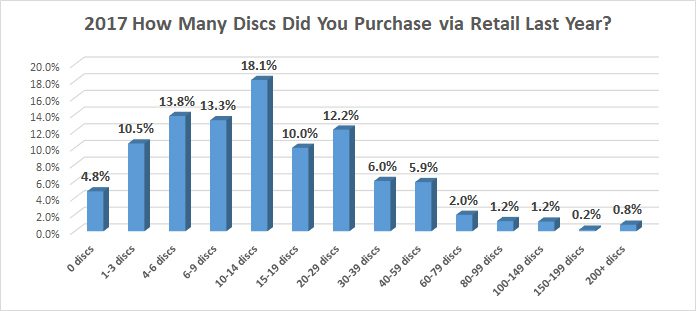 If we look at the three different groups of numbers mentioned above, in two of the categories we can see the numbers rose from 2017 to 2019, then fell in 2021. The '100+' discs purchased category was different. It actually rose from 2019. Let's look at people who bought less than 10 discs last year, the people who bought 10-29 discs, and the people who bought 100+.
Less than 10 discs
10 to 29 discs
100+ discs
2017
29.1%
2017
40.3%
2017
2.2%
2019
35.4%
2019
43.1%
2019
3.1%
2021
29.8%
2021
36.2%
2021
3.3%
Between the pandemic and the supply shortage, people were simply not able to have access to as many discs to buy. The unprecedented growth rate for the sport certainly contributed to the lower number of discs available to purchase. (To put the growth in perspective, there was a nearly 84% increase in new PDGA memberships last year! From 2016 to 2019, there was only a 34.5% increase!) To get a better idea about our disc buying for last year, let's look at another question in the survey.
We asked people 'How did Covid-19 affect your disc golf purchases in 2020?' Here are the results:
In the survey, participants were able to select more than one answer, since more than one answer could apply. According to the survey, nearly a third of us purchased the same number of discs last year, regardless of COVID19. Nearly a fourth of us would have bought more had supplies not been affected. There were 26% of us that were able to spend a little more than usual, because there were playing more and had the means to do so.
Not everyone was in the same financial boat as those who bought the same or more discs. Nine percent of us were not able to buy as many discs, for financial reasons. It is fortunate that the number wasn't higher.
Buying More Or Less Than Usual
It was interesting to me that during all of the supply shortages, over half of us bought the same number of discs or more than the year before. I wonder how many discs people were buying that weren't the ones they wanted, but were available. One more statistic I wanted to check out was whether the number of discs we buy each year was increasing or decreasing. I picked a delineating number of 30 to compare. It looks like the number of people who buy less than 30 discs per year is decreasing, while those who buy 30 or more is increasing.
| | | | |
| --- | --- | --- | --- |
| | under 30 discs | | 30+ discs |
| 2017 | 82.8% | | 17.2% |
| 2019 | 77.4% | | 22.6% |
| 2021 | 75.6% | | 24.4% |
In examining all of these numbers in light of the strange year we had as a business, it's interesting to see that, despite a supply shortage, there were a ton more disc golfers playing, while a majority of them buying the same or more than usual. It looks like the people that buy the most discs are buying even more. And those who buy the least are buying fewer.
As 2021 unfolds we will be scrambling to get as many discs as possible, while trying to keep up with the growing demand. It's not a bad place to be in as a business, just challenging that we can't meet the desires of our customers. As the supply levels out a little, we should have better data to see how many discs people are buying under normal circumstances. Then again, maybe 'normal circumstances' will never exist for a long time.
We would love to hear your thoughts on buying discs in 2020. Were you able to get the discs you wanted? If not, did you try new discs that were available? Let us know in the comments.
Feel free to email with suggestions or comments: ted@infinitediscgolf.com
Check out Infinite Discs here: www.infinitediscs.com