Infinite Bomber Stamp Available Now!

Infinite Discs is proud to present our new Infinite Bomber stamp! We've rolled out this fun, exclusive stamp initially with Gateway WIZARD putters, and with the most popular selling INNOVA discs.
The Wizards were the first to arrive and have been selling well with the larger, full-size stamp. We also received a few mini marker discs with the special stamp. We got a good variety of plastics including Special Blend, Super Soft, Super Stupid Soft, and more.
If you're a fan of Innova discs, we just received a great selection of their best selling discs with the Infinite Bomber stamp in a smaller size for a sleek, clean look. We have Destroyers, TeeBirds, Firebirds, Terns, Novas, Aviars, Roc3, Mako3, and more! If you've got a favorite disc, watch for a cool stamp to make your disc even more unique and fun.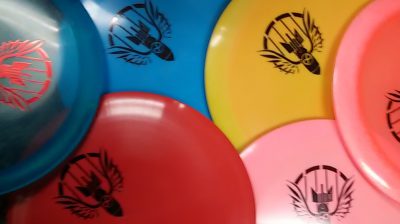 If you'd like to browse discs that have the Infinite Bomber stamp, you can use the "Advanced Search" tool on our website.
Here is a quick run-down on the steps you can take to browse the entire selection.  First, click on Advanced Search which can be found at the top of the website. You'll then see a screen open with some little check-boxes. Click on "Extras" to check-mark it. That will open a drop-down menu to the left. Scroll down the menu until you see Infinite Discs Stamp and click to check-mark that box. Now click on the button that says "View Individual Discs" to see pages and pages of discs with the Infinite Bomber stamp!
Discs with the Infinite Bomber stamp will be coming soon from other great manufacturers, so stay tuned and keep watching the website!
Thanks for your ongoing support of Infinite Discs as we try to build the disc golf scene and make the largest selection of discs available to you quickly, easily, and inexpensively! We hope to add more unique, exclusive stamps in the near future! If you'd like to pick up exclusive, limited edition stamps and discs every month that are only available to our Infinite Discs VIP Club, then be sure to get the subscription waiting list here.