Infinite Disc Golf Beta Testing
For the past two years we have been working on the next stage of our website development, which is to create Courses and enhance Player Profiles. Our goal is to help grow the sport by taking recreational disc golf to a new level. With our new website features, players will have an easy to use mobile app that not only keeps track of round scores, but also provides statistics, an inner game competition, and PDGA-like ratings.
This data provides valuable insight that motivates the desire to play disc golf and reveals areas where disc golfers can improve. The website will display scores, ratings, and reviews of disc golf courses all over the United States. For each course, users will be able to see how difficult each layout is, and average scores for every hole.
The beta site is found at: Courses.InfiniteDiscs.com/Courses
While the mobile app is still a ways out before it will be ready for full implementation, the website side of things is now functional for beta testing.
Here is a brief explanation of what Infinite Disc Golf will do:
Infinite Points
Infinite Points is a competition that all disc golfers, regardless of skill level, can compete in.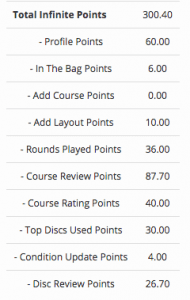 Infinite points are earned by:
Soon, points will also be available fore:
Referring Friends
Recording Aces
Challenging others and Playing tag rounds for Infinite Tags.
The more rounds of disc golf you play, and the more courses you play/add/rate/review, the more points you earn!

Infinite Player Rating
The Infinite Rating is designed to provide a similar rating to the PDGA rating.
Each course layout establishes an Infinite Rating after it has been played at least 8 times by propagators. One becomes a propagator after playing at least 10 rounds on bona-fide courses (that already have ratings established). Until a player has an Infinite Rating, PDGA ratings are used to establish course ratings.
Players can see their round ratings immediately after playing uploading scores for a round played.
To keep player ratings accurate and consistent, it is important that players understand the course rules before playing/submitting scores. When you add new courses, make sure to explain the rules and penalty's for each hole.
Players also need to make sure they submit all scores, and not just the "good" rounds.
Course Rating
The Infinite Course Rating is a simple way to tell how difficult a particular course/layout is compared with another course or layout.
The Course Rating shows what rating is required to shoot par on an individual course layout. An easy course will have a lower rating while a more difficult course will have a high rating.
For the Infinite Disc Golf system to really work, we need to get as many courses rated as soon as possible. The more rated courses there are, the more players there will be with ratings,  = more rated courses.
Courses gain an official rating after they have been played 10 times by players with either an Infinite or PDGA rating. Each layout has its own rating which consists of up to the last 50 rounds played on that particular rating.

To maintain accurate course and player ratings, please upload a consistent sample of your recorded rounds (not just the ones where you score particularly well).
Player Profile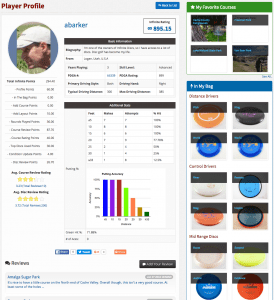 The player profile displays the players biography, Infinite Rating, Infinite Points, Favorite Courses, Favorite Discs, course reviews, disc reviews, and scores from all recorded rounds on "favorite courses".
The player profile also displays putting percentages, green hit percentages,  total aces, and the discs and holes in which the player got aces (coming soon).
When players earn 500 Infinite Points, they will be awarded an Infinite Bag tag (coming soon) that will also be kept track of and displayed on the player profile.
Putting Statistics
Putting and Green Percentage stats are automatically calculated when putts are entered in the optional fields on the "add score" input. These statistics are designed to keep track of "in round" putting percentages as opposed to practice putting when you have a stack of discs and can get in rhythm.
The putting drop down options and statistical divisions are in following ranges: 5, 10, 15, 20, 25, 30, and 33+.
These are meant to be rounded putting zone ranges, so the 5′ zone is meant to be anything from a drop in back to about 7 feet. 10 should be selected from putts in the 8′ to 12′ range etc.
To record your putts, simply enter the distance range of each putt attempted. When you make your putt, you don't need to do anything else. The system assumes that the distance for the last entered putt is a make.