Infinite Discs: Disc Sales & Discount Codes

Since 2012 Infinite Discs has provided a multiplicity of disc golf necessities to the disc golf community. On our site you can find discs, carts, bags, grip enhancers, and even putting aids (to name a few things available online); most everything disc golf related can be found on InfiniteDics.com.
Here at Infinite Discs, we have the goal to provide you with all of your disc golf needs at the best price available. To fulfill this goal, we are always working to sell the discs at the least expensive price possible.
The purpose of this article is to detail how to navigate Infinite Discs' sales (and their frequency), its "On Sale" page, and how to use discount codes. All to help you to take advantage of available savings while shopping at Infinite Discs.
Weekly Sale Items
Every week we have a group of items on sale for you. These products are updated on Tuesdays or Wednesdays, then will remain on sale until the following Wednesday. There are a handful of ways to tell which disc golf products are on sale. The easiest and the fastest way to tell is by looking at the "What's on sale" page which can be found HERE. The link to this page is found while browsing the InfiniteDiscs.com website by looking at the right sidebar on a PC, or scrolling down on your phone. The "What's on sale" page will detail everything that is on sale for that week. There are always discs on sale, as well as some non-disc items. The "What's on sale" page divides everything into its appropriate groups of Distance Drivers, Control Drivers, Mid Range, Putter, and Other Products (non-disc items).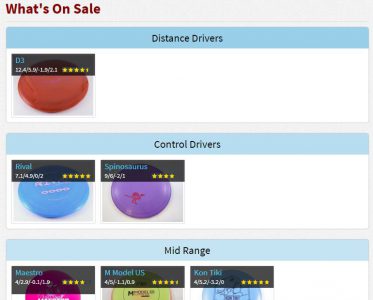 Again, this page can be accessed from almost any page on the Infinite Discs website. You'll need to click on "What's on sale" to view all products that are cheaper than usual for that week. If you click on one of the discs within the green box you'll be taken to that disc's landing page rather than the page illustrating all sale items. The items are automatically discount, so no discount code or coupon is necessary for these items. After their week in the spotlight is up, the item price will return to the regular price.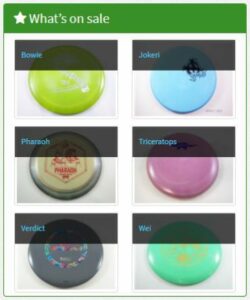 Another way to tell which products are discounted, is that there will be a green banner going across the top right corner of the picture. The banner will simply say, "Sale". Like you can see on the Yikun Wei as pictured below: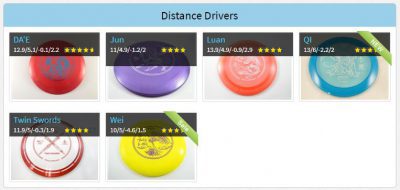 Sometimes only certain plastic types or special editions will be featured on sale. For discs, it is a little harder to tell which plastic type is on sale without knowing the previous prices and browsing through the available discs.
To see the prices of some individual items (and subsequently which items are on sale) click on "Buy Now" a little pop-up window will appear with the available items. In this window, you'll see the prices of the products helping you to know which portion is on sale. As you can see with this Prodigy bag example below. The Prodigy bag will show up on the "What's on sale" page and upon clicking on it you will see that just the pink bag is on sale: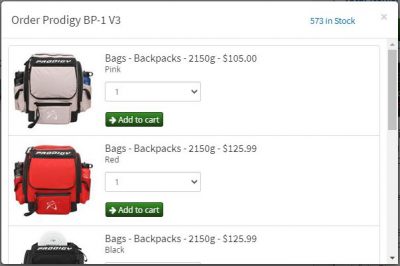 Discount/Promo Codes
In addition to those weekly sale items, Infinite Discs does sometimes have discount codes. We are very strict about time limitations and product limitations when issuing discount codes. If you find a discount code on one of the many "coupon" websites, it is most likely that the code is long expired and was only being used for a very short time. This is because we reward our regular followers on social media with these fixed-time offers, rather than throwing discount codes all over the internet. Since we already sell discs at inexpensive prices, we do not find it necessary or feasible to offer general discount codes.
There are a handful of ways that these discount codes are advertised. They are primarily announced through social media or through our blog posts that feature specific items.
One of the common discount codes is offered through Focus Friday. This is an off-season weekly post that features a specific disc or product. It releases on Fridays, and the code provided therein will last until the following Monday (only for a weekend). Depending on the product, the code can provide 10% – 20% off that featured item. This blog post may also be shared through our social media means as well in hopes that it helps our customers to try out new products at a discount.
Other discount codes are usually for limited timeframes, like during a Black Friday sale event, or a weekend Father's Day offer, or other special occasions. While those codes can help you take advantage of a discount during that short period of time, they will expire.  We cannot extend discount codes beyond the designated time period.
Using a discount code is very easy. You'll simply put the promo code into the "Discount Codes" box, which can be found on the shopping cart page under all of the products in this shopping cart. To make that box available for text entry, you'll need to click on the arrow found on the right had side. Once clicked, the box will appear where you paste your code. Once you enter the code in the text box and hit enter on the keyboard or click on "Apply Discount", it will show the discounted price above in the shopping cart. Only one discount code can be applied per transaction.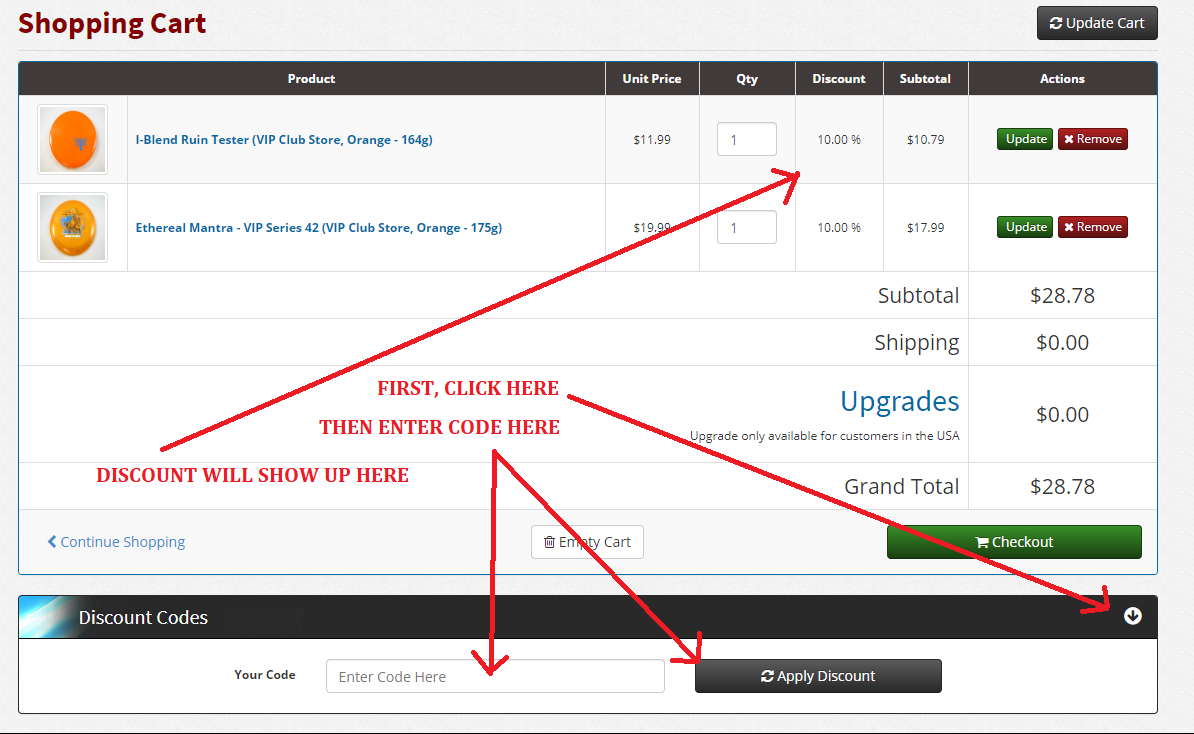 Questions Regarding Sales or Discount Codes
Hopefully this article has helped you to understand the availability of sales and discounts on the Infinite Discs website. Again, the "What's on Sale" link on our website will quickly forward you to the featured sale items or the week. Any discount codes will be shared through social media or our blog and will have a very limited timeframe for use. If you have any questions, feel free to email support@infinitediscs.com  But remember, we won't be able to share discount codes with you over the phone or through email, since the purpose of the discount codes is to reward those who are actively following our announcements on social media, through newsletters, and on our blog.