Infinite Discs Hits Huge Inventory Landmark

More than 22,000 Discs in Stock!
Infinite Discs has grown wonderfully over the last few months, thanks to the support of avid disc golf players like yourself. We've always pushed ourselves to have the largest and most diverse selection of discs online, and to represent those discs individually so that our customers can find and purchase exactly what they want.
Heading into the summer months, we had a couple of short, enthusiastic celebrations here at the warehouse after surpassing the 20,000 disc mark. But our inventory fluctuated just above and below that mark for a few weeks. But now, we've settled well over the mark, with more than 22,000 discs in stock! We set a warehouse record this week when on Thursday we photographed and added over 900 individual discs to our online inventory in a single day.
Now, more than ever, you can browse a huge selection of discs and select the exact disc you want, in the exact weight, exact color, and exact stamp you want, purchasing the exact disc you see in the photo. Let's look at some highlights that came in this week.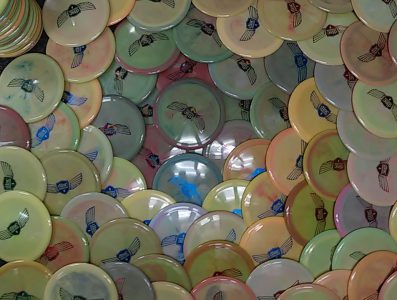 The Discmania DDX has been one of the most exciting and fast selling new distance drivers of 2016. The initial stock sold out quickly, and it took a long time to get more. This week we got an impressive pile of Swirly S-Line DDX discs in stock, all in 175g weight. They fly like a Destroyer, but with less fade. They've been flying out of the warehouse once again, so if you want to get your hands on one of these beautiful discs, act quickly!
CLICK HERE and push the "Select Your Disc" button to see what is left.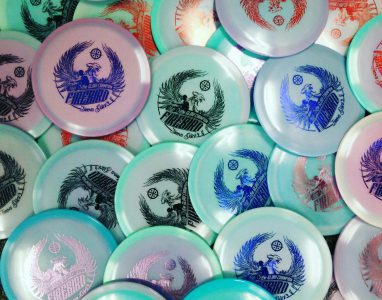 Another exciting disc that has been selling like crazy is the collectible, Champion Colored Glow Firebird. The Firebird is an extremely popular driver, and finding it in such beautiful glow plastic is a real treasure. We sell out as fast as we can stock them. We also have been carrying other special edition Innova discs, like the McPro Aviar, the Champion Condor, and more, so keep an eye open for the fun stuff as your browsing your favorite discs.
CLICK HERE and push the "Select Your Disc" button to see what we have left.
A new disc has hit the market called the ANDRO C by Ozone Discs. It is an interesting disc designed to bridge the gap between a mid-range and a fairway driver. The wing of the disc is shaped like a fairway / control driver for higher distance potential and greater speed, while the larger diameter and medium rim depth allow for the control of a mid-range disc.
We've got some big announcements coming up as well, with discs that will be exclusive to Infinite Discs, so keep an eye open on our blog, our social media, and your email to find out what we have in store for disc golf players and disc enthusiasts very soon!