Introducing Team Infinite's Dustin Keegan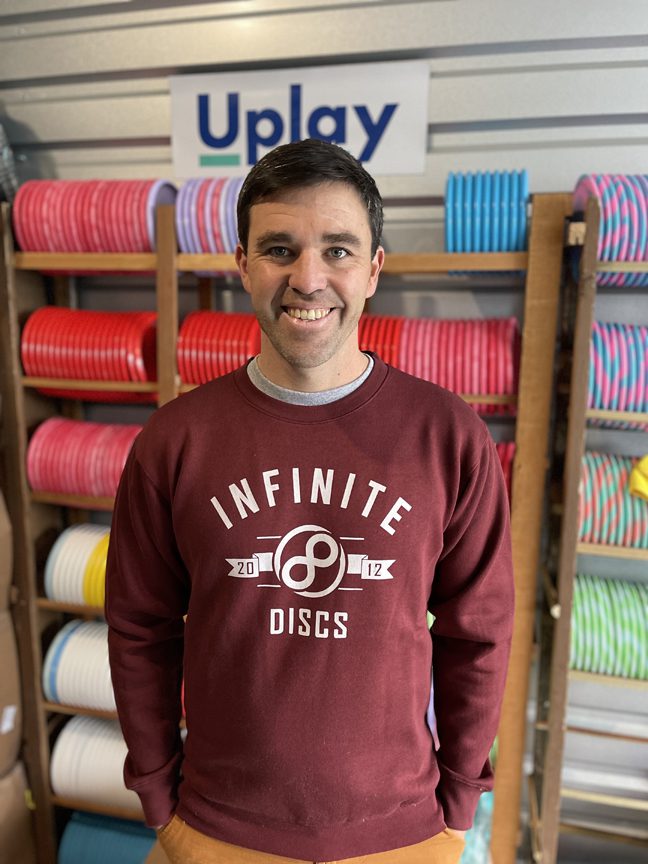 Where did you grow up?
I grew up in Eugene, Oregon
How did you get into disc golf?
I played golf a lot after high school. One of my best friends at the time traveled out of Eugene and found out about the sport of disc golf and then when he came back to town, he showed me a game he thought I would absolutely love. For me, it was love at first sight. Disc Golf was the perfect blend of every sport I loved and my deep love for the outdoors.
When did you turn pro?       
2010
What was it like the first time you took cash as a pro?
I took cash at my very first professional event, 2010 Great Northwest Open. I tied for last cash with a couple others and won $15. Even though it was barely anything, it validated my decision to move up and play MPO, and that I was a contender in the Oregon scene! Big Deal!
Who did you look up to when you were first starting out?  
I really looked up to Nate Sexton, Dion Aryln, Brodie Miller, Dave Feldberg, and Erik "Buck" Smith who were all the best players in Oregon when I decided to play professional disc golf as a real career choice. Oregon was a powerhouse in the professional scene, which meant that I had a LOT of really good players that I could look up to and mold my game after.
What are some of your goals for next year?
I only plan on playing a few of the "elite series or majors" but I do plan on playing some classic events in Oregon that I haven't been able to play for many years. I have a goal of playing around 15-20 events and I really want to win at least 3 events this year! I will be training like crazy and when I do get to play, I will be ready and focused to play at the best of my ability. I will also be traveling to many different countries next year and I also have a goal of learning how to speak better Spanish.
What do you picture disc golf looking like in 5 years (Growth, competition, contracts, etc.)?
Disc Golf is at its blossoming stage as a sport and with proper care from the people taking care of it, it will grow into a very strong and mature thing. This is the best time to be a part of the sport and players and companies pretty much have a blank slate as far as the "how to" and "direction" the sport is heading. For the players who grinded out the stale years of exposure and financial gain, we are finally there, and we can really make disc golf a real career. It will only continue to grow over the next few years and for those who have committed themselves to disc golf, the rewards will continue to flood in.
What Infinite molds do you throw?
I currently throw the Emperor, Sphinx, and "my new signature disc". I'm liking the Chariot, Centurion, Scepter, and Aztec but they haven't 100% made the bag yet.
Do you have any shout-outs or people you would like to acknowledge?    
I wouldn't be in this position without Zoe AnDyke and all of her amazingness. She has put me in front of so many people and companies and has sold my personality and skills to them which I am forever grateful for. I also want to give a huge shout out to Todd and Dylan (at Infinite) for always being so nice to me and always leaving the door open for me to join the team. This truly is a dream come true for me, and together, myself and Infinite are going to make some big things happen!