Where did you grow up?
I grew up in Ramona California, about 45 minutes Northeast of San Diego. It's a small mountain town, and obviously in moving to Western Montana, that secluded mountain vibe is a key part of who I am. There was a lot of open space to run as a kid. I loved where I grew up and honestly, I am sometimes sad that my parents moved away. I still have a ton of family in the area, including my younger sister and brother-in-law.
How did you discover disc golf?
Occasionally as a kid I would join my dad on his water delivery routes (think 5 gallon bottles of water delivered to homes and businesses). I loved to try to carry the heavy bottles all by myself, and climb on his big water truck, using the necks of the bottles as handholds. He'd always buy me a big Slurpee from 7-Eleven after our hard day of work.
One day when I was 8, during one of my take-your-daughter-to-work outings, my dad surprised me and took me to Morley Field Disc Golf Course. He bought me a DX Panther from Snapper at the pro shop, and we played. I barely remember it. Then 8 years later, suddenly he took me and my brother again. I was 16, and I thought "why haven't I been playing this my whole life?" I was immediately hooked. My brother Jason and I would go to the park and work on our distance. My Dad would take me and Jason to Morley Field at the crack of dawn on Saturdays, so we could beat the rush for our first round, and then play a leisurely second round as it got crowded.
When did you turn pro?
I didn't know there were tournaments until I graduated college in 2014. My first tournament was in July of 2014, after that I played FA1 and dabbled in FPO in 2015 and 2016. I didn't officially consider myself a pro until 2017, when I decided to do a self-funded, unsponsored mini tour in 2017. I was able to tour for nearly 6 months and made it to the DGPT Championships. I did get sponsors as I traveled, but I would have been out there sponsor or no sponsor.
What was it like the first time you took cash as a pro?
My first cash was anticlimactic. I could have taken cash in 2016, but wanted to continue as an amateur. I didn't cash until my 9th pro event of 2017, and that was in a field of 2 at the Challenge at Goat Hill. What I consider my first "real" cash was a month later, when I took 2nd at the Zoo Town Open, my home tournament held in Missoula, MT.
Who did you look up to when you were first starting out?
I never watched videos or even knew there were tournaments until I was 21 and started playing FA1. My role models became people I met. Zoe Andyke was the first person that when I asked "what do you do for a living" the answer was "disc golf" and my mind was blown. I got to play a round with Zoe at Daisy Chains in 2015 and her positivity was inspiring.
Later that year, I played FPO in the Phoenix Ladies Open, and felt both intimidated and outclassed. It was a small field and I was on the lead card for the second and final round; my nerves were palpable. Ohn Scoggins was on the card, and her support was unforgettable; her kindness that day is one of the reasons I am Ohn's biggest fan. I would mess up a drive or upshot and she'd say "it's okay girl, it's just a jump putt!"
Don't get me wrong, I'd go out and watch Paige Pierce, Catrina Allen, Sarah Hokom, Valerie Jenkins, Jennifer Allen and all of those big names whenever I got the chance, but for me Zoe and Ohn were my biggest inspirations. Being nice, welcoming, inclusive and making a living playing disc golf became my dream, just like Zoe and Ohn.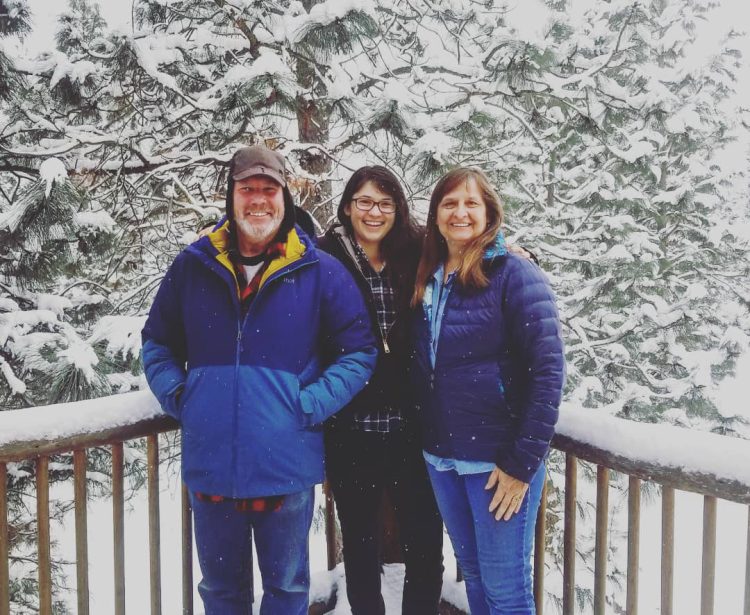 What are some of your goals for next year?
Last year I lost a bit of my fire for the game. Disc Golf felt more like a job, and the job was throwing way more big open shots instead of the finesse woods golf I loved. Signing with Infinite has literally opened my world up to try so many new discs and re-discover my joy of simply watching a disc fly. I want to enjoy disc golf next year more than anything else, rather than feel mind-crushing pressure to perform. I think with a more relaxed, joyful attitude, I am naturally going to play better next year. I decided I am not going to have specific performance based goals. I am lucky to be able to play disc golf and make a living, and I am going to celebrate those facts. I believe results will follow.
Will you be commentating again this year as one of the Two Hot Geese (with Madison Walker)?
Because we do not have an official agreement at this time, I am not sure if Madison and I will be doing commentary next year, but we hope to be calling the shots again in 2023!
What do you picture disc golf looking like in 5 years (Growth, competition, contracts, etc.)?
I couldn't have guessed the sport would grow so much in the past 5 years, let alone where we are going next. From an FPO standpoint, 5 years ago, 25 was a great field size. Now we can hit 75 with relative consistency. Disc Golf media was much less comprehensive, very few people had contracts that paid in real money and not just an allotment of discs, the list goes on. In 5 years, I – like many – would love to see disc golf as an Olympic Sport. I hope that as a pro, having a tour card means you make a liveable wage without all the side hustle that is required for most mid-level pros.
Outside of professional disc golf, I truly hope the growth of our sport wasn't just a byproduct of Covid, and it continues to grow. I'd love to see a lot of new courses, continued free or cheap entry to play, access for all walks of life, involvement from parks and recreation, forest service and other organizations to preserve and maintain the land courses are on, avid disc golf clubs and all the things we have now including fan access to pro disc golfers. I hope we don't lose the fact that disc golf is a sport for everybody. I like to tell people disc golf is whatever you want, a solitary retreat, exercise, maybe a place to drink a beer with your dumb buddies; you can take your dog or take your grandpa, all are welcome.
 What Infinite molds do you throw?
I have not had a lot of time to adjust to new molds with the timing of switching contracts. Additionally, Montana winter golf doesn't always allow for full-power shots. That being said, an I-blend Maya is my favorite right now, since it has effortless understability yet a reliable slight fade at the end. I have been throwing the Dynasty and Centurion for control drivers, and using a Cohort for straight upshots, as well as trying them for my putting putters. I am sure things will change and I am so excited to try everything!
Do you have any shout-outs or people you would like to acknowledge?
I have to give the biggest shout out to Eric Oakley, who gave me a hand when I felt like I was drowning. Leaving Westside was not the outcome I saw for myself in 2022 and I had very little time to decide what I wanted and how to get it. Todd Durrant has been kind and patient and I think that my vision of what I want disc golf to be totally aligns with Infinite's. I also want to give a shout out to my husband Ian Harris, who has been a reassuring source of comfort and strength as we have toured the last 2 years; he always helps push me forward if I doubt myself. I want to thank my Mom for always watching UDisc Live Scoring even though it stresses her out. Lastly I want to thank my Dad – David Stinchcomb – for teaching me to play.
Infinite is on-board with working with my sponsors who have supported me for years: Whales Sacs and Skybreed Discs. I was scared that signing a new company meant losing my other sponsors. The sense of cooperation Infinite has is something to admire, and a way to grow the sport better than we can alone. Not only can I continue with my old sponsors, I also will get to work with Clash Discs and Thought Space Athletics this year. The opportunities I see are literally infinite and I can't wait to get started.