Ledgestone 2018 Special Edition Discs from Discraft

We've seen some fun, limited edition Ledgestone Open discs come into the store at Infinite Discs so far this year, and we keep getting more. The biggest release so far was the serious of multiple Bee stamped Swirly ESP Buzzz discs. Those have excited both Buzzz throwers and collectors who want to add each different bee stamp to their collection.
Let's take a look at the latest Ledgestone 2018 limited edition discs to arrive at Infinite Discs…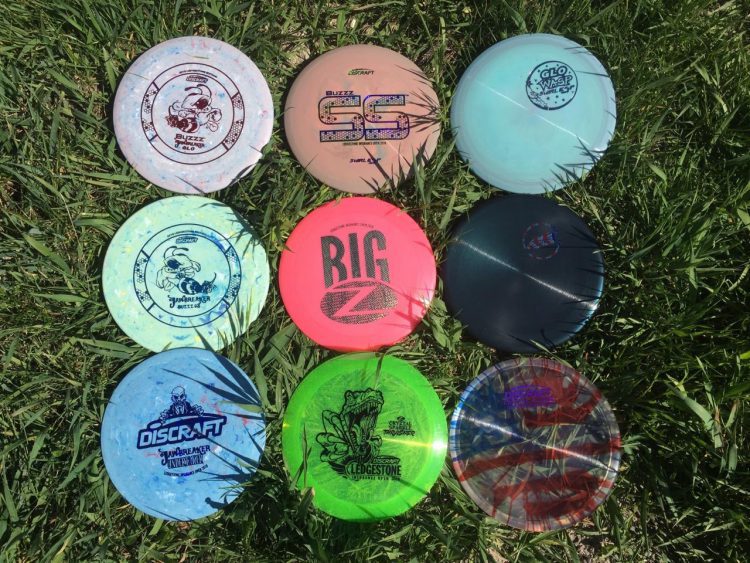 These are some cool discs in Elite Z plastic that have a decorative "Color Shift" effect in the disc. When you tilt the disc at different angles in the light, you can see it change from black, to green, to turquoise.
CryZtal Z is a great, translucent plastic blend, and now it comes with a cool American flag dye.
CryZtal  Sparkle is a beautiful, translucent plastic with added glittery sparkle that shimmers in  the light, and the Thrasher is a great distance driver for players at all levels.
The popular Jawbreaker plastic is given the glow-in-the-dark treatment on these limited edition Buzzz mid-range discs. It has great glow patterns in the plastic.
The Buzzz OS is the overstable edition of the popular Buzzz mid-range and this is its first appearance in Jawbreaker plastic.
The Undertaker is an excellent fairway driver that has a very dependable flight path with moderate fade. This is the first time it is available in Jawbreaker plastic.
Though this batch of Swirly ESP plastic is supposed to glow, they certainly don't glow very brightly. But they are nice looking discs with a limited edition Ledgestone stamp
Big Z discs from Discraft have big picture stamps. Well, this Ledgestone edition Big Z Force has a Biz Z stamp…that says "Big Z".
The Buzzz SS is the super-straight version of the Buzzz mid-range disc and a wonderful disc for beginning players. Now you can get a limited edition in Swirly ESP plastic.
Keep watching for more Ledgestone 2018 tournament support discs at Infinite Discs, the proud retail sponsor of the Ledgestone Open!