Paul McBeth Signature Series + NEW Putter

Paul McBeth Signature Series
The new year is here and Discraft is ready to roll with the new Paul McBeth Signature Series lineup. They have announced four molds that will carry the "First Run" Paul McBeth Signature stamp. These molds are:
These discs will be available to purchase on January 11th. These discs carry the "First Run" text on the stamp, so future stamps will likely not be the same. We know these quantities are limited from Discraft, and we stocked up on as many as we could. We should have a great selection on January 11th. You can find where these specific discs will be listed by clicking on the disc name above.

Paul McBeth Prototype Putter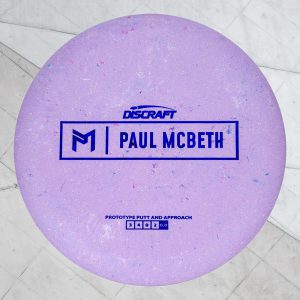 On January 11th, a new Paul McBeth Prototype Putter will be released. 
This is presumably the Luna putter that was PDGA approved on the 28th of December, however we will list it as it's own mold for now. This new Paul McBeth prototype putter will be made in a special blend of plastic, combining Jawbreaker plastic and a rubber blend. The flight ratings are 3, 4, 0, 2, making it a stable putter. We don't know much else about the putter until it arrives, but we will keep you updated!