Prodigy Ace Line Discs Now Available!
Four new Prodigy discs are now available. These are still great discs designed by the pros at Prodigy, but there's something slightly different about the newest Prodigy discs.
Introducing the Prodigy Ace Line
Up until now, all Prodigy discs were manufactured in the USA. Over the past several years Prodigy has invested in a new disc golf manufacturing facility overseas. The discs produced in the China factory are now known as Ace Line discs. Similar to the way that Discmania has their Yikun manufactured Active Line discs, Prodigy has now released four available Ace Line discs.
Overall, it appears that the Ace Line will allow you to purchase great Prodigy discs at an even lower price point.
What's Different with Ace Line Discs
New Molds: The four released Prodigy Ace Line discs all feature new and different molds that vary from the existing Prodigy discs.
New Names: These discs feature a new naming system making it easy to know exactly how each disc will fly by simply reading the name.
The first letter in the Ace Line naming system signifies which kind of disc it is. There are four potential disc types:
D- Distance Driver
F- Fairway Driver
M- Midrange
P- Putter
After "Model" in each disc name the disc stability is stated. There are five different possible stabilities for each disc type:
US+ – Very Understable
US – Understable
S – Stable
OS – Overstable
OS+ – Very Overstable
New Plastics: The Ace Line will feature two different plastics. A base plastic, that doesn't feel like base plastic, and a premium blend called Dura Flex. The four discs introduced with this initial release are currently only available in the Base Grip plastic. You can get this quality plastic for just $7.99 each right here at Infinite Discs.
The Ace Line Discs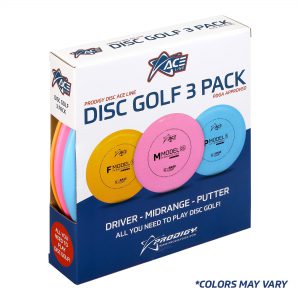 The initial release includes a distance driver, fairway driver, midrange, and putter. The fairway driver, mid, and putter are also available through a three disc starter set.
We took the discs out for a few test throws, check out our quick Ace Line disc reviews here.
D Model S
The D Model S is a high speed stable distance driver. This is disc is comparable with the Prodigy D3.
F Model S
The F Model S is is a stable flying thick rimmed fairway driver. This disc goes really far for a fairway driver.
M Model OS
The M Model OS is an overstable midrange. This is the only overstable model in the initial Ace Line release. We didn't find the flight of this mid to be overly overstable and it is still a solid mid for players of all skill levels.
P Model S
The P Model S is a stable flyind midrange with a flat top and a small micro-bead around the bottom rim.