Professionals and Tournaments
Us And The Pros
The next best thing to being out on the course playing disc golf is watching the top pros in the sport play the game. There are many reasons to watch them play. It is so amazing to watch the lead card at a major tournament execute shots that require precision angles, impeccable timing, or gobs of power. Watching a skilled professional disc golfer ply their trade is a thing of beauty. Watching a skilled professional disc golfer shank a drive or drill a tree is also comforting. There is kind of a bonding feeling to see someone we admire because of their high level of talent, make the same mistakes that we do on the course. It's also educational to watch them throw, then use that knowledge to improve our form.
For whatever reason, a lot of us choose to watch videos of tournaments. Sometimes we watch them live, committing three or more hours so we can see things in real time. Others of us prefer post-produced video, which is video that is edited so that you get to watch the throws and putts, but not all of the walking and waiting in between. Even if we like videos, many of us enjoy attending tournaments in person, too. But, a certain percentage of us are content to just play the game and not watch the tournaments, nor do we have pros that we follow. Let's look at the different ways we consume disc golf tournaments.
Consuming Media
The question we posed was, 'In which of the following ways did you follow professional disc golf in 2020?' While Covid19 affected the tournament scene last year, there were still a lot of tournaments that were played and filmed. Here is a breakdown of the results: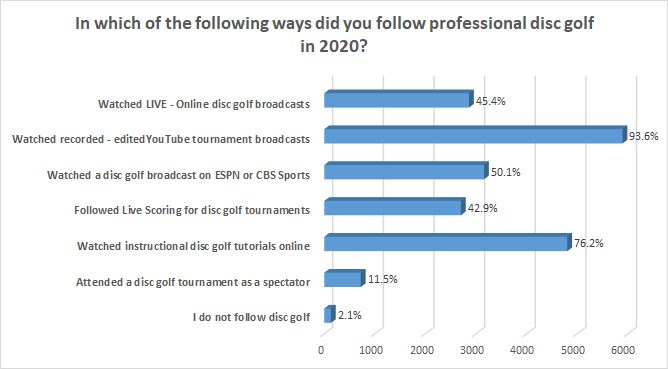 Only 2 percent of us say that we don't follow disc golf, while 93.6 % of us say that we've watched post-produced tournament videos! A contributing factor to the large number of people who watch tournaments on YouTube is the high level of video quality we are seeing in the sport. Production crews like Jomez, Central Coast Disc Golf, Gatekeeper Media, The Disc Golf Guy, Par Save Production, GK Pro and others have taken video production to another level. We can now watch tournament rounds often within a day of when they were played, usually with commentary, replays, disc tracking, etc. Throw in production companies such as Ace Run Productions and Disc Golf Examiner, who offer video of local tournaments, and it's really a good time to be a disc golf junkie!
Watching post-produced videos is easily the most popular way to watch disc golf videos. Half of us watched a tournament broadcast on ESPN or CBS Sports. That is impressive when you think that only a few tournaments were shown from those companies.
Watch Live or Watch Later
When it comes to watching tournaments life, and impressive 45% of us are willing to carve out enough time in the day to watch a live broadcast. I suspect a large number of those people are watching at work, which makes the decision a little easier. More people indicated they watch tournaments live than watch live scoring. A little under 43% of us watched live scoring last year. While nowhere near the number of people that watch post-produced videos, which is still a lot of people who want the tournament results instantly.
One survey result that surprised me a bit was how many people watch disc golf instructional videos. Over 76% of us watch those videos. There are so many good teachers and videos out there, and I am such a fan of these videos, that I thought that number would be higher. If you want to get a little disc golf coaching, check out some of the great online videos.
The final statistic in this segment is how many people attended tournaments as a spectator. The survey results indicate 11.5% of us watched a tournament in person. That is down quite a bit from 27.6% the year before, due to having fewer tournaments to attend and more restrictions at the tournaments that were held. Here is a graph of the results of the previous year's survey results. Note: we did not ask about CBS and ESPN due to those companies not having a broadcast the year before.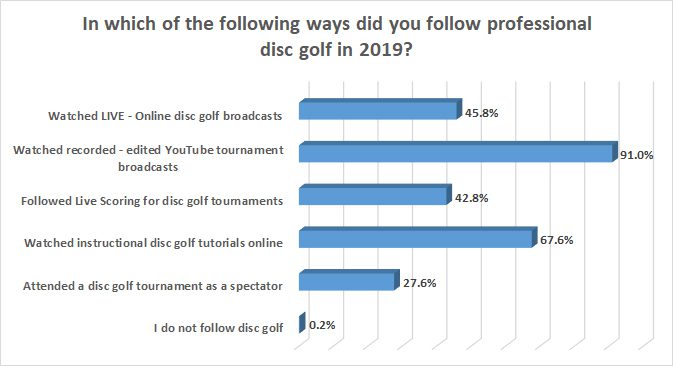 One interesting survey result was that 94% of us said that we watch tournaments on YouTube, yet 13.2% of us said (in a separate question) we don't follow professional disc golfer. I suppose we could be watching strictly for the love of the sport. For me, I've really started following certain players because I get to watch them on video or at a tournament. Here is the results of the question: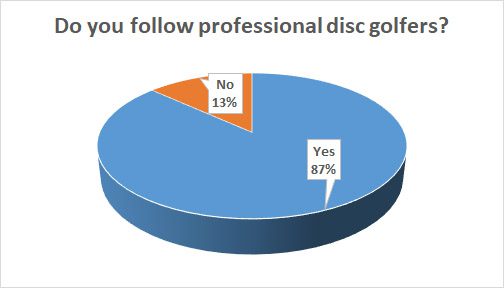 Choosing Favorites
For those of us who do follow professional disc golfers, most of us have a few favorites that we really like to watch and cheer for the win. We are fortunate in our sport at this point in time to have professionals that are so accessible. If you attend most high-level tournaments, you are rubbing shoulders with the best in the sport. They are usually happy to sign a disc or chat (if they have time). So, we asked in our survey who were are favorites. We let people choose more than one, since most of us like a few pros. Taking the top spot is none other than… Simon Lizotte. Over 18% of us chose him as one of our favorites. In second is Paul McBeth. Paige Pierce was the best ranked FPO player, with 7.5% of us choosing her. Here are the top 20 places: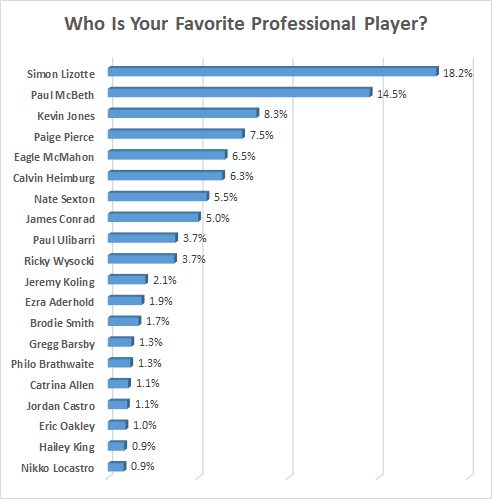 To compare, let's look at a graph of the favorite disc golfers from the previous year's survey results. In it, we see Simon and McBeth in the top two spots again. And Paige is in fourth again. Two changes in the top five are that Kevin Jones and Eagle McMahon are now in, and Nate Sexton and James Conrad dropped a little. Here are the top 20: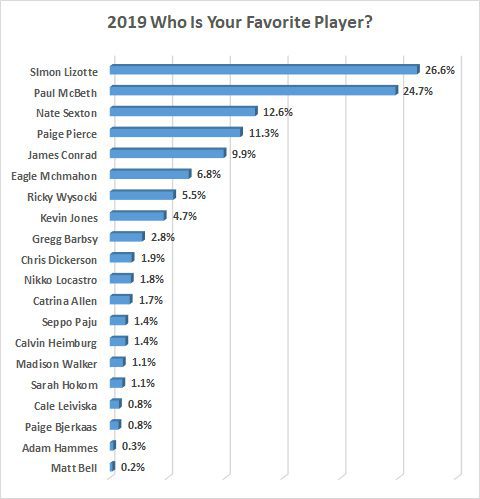 Tune in next week when we'll look at more survey results.