Pureline Tournament Series 2017 Discs are Available

In order to support the Pureline Tournament Series, which is a series of tournaments in the western states, Infinite Discs now has a great selection of limited edition stamped discs from series co-sponsor, Innova! The Pureline Series allows players of all skill levels to play at different disc golf courses in order to accumulate scores that don't only win payouts for each tournament, but that also take them toward grand prizes at the end of the series. Infinite Discs is happy to team up with the Pureline organizers to support this series through the selling of this discs.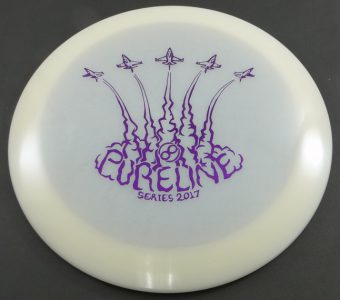 The Pureline Series stamps feature a formation of fighter jets, drawing out flight paths, from understable to overstable, with their smoke trails. It's a fun stamp and the discs are downright awesome! There are a lot of glow and colored glow discs, plus plastic types that are not the usual offerings for certain disc models, and just some fun, good-looking colors!
Once these 2017 series discs are gone, then they won't be back, so get them while you can!
Which Discs Can You Get?
An easy way to browse all of the discs with the Pureline stamp is to click on Advanced Disc Search, and then click the check-box for "Stamp," and then click the button to view all of the available discs. You can browse through pages of photos and add the ones you want to your cart.
Here is a list of the limited edition Innova discs with the Pureline stamp:
DX AVIAR
CHAMPION SHRYKE
CHAMPION MAKO3
STAR DESTROYER
STAR SHRYKE
PRO DESTROYER
DX GLOW AVIAR
GLOW KC PRO AVIAR
JK AVIAR
KC PRO AVIAR
CHAMPION GATOR
PRO COLT
CHAMPION GUMMY DESTROYER
CHAMPION GUMMY RHYNO
CHAMPION GUMMY TERN
CHAMPION GLOW BOSS
CHAMPION GLOW DESTROYER
CHAMPION ROC3
CHAMPION THUNDERBIRD
PRO GATOR
PRO GLOW GATOR
KC PRO ROC
GLOW KC PRO GLOW ROC
CHAMPION FIREBIRD
CHAMPION DYED TEEBIRD
CHAMPION DYED TERN
CHAMPION DYED DESTROYER
CHAMPION DYED FIREBIRD
CHAMPION DYED ROC3
COLORED GLOW JK PRO AVIAR
COLORED GLOW KC PRO AVIAR
COLORED GLOW KC PRO ROC
XT NOVA
CHAMPION GLOW AVIAR
CHAMPION GLOW FIREBIRD
CHAMPION GLOW GATOR
CHAMPION GLOW SHRYKE
CHAMPION COLORED GLOW DESTROYER
CHAMPION COLORED GLOW FIREBIRD
CHAMPION COLORED GLOW LEOPARD3
CHAMPION COLORED GLOW ROC3
CHAMPION COLORED GLOW TEEBIRD