STATE OF DISC GOLF 2020 – How Many Discs We Own

Every year we enjoy asking disc golfers questions about their disc purchasing habits and preferences. As a retailer, this is a subject that always interests us at Infinite Discs. We help customers at all different levels, from the novice who wants to know the best beginner discs to the hard-core collector who buys the hottest new releases. It's time to share the data collected from the survey participants on the subject of how many discs we own and what motivates us to purchase more.
HOW MANY DISCS DO YOU OWN?
Many of us remember when we were new to the game of disc golf. The first time we see another player carrying a backpack loaded with discs is usually a shocker. Why could the possibly need so many discs? It doesn't take long to learn why multiple discs are necessary as you become a more serious player. But some of us dive much deeper into the sea of plastic than others. Here's a look at how many discs survey participants claim to own.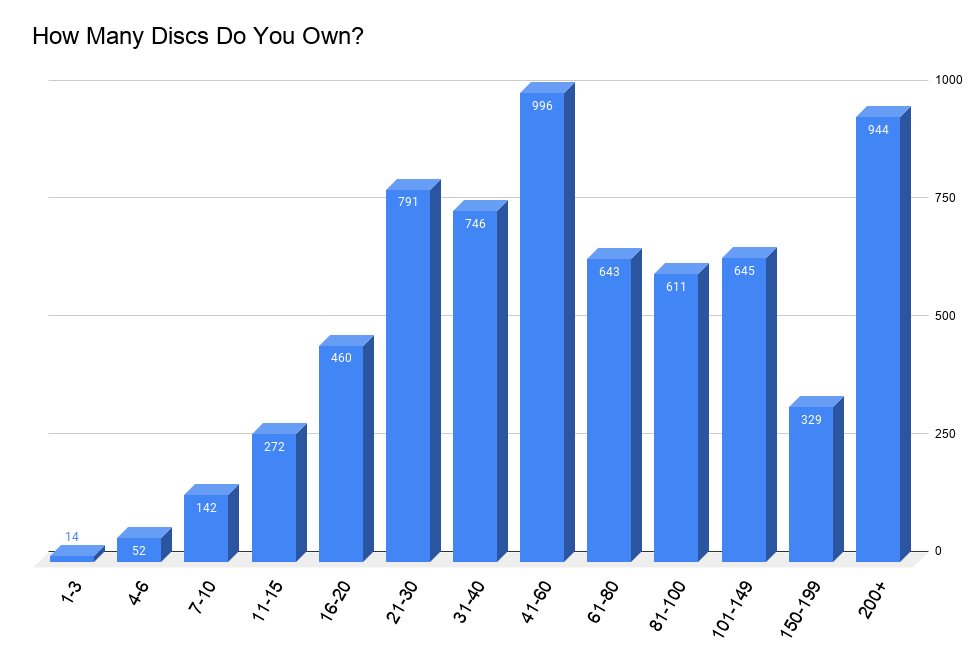 Of course, those who would take the time to participate in a State of Disc Golf survey are typically more serious players. Thus, the number of participants who claimed to own less than 10 discs was very low. The highest column on the chart is the one representing players who own 41-60 discs. That means that the sweet spot is somewhere around 50 discs. However, as the quantities go higher, the number of responses doesn't drop much. The final quantity of 200+ discs is the 2nd highest on the chart. In fact, just over 14% of those surveyed own more than 200 discs! 
HOW MANY DISCS DID YOU BUY?
Perhaps you are a player who thinks deeply about what you want in a disc, weighing the pros and cons of each purchase before pulling the trigger. But there are plenty of other players and collectors who have a fast trigger finger when it comes to disc buying habits. Some players only purchase a disc when they lose a favorite. Others purchase a disc in the hopes that it will improve their game. Others purchase discs to hang on the wall. In the end, how many discs did the survey participants purchase in 2019? Here are the results.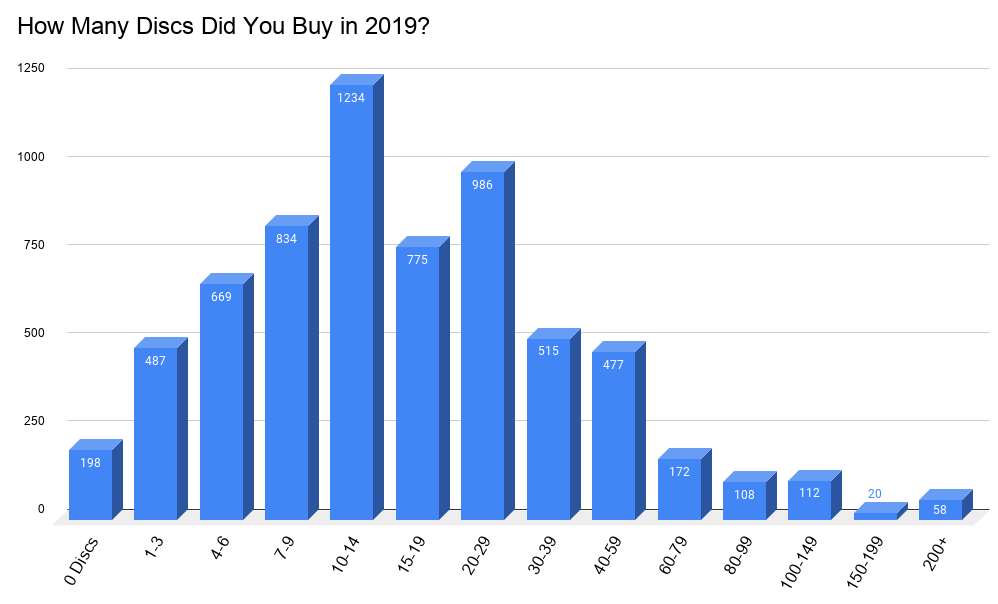 A good number of survey participants claimed not to have purchased any discs in 2019, but the vast majority made disc purchases. The largest column is the one that represents 10-14 discs purchased. That's an average of about a disc per month, which sounds pretty reasonable for an avid player. You may find it interesting that 58 people claimed to have purchased more than 200 discs in 2019.
HOW MANY DISCS DID YOU BUY TO COLLECT?
Let's take a moment to measure how many discs were purchased solely for the purpose of collecting. When asked how many discs survey participants purchased only to collect, these were the results: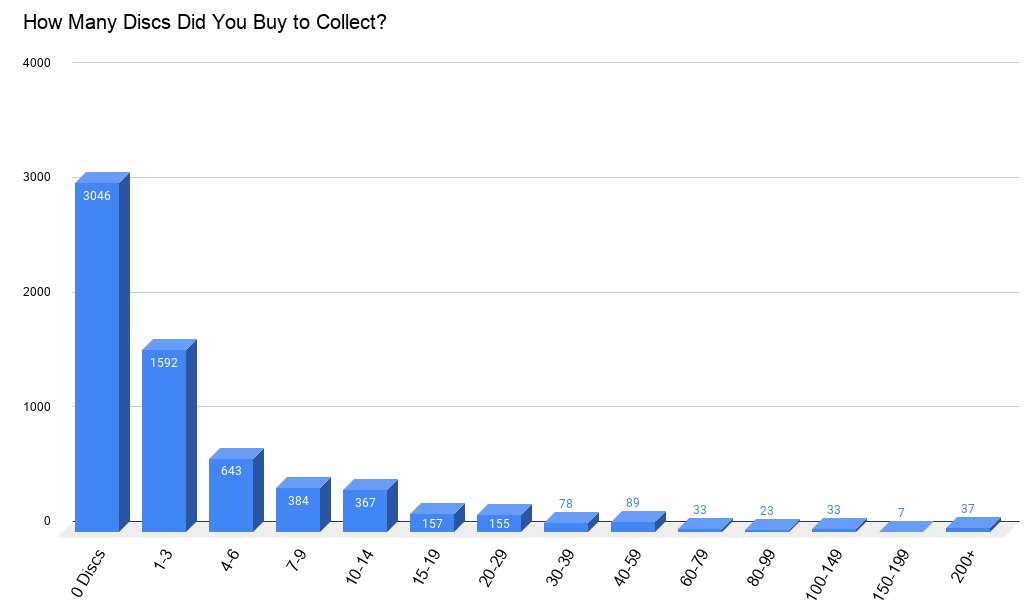 About 46% of those surveyed said that they purchased absolutely no discs for collection purposes. Another Another 24% said that they only purchased 1-3 discs in 2019 to collect. That makes about 70% who are probably not serious collectors. However, there are a good number of people who purchased large numbers of discs and who primarily purchased those discs for collections.
WHERE DID YOU BUY YOUR DISCS?
There is one more piece of data we'll look at in this run-down, and that answers the question of where the survey participants acquired all of their discs in 2019. Was it at a local pro shop? Was it online? Was it at a tournament? Here's the results.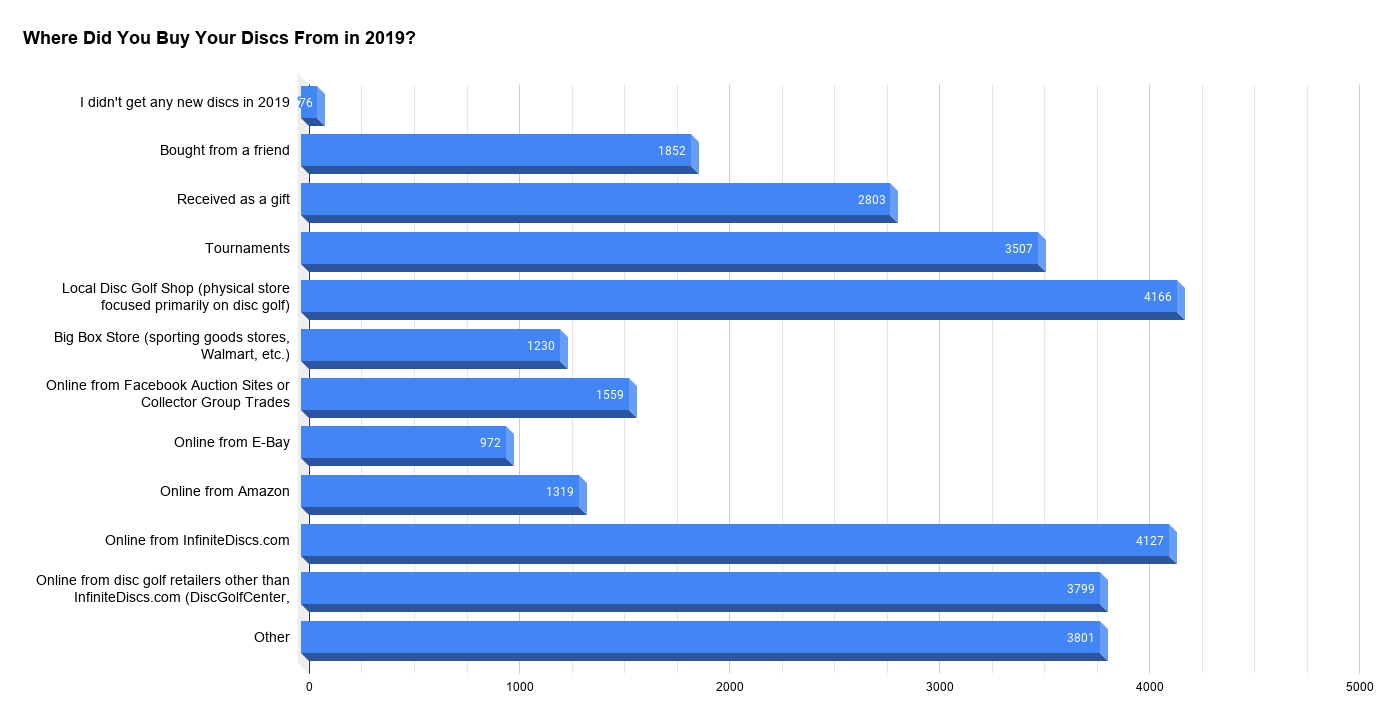 Survey participants could choose as many answers are applied to their situation. So most people picked several sources. The most common answer was "Local Disc Golf Shop" which means that the pro shops and individual disc golf stores out there are still a vital part of the market. It is hard to compare online shopping with the feeling you get when you walk into a store, hold the disc in your hand, and thumb through a pile of plastic.
Online shoppers are still plentiful with 4127 people saying that they'd purchased a disc from Infinite Discs. That might be expected since we hosted the survey. But the 3799 survey respondents also said that they'd purchased from other online retailers as well, like Disc Golf Center, Marshall Street, etc.).
There were 1319 people who claimed to have purchased from Amazon.com and a smaller number at 972 from EBay. Those larger online retailers are important, no doubt, but in this case did not look as popular as other specialized local and online stores.
COMING UP LATER…
In a future blog post, we'll take a look at the responses to the survey which indicate what factors are most important to players when they make their disc purchasing choices. Is it rarity, stamp design, brand, or something else? Stay tuned, and feel free to leave your comments below.