State of Disc Golf – How Much We Spend on the Sport

Looking at the results of the 2017 State of Disc Golf Survey, we can get a glimpse of how much money is spent by disc golfers during the past year. On this year's survey, we didn't ask if that money was spent specifically on equipment, or on tournament fees, or on travel, etc. but instead asked the survey participants to generally consider how much total they spend on the sport. These are the results: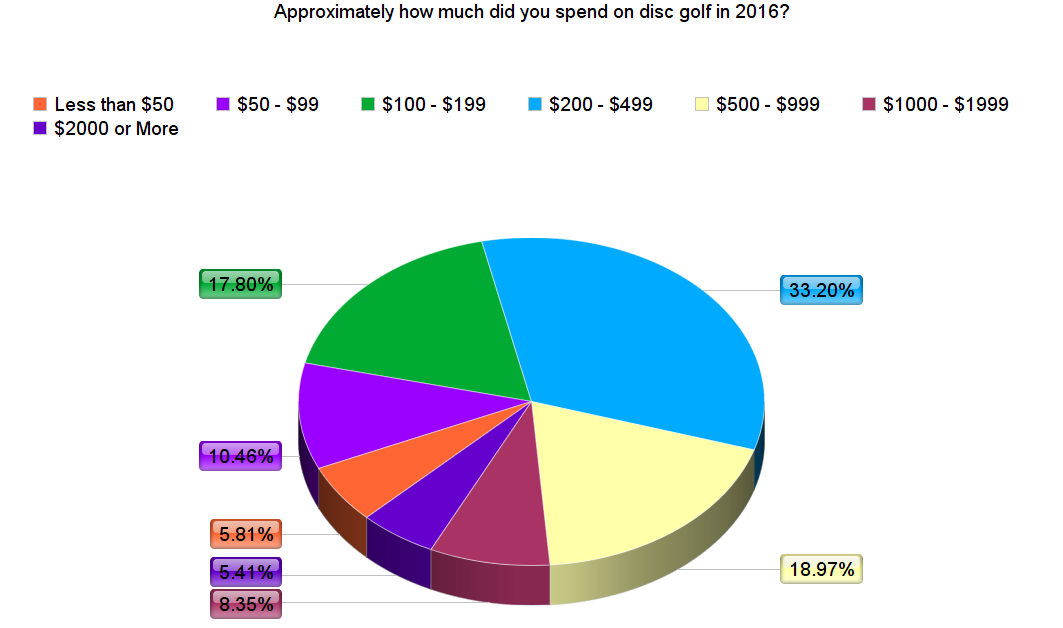 As you can see, the majority replied that they spent between $200 and $499 on disc golf in 2016, with the next largest groupings made of people who spent slightly less than that, or who spent up to $999. If you put those three highest groups together, then you have almost exactly 70% of respondents spending between $100 and $999 on disc golf during the year.
By looking at the answer choices, you'll noticed that the spread became larger as we moved to higher dollar amounts, so the first three choices went from $0 to $199, where the latter four choices covered from $200 to $2000 or more. Thus it was natural that more people would fall somewhere in the middle. But what might seem surprising is that 13.76% of respondents claim to have spent $1000 or more on disc golf in 2016, and 32.73% spend $500 or more on disc golf in 2016. That's a respectable percentage of players that are spending a significant amount of money on disc golf.
How Did We Spend that Money?
Undoubtedly some of that money is spent on discs, bags, and other accessories. But one factor which could likely tally the higher expenses which would take players into the $500+ categories are things like tournaments and travel. Let's look at responses that shed some light on the costs of tournaments.


So, with 73.1% of respondents who played in tournaments in 2016 (the vast majority), and those tournaments all have registration fees. And then we figure that 63.4% of players would travel 4 hours or more to play in a tournament, it makes sense that significant travel and tournament play is a contributing factor in disc golf spending. In fact, 22.7% of survey respondents said that they'd "go anywhere" to play a tournament. That implies fuel costs, boarding costs, and more.
Now let's look at how disc purchases might have calculated into those spending totals: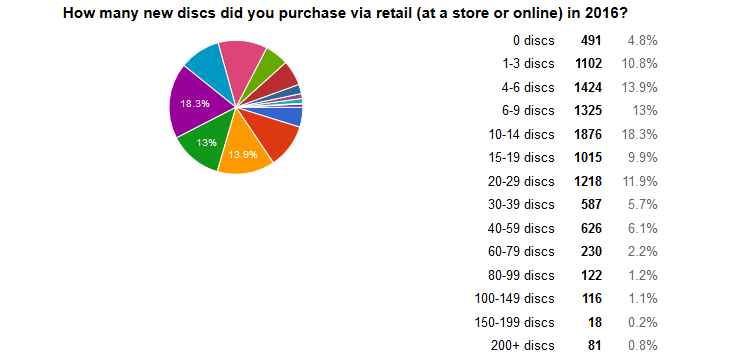 Looking at these survey results, it would appear that many players are quite conservative when it comes to buying discs. We can see that 42.5% purchase between 0 and 9 discs. If you average a cost of $12 per disc (some are much more expensive, and some are less), then you're looking at an investment under $100 or just over that amount on discs in a year.
Once we move into those people who bought 10-29 discs, which is a collective 40.1% of those surveyed, then we can estimate that they spent at least in a range of $120 – $350 on discs during the year.
Even though disc golf is an inexpensive sport compared to many others out there, where most courses are free to play, and equipment costs are very low, the truth is that players find ways to spend money on the sport they love. If not in buying discs and equipment, then in tournaments, travel, league fees, and more. Those spending choices are not a bad thing when it comes to the growth of disc golf. The fact that so many players are slapping money on the barrel for equipment, accessories, and tournament support means that disc golf can continue healthy growth, with more opportunities for players, and a growing body of enterprise surrounding the sport we love.