Best Beginner Disc Golf Sets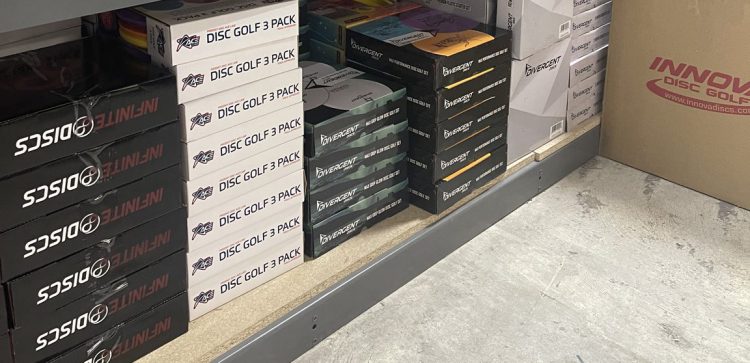 The disc golf starter set is an amazing way for people just getting into the sport to get the discs that will be useful to them, at the best possible price. Starter sets are created with idea that the people who will be using them don't have the skill to throw faster, more stable, or heavier discs. With a few exceptions, I always recommend starter sets to people new to the sport. I'll talk about the exceptions later, but for now, let's look at some of the best disc golf starter sets.
Infinite Discs Starter Set
1 – Infinite Discs Starter Set – At the risk of sounding like a homer, I really think this starter set is awesome! It features two discs in the I-Blend plastic, and one in D-blend.  The I-blend Sphinx and Anubis are excellent for beginners because of their flight and speeds, but they will continue to find a place in their bag as their skills improve. The D-blend Alpaca is a popular mold and plastic choice with people from a variety of skills levels, which makes this putter the perfect option for a disc golf set.
The Sphinx and Anubis are staples in my bag. The I-blend plastic feels wonderful to me, and it has the added bonuses of being less expensive than other plastics, and very durable. The Alpaca is a very popular putter that you can use at any skill level. The plastic types, the perfect molds, and the relatively inexpensive price that the Infinite Discs Starter Set gets the number one spot.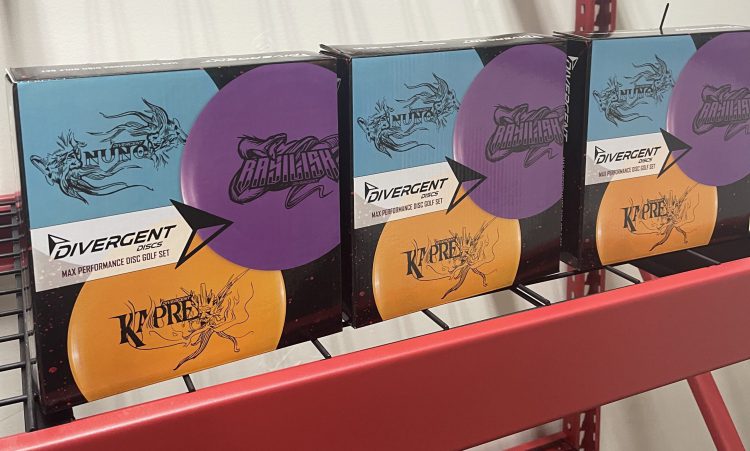 Divergent Discs Starter Set
2 – Divergent Discs Starter Set –One of the many new companies in the disc golf world, Divergent Discs produces high quality plastics at a good price. The bargain prices and molds that cater to newer disc golfers means that beginners can get discs designed for their skill level, while still getting good quality. That will let people continue to throw those discs, even as their skill level climbs. Base plastics don't always have a long life and will be discarded as they wear, and the thrower improves. The MaxGrip plastic used in the Divergent set feels great and is very durable. You'll get the Kraken, Leviathan, and Narwal molds. Excellent for beginners.
Viking Discs Starter Set
3- Viking Discs Starter Set – This starter set is made out of base plastic, and contains three molds that are sure to make you a fan of Viking Discs. The Rune is a putt/approach disc that straight and excellent for beginners. The Axe is a midrange with a little bit fade. And the Ragnarok is a great driver that will deliver nice flights for less skilled hands.
Divergent Discs Glow Set
4 – Divergent Discs Glow Set – Want to take an already great brand of discs and make them better? Make them glow discs! The Divergent Discs Glow Set is slightly stiffer than the regular MaxGrip plastic, but still has the durability. With this set you have the option to play a round during the day, then break out the UV flashlight and play at night. This set includes the Kraken, Kapri, and Narwal molds.
XCom 3-Disc Premium
5 – XCom 3-Disc Premium – X-Com is another small, newer brand that people might not be familiar with, but that has amazing discs. Their premium starter set is perfect for beginners who still want to throw quality discs. Despite being a 'premium plastic', it is not too overstable for beginners. The flight of these molds are straight. They are also suitable for younger players. The molds in the set includes the Bennu, the Griffon, and the Helios.
Other starter set options
If you want to start with more than three discs, check out these multiple-disc sets. Some of these discs are more advanced than those designed for beginners.
Yikun
The 9-disc set from Yikun is a complete disc golf set that covers every situation on the course. The set includes base and premium plastics. It's a great way to have a complete bag with just one set.
Yikun's 7-disc set is similar to the 9-disc set, but with more base plastic discs. It is a great option that fills most of a disc golfer's needs.
Viking Discs
Viking offers multiple-discs sets in different plastic types:
Divergent Discs Family Pack
This driver/putter pack gives the family enough discs to play together.
Inexpensive Disc Golf Sets
If cost is a deciding factor for your beginner set selection, check out these base plastic starter sets. They offer the discs you'll need to get playing, and give you a starting point for your disc golf bag.
Starter sets were made with beginners in mind. The discs included are lower speeds and usually lighter. Although the plastics are usually base and not as durable, that is not a bad thing for beginners. The one exception would be sets that include some plastic types. Champion plastic, and those similar to it, are typically more overstable and challenging to throw for beginners. And they take a long time to 'break in' due to their high durability. Once you develop the skills to handle more overstable flights, Champion plastic is great. Until then, stick to the base plastics.
Comment Below
Let us know about your experiences with Beginner Sets. Did you start with one? If so, which one and how did you like it? If not, what was your first disc? Did this blog help you decide on a set? If so, which one appeals to you? Let us know.
Check out our blog about the best disc golf practice baskets here.