State of Disc Golf: Local Course Data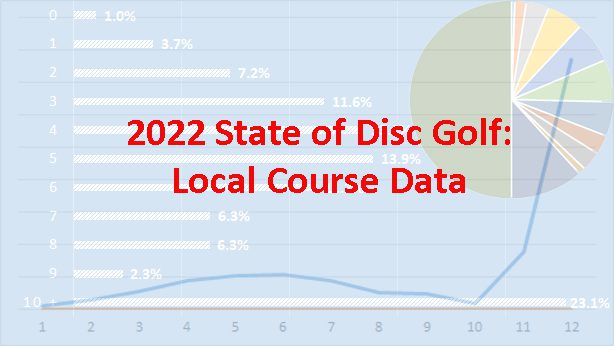 Here in Cache County, Utah, the disc golf scene is very active. Our club has been playing weekly for about 10 years. We live in a college town, so part of our club is transient. The most of us stick around year after year. Officially, we have 8 permanent courses within a half an hour of most of us. Sadly, not one of them is an 18-hole course. Furthermore, several of them are tiny courses that are not interesting and rarely, if ever, get utilized for league play. It is that mindset that comes into play when I look at the data in our survey regarding the number of disc golf courses near survey participants.
Yes, I'm jealous of the many people who indicated a high number of courses near them. I temper that jealousy with sympathy for those people who don't have any, or very few, courses near them. Be grateful for what you have, I guess. Let's start with the number of courses near us.
In the survey we asked how many courses are within a half hour of us. Those are the courses we would likely play most frequently. It is nice to see that nearly a quarter of us have ten or more courses within a half hour. Here are the numbers: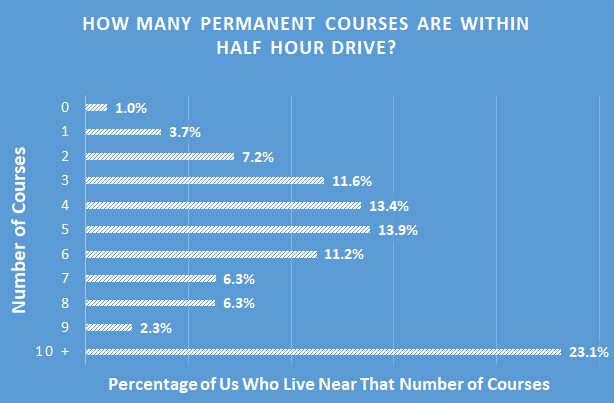 Although about half of us have six or more courses nearby, that means the other half of us have five or less. Hopefully, some of those are excellent courses. If not, those people will be spending more of their free time driving instead of playing.
For the U.S. people, check out the number courses and how many people live near them for YOUR state by clicking the map below.
Variety Is The Spice
Although the average number of courses near us is a little over five, does that affect the number of courses we play? One thing that becomes obvious to people who play disc golf with any frequency is that we love to play new courses. If we only have a limited number of courses that are a short drive away, our ability to travel longer distances is narrowed down to weekends and vacations. In the survey we wanted to know how many courses we played in 2021. It turns out that we play quite a few more courses than are in our immediate area (within a half an hour of us).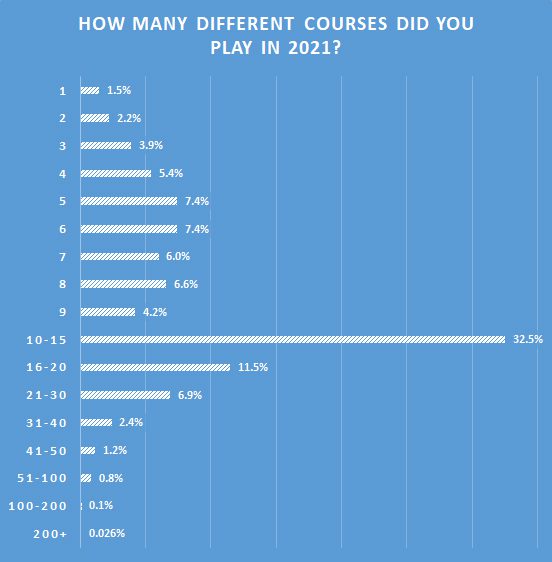 Two people in the survey played more than 200 courses. That's an impressive amount of courses! Even the 8 people who played between 100-200 courses is pretty mind numbing. I travel to tournaments several times per year, as well as playing all of the regional courses, and that still only puts me in the 21-30 range. Only 11% of us played that many or more last year, so it's still a small percentage. Nowhere near the major time commitment necessary for playing over a hundred courses though!
New Places to Play
In addition to finding out how many courses are close to each of us, we like to find out how many new courses were added to our local area. The growth of the sport means increased pressure on our existing courses, which sometimes leads to municipalities looking for places to install new courses. However, the survey showed that most of us didn't have the experience of getting a new place to play.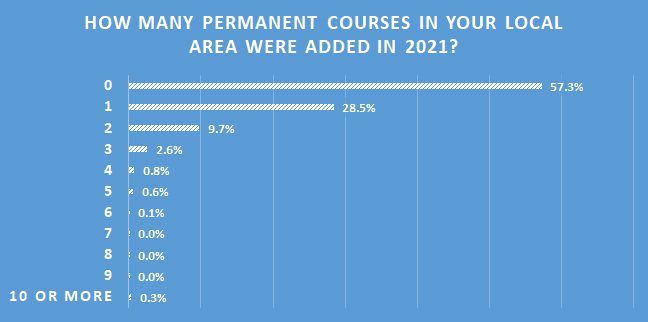 A Great Place to Live
Over 95 percent of us had two or fewer courses installed last year. That seems like an accurate number. Yet somehow a tiny fraction of us had ten or more course installed in our area! There were 24 survey respondents who selected that answer. I would expect that to be a smaller number. Out of curiosity, I pulled up the states/countries where the people live who said there were 10 or more courses installed. Here is the list:
| | |
| --- | --- |
| Michigan | Massachusetts |
| California | Alabama |
| North Carolina | Pennsylvania |
| Illinois | Minnesota |
| West Virginia | Colorado |
| Finland | Kansas |
| Maine | Wisconsin |
| Texas | Tennessee |
| Missouri | |
Since the number of 10+ courses added last year seemed high, I pulled up some prior survey results to see how last year compared. It turns out that last year definitely was an anomaly. It was several times higher than the previous year.  Here is the data from a few prior surveys showing how many people indicated there were 10+ courses added.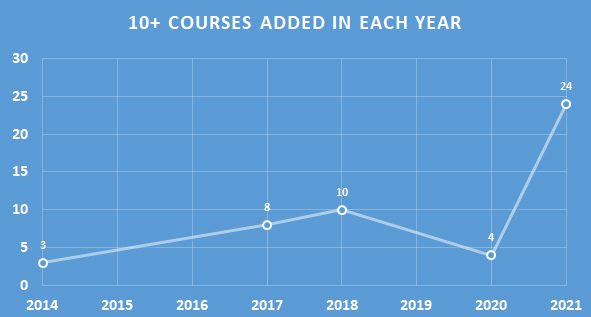 Does More Courses Equal More Rounds?
We started the blog by looking at how many courses are fairly close to where we live. I was curious to see if having more courses around means that we are playing more rounds. We might be more motivated to get out and play if we don't play the same few courses every time. So, I took the percentage of people who played 20 or more rounds per month, for each number of courses. Then I threw them on a graph. Although the differences aren't huge, the people who have more courses in their area do play more than the people who have fewer courses.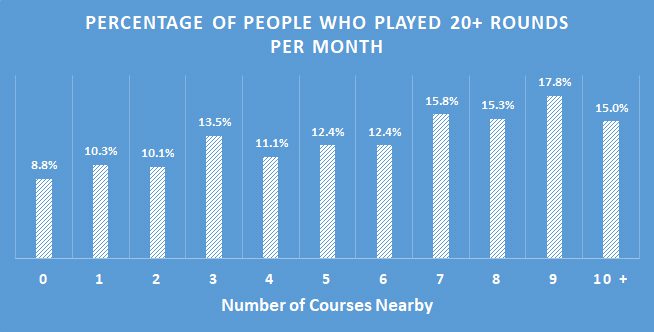 Nearly 18% of the people who have nine courses in their local area play 20 or more rounds per month. If you only have one or two courses near you, the number hovers around 10%. It certainly makes sense that variety is the spice of life!
Conclusion
Years ago, when we only had a course or two in our valley, we played the same course every week for league, and every time we played a casual round. We just loved playing disc golf and since we didn't have a variety of courses without traveling, we played the course we had. I'm guessing that it's the more casual disc golfers that might play less frequently with only a couple of options. Having more courses might motivate THEM to play more, thus increasing the numbers of people who play more.
Let us know your experience with disc golf courses. Do you think having more courses means more rounds played for you? Are you in an area where 10 or more courses where installed? Where did you sit on the number of rounds played in a month?
Check back next week for more State of Disc Golf Survey results.