State of Disc Golf Survey: Following the Pros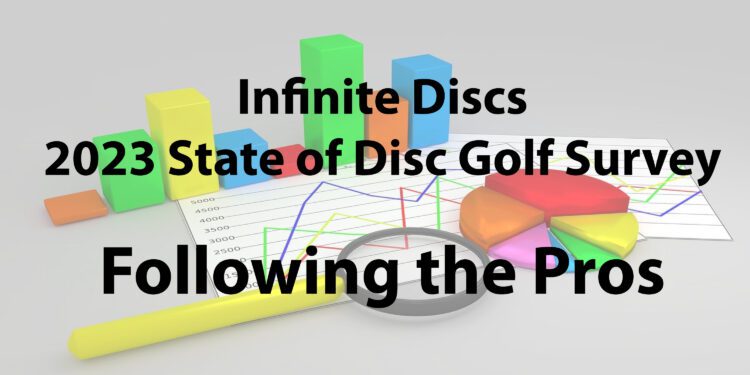 In last week's State of Disc Golf Survey, I talked about how we are in tournament season. I wrote about the questions in the survey that asked about tournaments and how many of us participate in them. This week, I'll look at another aspect of tournament season: watching the pros as they play tournaments.
With the rise of the Internet and social media, we now have opportunities to watch our favorite player compete in most major tournaments. We can also follow, and sometimes interact, with them from their own personal posts and videos. It's never been easier to be a fan of disc golf pros!
Following the Pros
Even though following and watching pros is not difficult, we first have to ask whether or not people want to follow the pros. That brings us to our first survey question: Do you follow professional disc golf?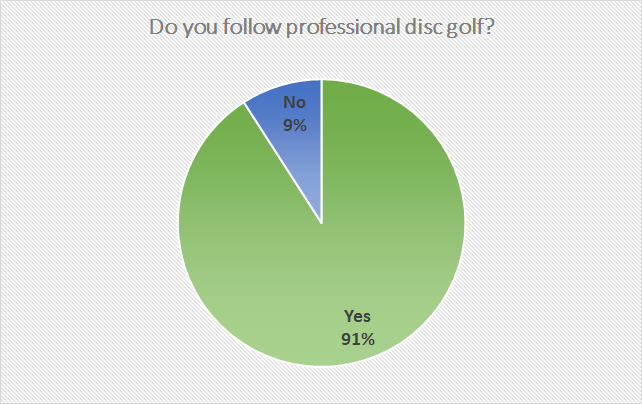 An overwhelming number of us follow professional disc golf to some degree. That might be watching them play tournaments, watching them play casual rounds, following them on social media, or checking out their tournament results. That might also mean we buy their tour discs. Manufacturers know that, and that has translated into some large contracts for the top players, and better contracts for other players.
Our History of Following Pros
If we look at past survey results, we see that we stay fairly consistent with how many people follow the prose. There are minor variations, but overall we like to watch the best people in the sport compete.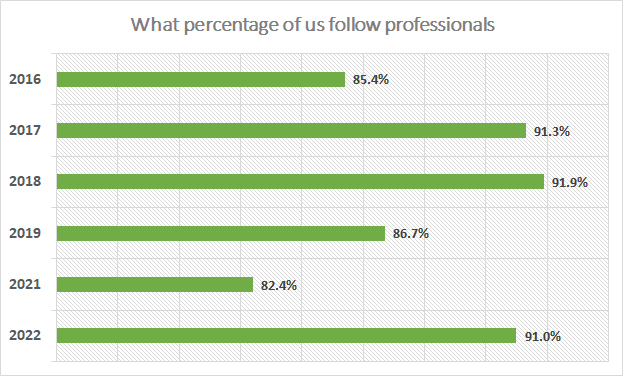 How are we watching tournaments
For the people in the survey who indicated that they do follow professional disc golfers, we asked follow-up questions to learn more about how they followed their favorites. The first question we asked was, "In which of the following ways did you follow professional disc golf in 2022?" Here are the results:
According to the survey results, 26% of us got to watch professional disc golfers in person at a tournament. There are enough tournaments around the country, and the world, the even if there isn't a big tournament in our home town, we likely don't have to travel far to attend one. Apparently, quite a few of us made the effort to do that.
Watching Tournaments
If we weren't attending a tournament, odds are that we were watching one. Between the live broadcasts and post-produced content, we had lots of choices. Over 90% of us watched at least one tournament.
One out of every five of us watched the Pro Tour Championship on ESPN. That is a pretty big number, considering the tournament aired a while after the tournament was played.
When it comes to watching disc golf live, over 56% of us indicated that we watched a tournament live. I'm sure the Disc Golf Network will be happy to see that survey result. In fact, more people said they watched live than watched post-produced videos on YouTube. There were 42.6% of us that said we watched a tournament on YouTube.
Given that the live broadcasts are several hours long, that is a big commitment of time. On the other hand, it is exciting to watch the results slowly unfold, while checking in with other cards that are playing. Plus, it is something that you can have on in the background, then listen for highlights and scores updates. That is usually what I do when I watch live. The quality has improved a lot, too. Live broadcasts have improved quite a bit since the first attempts, even though there will still be challenges doing things in real time.
Live Scoring
Another option to watch professionals is to watch the live scoring. That is another thing you can do while you are doing other things. Surprisingly, it can be kind of exciting to see the scores change and see 'battles' unfolding. Nearly half of us indicated that we watch tournaments via live scoring.
The final question of how we watch the pros is watching them in online in disc golf tutorials. A whopping 70% of us watch online tutorials. Although watching a professional tutorial isn't the same as getting coached, it's nice to watch the best in our sport give tips to make our game better.
Live Tournaments and DGN
Speaking of the Disc Golf Network, we wanted to see how many of us subscribe to the network. As you can see from the chart below, it was pretty much and even split between those who subscribe and those who don't. Since the stat above said that 56% of us watched live tournaments, which means about 6% of us are just buying the individual tournaments that we want to watch.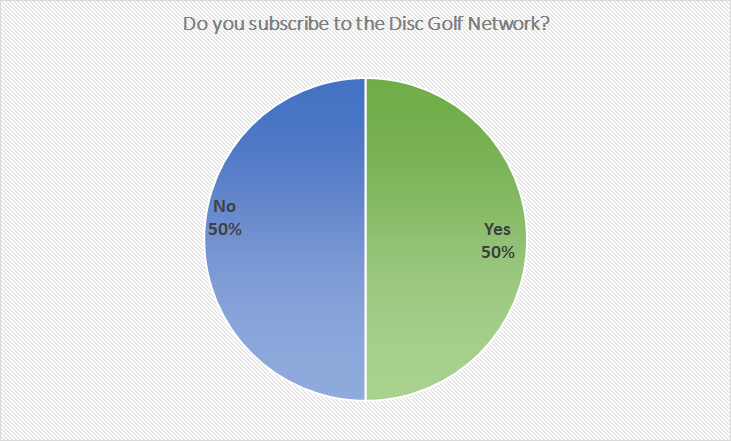 Live and Post
Since a majority of us watch live tournaments we asked those people if they still like to watch post-produced rounds of the same tournament. Here is a graph of the results.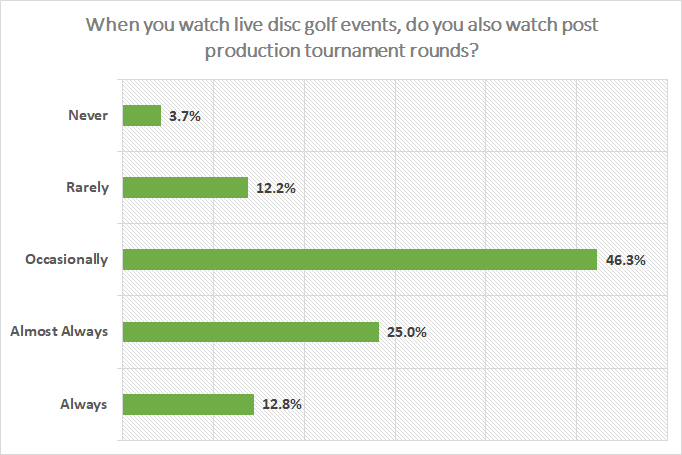 Only a small percentage of those of us who watch live events rarely or never also watch post produced. And over a third of us always or almost always watch post-produced rounds that we've already seen. Perhaps if we have a live event on in the background, we want to watch it later to actually watch what happened. Another reason is that there are different commentators for post-produced, which might drive people to watch both.
Favorite FPO
No discussion about professional disc golfers would be complete without looking at which of the top pros we like to follow. We asked who our first- and second-most favorite player was, in both FPO and MPO.  Starting with FPO, here are the top 20 results.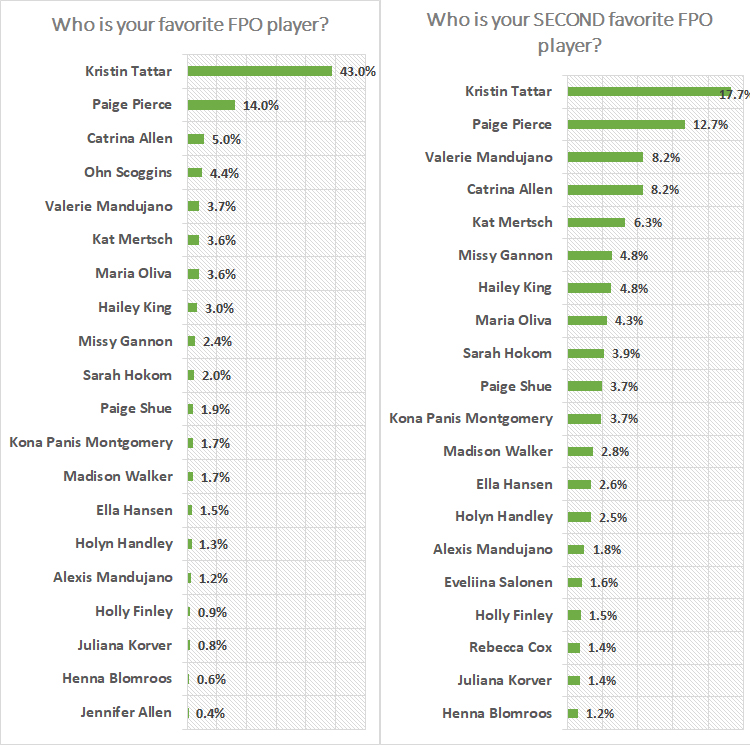 Head and shoulders above everyone else in FPO is the current World Champion, Kristan Tattar. When you consider how many picked her first or second, over 60% of us had her on one list or the other, she is an amazingly popular person! Paige Pierce took second on both lists. Catrina Allen got one podium finish, and Valerie Mandujano got the other. Now let's look at MPO.
Favorite MPO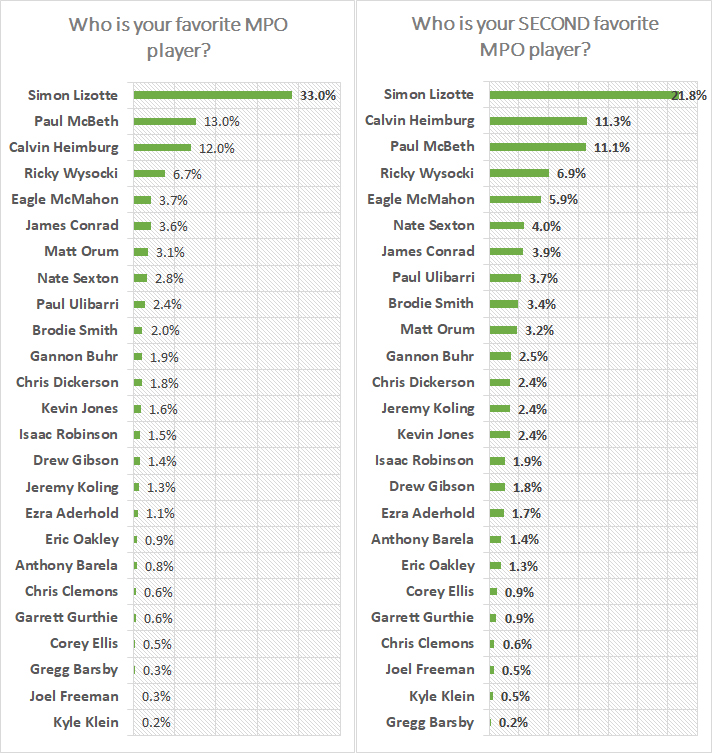 Once again we saw one player, in this case it's Simon Lizotte, way ahead of the rest. The ahead of the reigning and six-time world champ, Paul McBeth. With his trick shots and likable personality, Simon is on one or the other list for over half of us. He is definitely the people's player.
For the MPO, the top five players are the same on both lists, with Paul and Calvin swapping places. In fact, there are only a couple names on the top 25 list that are only on one list or the other.
That wraps up this week's blog. Check back next week for more survey results.