State of Disc Golf Survey: Practice and Play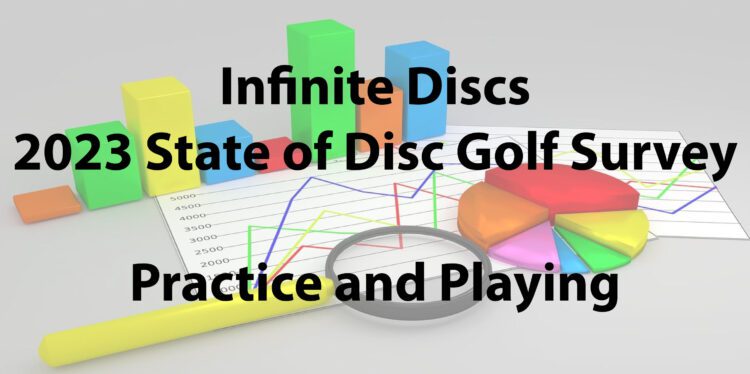 2023 State of Disc Golf Survey
The greater disc golf community has a large variation in the level of participation in our sport. There are those among who currently are (or are working toward) making disc golf a career, and who play or practice daily.  At the other end of the spectrum, there are people who may only play once or twice per year. They may not even own their own discs. This week's State of Disc Golf blog will discuss a few survey results that will help us see where we lie on that participation scale.
One of the ways we might express our participation level in disc golf is how many tournaments we play. Typically, if you like to play tournaments, you probably play more disc golf than the average person. And you might spend a bit of time practicing for tournaments. In the survey, we wanted to find out how often people practice putting and doing field work. We'll look at those responses and get a snapshot of the current level of participation in disc golf.
Putting Practice in Winter
To dissect the data a little more, we asked about how our practice habits change from summer to winter. We'll start with putting practice in the winter. Here are the survey results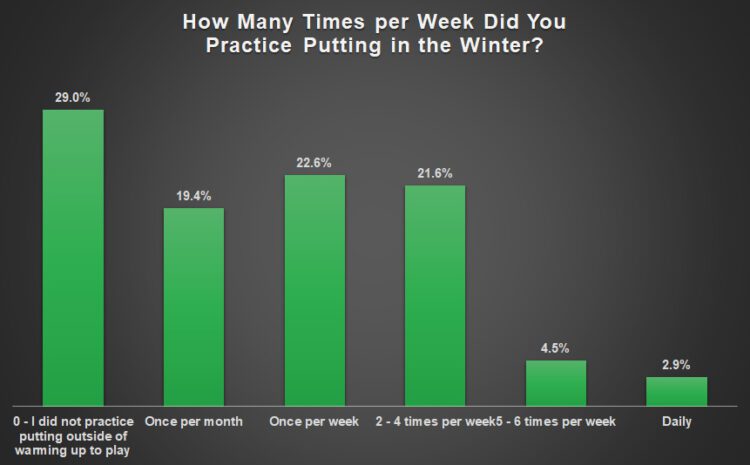 An impressive number of us, 29%, practice at least twice per week in the winter. If you live in a climate that allows for comfortable outside play, or if you can putt indoors, you are more likely to keep putting when the temperatures drop and the snow flies. Putting leagues are another way to be competitive and keep practicing in the winter. Now let's see how warmer weather affects putting practice.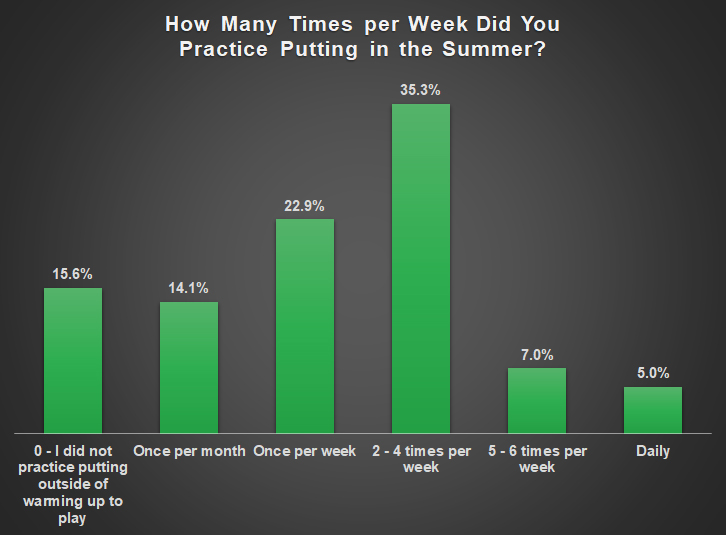 Putting Practice in Summer
Almost half of us are committed to practicing putting in the summer at least two times per week. Nearly 16% don't do any extra putting practice, but the rest of us will break out the putters at least once per month.
Since missed putts can add so many strokes to our scores, we would all benefit from practicing. Unfortunately, putting practice isn't the most fun activity in disc golf.  We can improve our chances of putting regularly by playing putting games. There are solo games that you can play, where you keep track of either points or consecutive makes. And there are games you can play with others. Playing putting games makes the time and the reps fly by.
Fieldwork in Winter
A cousin to putting practice is field work. Throwing discs in a field is a great way to work on our form and our distance. Regular practice will improve our consistency and conditioning. Field work is a little more fun than putting, to me, because you get to watch the flight of the disc and feel the satisfaction when you get a great rip. It is tougher to do in the winter in much of the country, because of snow. Let's see what the numbers say about field work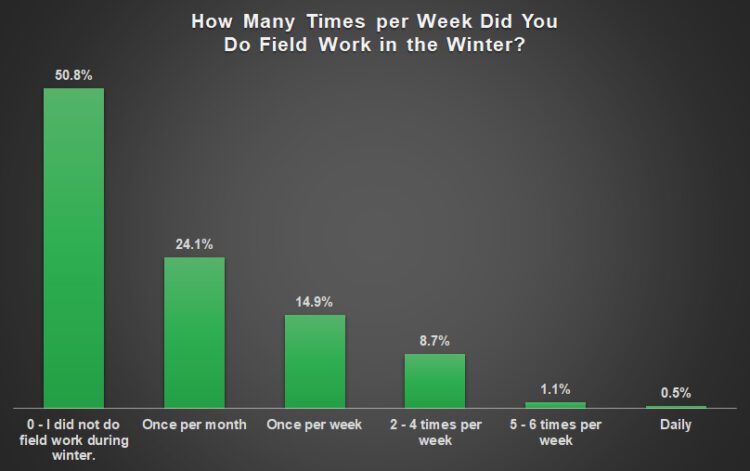 Just over half of us don't do any field work in the winter. Cold and snowy conditions are probable responsible for keeping most of us indoors instead of out practicing in the winter. Another reason could be that the days are shorter and we might not get off work in time to practice.  About 10% of us still manage to get out at least twice a week in the 'off-season'.
Fieldwork in Summer
Now we'll take a look at how much change there is from winter to summer. Below is the chart for summer field work and we can see that over 75% of us do field work at least once per month. One in five of us practice two or more times per week. Those numbers are a little higher than what I see locally, but maybe people are practicing at non-disc golf fields.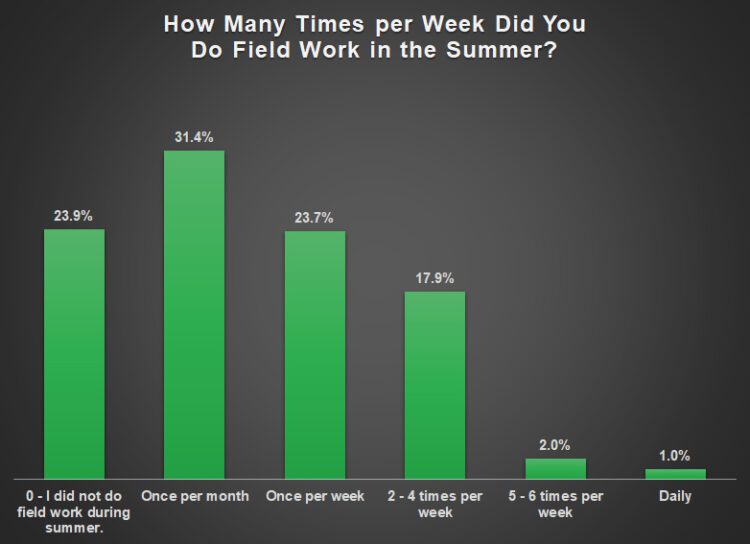 Data From 2017
We've asked similar questions in the past, so let's look at the numbers from 2017.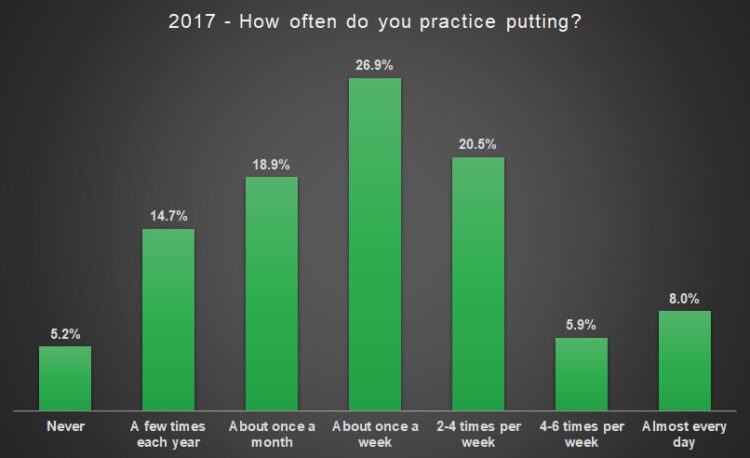 The data from 2017 shows that a lot more people indicated that they practice putting regularly. A third of us practiced at least twice per week. And a lot fewer people indicated that they either never practice putting, or only practice a few times each year. Let's see how the fieldwork numbers compare to the recent survey.  Here are the results from 2017: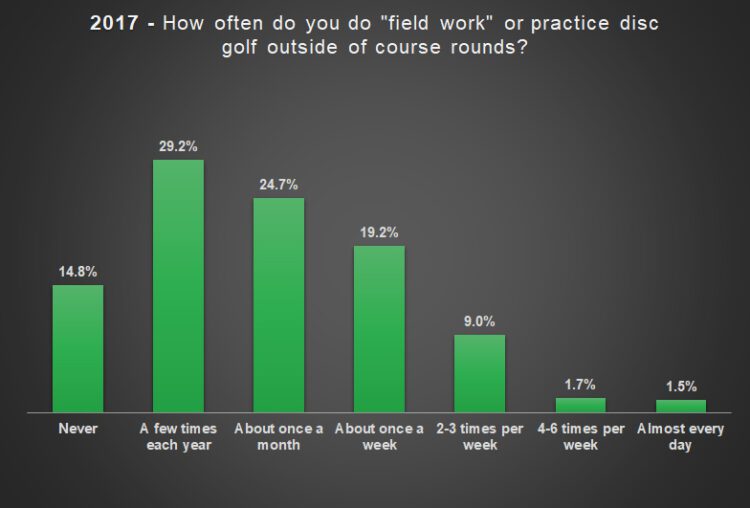 The number for the 2017 fieldwork results is similar to the results for this year's results about fieldwork in the summer. There are slightly more people today who never do fieldwork, but most of the numbers from 2017 are similar to this year's numbers.
Rounds Per Month
Another survey question that shows how active we are in disc golf is how many rounds per month we played last year. That question was only for those who started playing in 2021 or before. The results are pretty close to what I would guess. Let's take a look at the chart.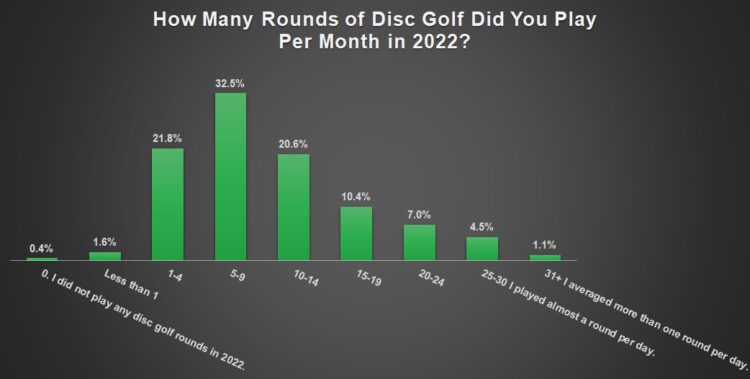 A small percentage of us only averaged less than a round per month. However, at the other end of the scale, over 5% of us got to play nearly a round per day! Playing in leagues and tournaments regularly will bump your average up a bit. Add a few casual rounds with your buddies and it's not too hard to get up to double-digits per month. However, over half of us stayed in single-digits.
More or Less Golf Last Year
In addition to seeing how many rounds we averaged last year, we also wanted to see if the number of rounds we played were more or less than in 2021, or if it stayed the same. Here is the data: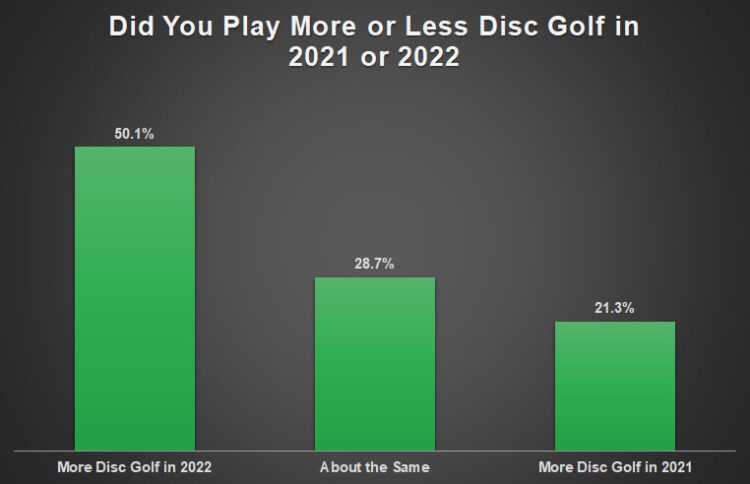 Prediction For 2023
It's good to see that a significant majority of us played either the same or more disc golf in 2022. Regionally here in northern Utah there is a tournament or league happening every week, so it isn't difficult to get your golf fix, if you have the time. Although we can predict how much free time we'll have in the future, we did ask how much golf that people thought they would play this year compared to last. Here are the results: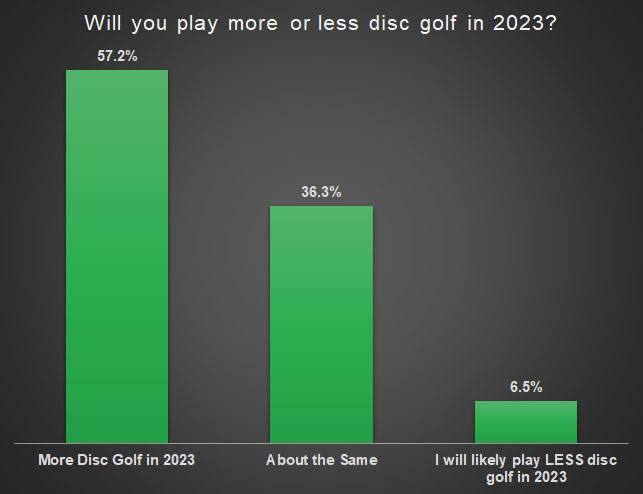 I like people's optimism about this year. Most of us will be playing as much or more disc golf this year. Let's hope that works out for all of us!
Tune in next week for more State of Disc Golf survey results.