2021 State of Disc Golf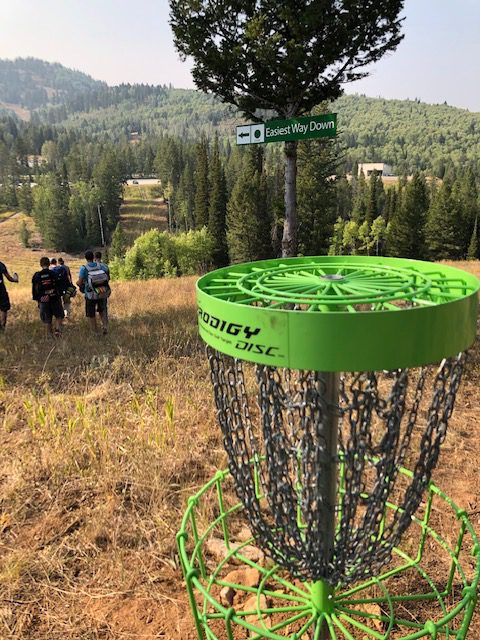 Tournaments
One of the categories that I look forward to the most when it comes to looking at the survey results is that of tournament play. I'm always interested to see what tournaments people play, why people do or do not play, and what it would take for people to sign up for a tournament. I played my first tournament after playing disc golf for about a year. I was hooked! For me, it wasn't so much for the competition as it was a social event that happened to revolve around disc golf.
Since then, I found that there are a lot of people who like tournaments, but a large number of people who have no interest in tournaments. For some, it's the strict rules. For others, they are completely happy just hucking with friends in a casual round. There are cost issues, time issues, and travel issues, among the other reasons people don't play. The survey covers a lot of those things, so let's jump into the results.
Covid19
Once again, Covid19 had a huge impact on the tournament scene last year. Thankfully, it appears that we may have a nearly normal tournament year this year. (I am so looking forward to Worlds!) But, the survey results definitely reflect the dismal year we had last year. We'll start with the question about whether or not we played in a tournament or other event last year. Here is what we found.
The survey question read, "Did you play in at least one disc golf tournament or event in 2020?". Over half of us indicated that we did play in at least one event. There were a few tournaments that were played before Covid19 really affected things, a few at the end of the year, and a smattering of events throughout the year. That added up to a decent year for disc golf events. Not what we hoped for, but it could have been much worse. Here is a graph of the results: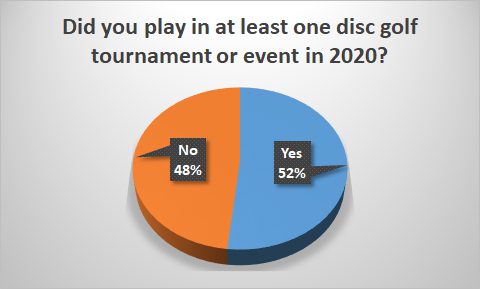 To put things in perspective, here is a graph of the previous year's tournament/event attendance. Attendance was down from 66% last year. I was expecting it to be a bigger drop.
Sanctioned Tournaments
Along with data about how many of us are playing competitively, it is also interesting to see what kind of tournaments people do play. Since the overall percentages were down for event attendance, it will be interesting to see if sanctioned versus non-sanctioned tournaments were affected more. A 'sanctioned' tournament is one that approved by the PDGA. There are additional requirements for the tournament, and PDGA rules are supposed to be enforced. Nearly 40% of the people who took the survey played in a sanctioned tournament last year. That is down 13% from last year. Here are the charts: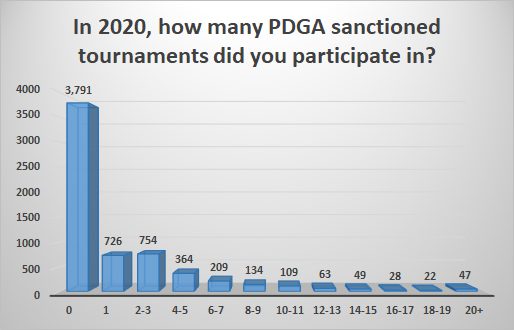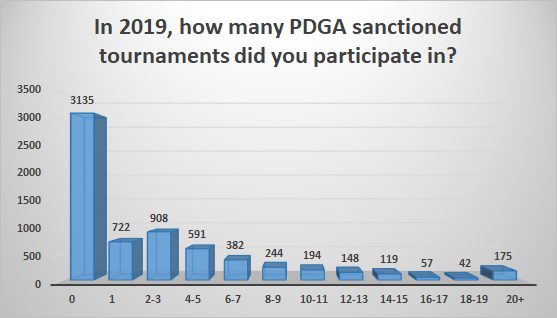 Of the people who played in a sanctioned tournament last year, 59% played in three or fewer tournaments. That is up significantly from 45% for 2019. Again, not surprising. Even with restrictions and cancellations, a very lucky 2% of us played in twenty or more tournaments last year! That was down 5% from the previous year.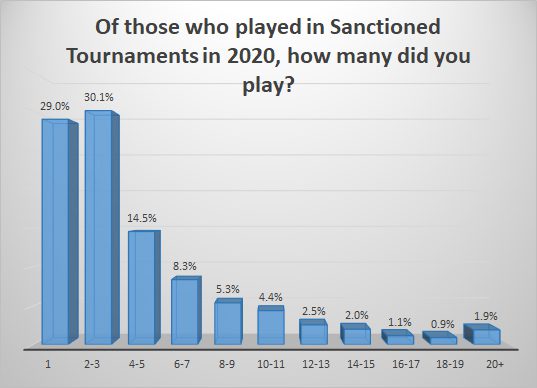 Non-Sanctioned
When I checked out the non-sanctioned tournaments for last year it was apparent that something wasn't right with the data. According to the survey, only 4% of us played in a non-sanctioned tournament last year. In 2019, over half of us played in non-sanctioned tournaments. Even with Covid19 throwing a wrench in our season, that 4% number couldn't be right. I checked the raw data and it turns out that some of the results were missing for that question. I'll see if the data can be recovered and post the info later.
Why Tournaments?
Now we know how many of us play in tournaments, let's look at why we play. For most of us, there are multiple reasons we play. Nearly 25% of us like the competition. That is the number one reason. That leaves 75% of us that play for other reasons. It's good to see that the next most popular answer is that we like to play tournaments for fun! Along the same lines is the number three answer, for social reasons. I'm surprised that category wasn't higher because so many tournaments that I go to are like reunions. It's always great to see our disc golf family again at tournaments. Here is a graph of reasons why we play: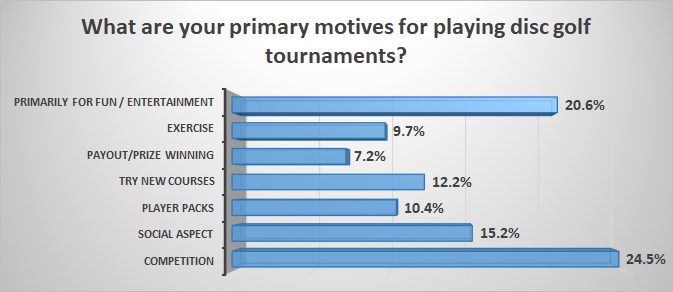 Why We Don't Play
On the flip side of that coin are the reasons why many of us don't play tournaments. For 2020, you can probably guess the number one reason why people didn't play. Yep, tournaments getting cancelled due to Covid19. The second most popular reason is that we don't feel like we're good enough to play. Nearly 20% of us chose that as one of the reasons. If you are one of those, I would recommend giving it a try. Play in a lower division and just relax and have fun. It is always more fun if you win something, but playing in a tournament helps you meet new people and gives you the tournament experience. Then the next one won't feel quite as intimidating. Here are the results: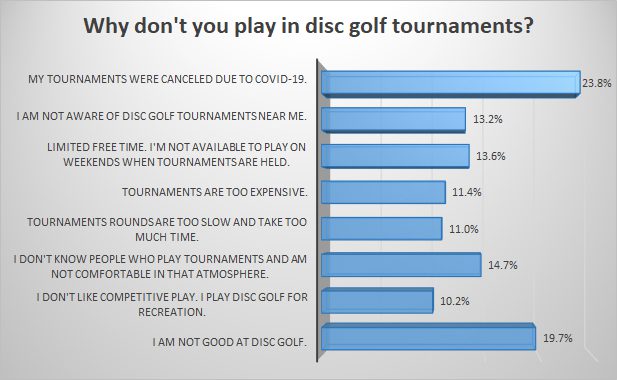 Tournament Persuasion
Looking at what things would motivate people to play, we see the number one answer is that people would play if they were better. That aligns with the previous graph results. The next most popular response is that of convenience. Finding tournaments on the days we can play, and at a location that is reasonably close would make a lot of people more inclined to play. Bigger player packs would also motivate a lot of people, nearly 40%. Here are the survey results: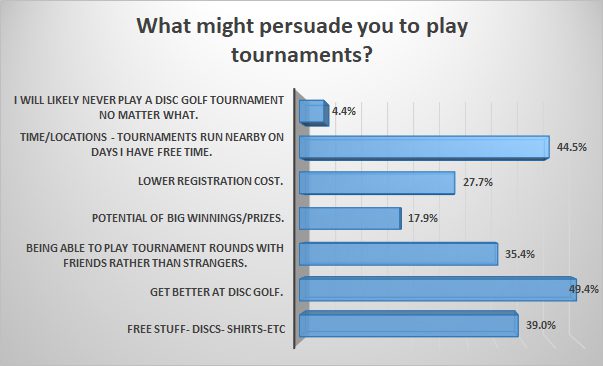 Check back next week for more State of Disc Golf results!