The Day the Atom Bomb Dropped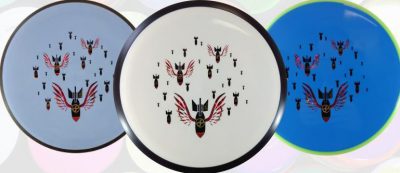 In November of 2016, Infinite Discs arranged a special stamp release with MVP / Axiom to feature a variation of our "Infinite Bomber." It was designed to look great as a 3-color stamp and was released as part of our Black Friday weekend sale. The stamp was nick-named the "Infinite Blitzkrieg" and it was received with open arms by the MVP / Axiom collectors and fans. There were hundreds of discs, in nearly all available molds, and they have continued to sell steadily. Those who own discs still share photos of their Infinite Blitzkreig stamped discs on social media.
That warm reception lead our Infinite Discs crew to look toward upcoming MVP and Axiom releases as perfect places to feature limited edition stamps. When the release of the Atom in Proton plastic was announced, we knew it would be a great place to features another variation of the Infinite Bomber because players who throw MVP had been wanting a Proton edition of that putter for a long time. We contacted MVP and told them that we wanted to do a small run of 150 Proton Atoms with a custom stamp, and they were just as supportive and enthusiastic about the idea as ever. That is when the "Atom Bomb" was born, quickly designed and prepared for the release by our in house graphic designer, Dylan Durrant. He combined the original Infinite Bomber which was designed by an artist with whom we've worked a lot, NEOmi-triX, with the iconic symbol of an Atom to create a great amalgam stamp design.
The Day the Atom Bomb Dropped
On Thursday, Feb 2nd, 2017, UPS showed up at the Infinite Discs warehouse at the usual time of day, around 10:00 AM. The Proton Atoms with the Atom Bomb stamp had arrived. We turned all of our attention to adding the discs to our online inventory, bumping them ahead in the photo cue.
Once we started snapping and uploading photos we noticed that a lot of the stamps had drop-outs on the nose of the bomb. This is a phenomenon that happens when there is not enough "relief" on a particular part of the stamp, meaning that the artwork is too thick, so an air bubble can become trapped under the stamp without any escape, except through the foil, which then comes off, leaving a hole in the foil. Or it can happen when the foil coverage (saturation) is too dense compared to the empty spaces, so the stamper cannot maintain the pressure enough for all parts of the stamp to stick. That is an explanation in layman's terms. Regardless, as many as half of the stamps had drop outs, and we were disappointed that neither we nor the great folks at MVP had noticed the issue until the discs were in hand.
We left a small stack of discs out of inventory and went back to adding other disc inventory. We contacted MVP via email to let them know about the drop outs and they replied immediately to apologized that quality control had missed the problem. They'd been very focused on getting the discs to us quickly, rushing so that our Proton Atoms would arrive close to the general release date, and somehow it slipped through the cracks. We expressed our interest in doing more such custom stamps and promised to be more careful in our design, and MVP likewise promised to double-check our artwork submissions to make sure everything fell within stamp tolerances. MVP was extremely professional and understanding of the situation, and we look forward to doing a lot more with them in the near future. Yet, we still had these Atom Bombs. How would we present the fact that they were not all perfect?
Watch for Nuclear Fallout
Though we'd originally planned to sell the 150 Atom Bombs for a dollar more than regular price, we opted to keep the price at the regular Proton plastic price since many were less than perfect.
Dylan and Todd stared at a computer monitor, thinking of how to announce the release on social media when Todd suddenly said, "Our Atom Bombs have nuclear fallout."
"What? That's genius!" Dylan replied.
So the announcement was made: "Caution, Atom Bombs naturally may come with nuclear fallout." We explained the flaws and proceeded to post the announcements. Todd directly posted an announcement on the MVP Fans page on Facebook. Then Dylan and Todd left to lunch, not knowing how the news would be received.
While sitting at Costa Vida eating sweet pork salads, Dylan checked the number of orders. Even though Adrian and Troy were still processing and shipping orders back at the warehouse, the order count had actually jumped up by a large number, and nearly ever new order was for Atom Bombs. In fact, they were selling so quickly that some had double and triple sold! With wide eyes, Dylan suggested that we get back to work quickly to help sort out the new orders and double-sells.
"Sorry, the disc you ordered triple-sold…"
The Infinite Discs website has the advantage of showing actual photos of every disc in stock. That is a blessing, but can also be a curse when it comes to dealing with multiple shoppers wanting the exact same disc. It is possible for different shoppers to add a specific disc to their shopping cart, because merely adding it to the cart doesn't remove it from inventory– the disc is only removed once the customer "checks out". So technically, if multiple shoppers add that same disc to the cart, they will all be able to checkout because there is not an immediate query in the programing to check the inventory once again. Thus the disc double sells. With the sudden flood of customers adding Atom Bombs to their carts, we saw a couple of the individual discs even triple and quadruple sell! This was a problem, because the first person to checkout gets the disc, and the disc is consequently gone when we come across an identical disc order.
The orders poured in so quickly that we decided to open another shipping station that would be dedicated only to shipping the Atom Bombs. Dylan took over the customer support and packaging responsibilities and Todd started pulling the discs together for the shipments. Dylan found himself having to call a good number of MVP collectors within the next few hours to explain the multiple sells and offer alternatives. Luckily, we turned to the small pile of discs that had not been added into inventory and started using them as back-ups. A lot of the MVP fans who had placed orders were still live on Facebook, and Dylan not only found himself in many friendly phone calls, but also chatting live on Facebook with some of those customers. A few hours later, most of the crew left, but Dylan stayed at work until 8:30 PM, finishing up the Atom Bomb orders and setting aside replacements, making sure everybody had been contacted and accounted for.
It had been a long, crazy, busy day. Only a few of the discs remained, and all of those sold out by the next morning. After shipping the remaining Atom Bomb discs the next morning, everybody was able to take a deep breath and look back at the rush with a smile. No, it had not gone perfectly, but we'd learned a lot through the experience. We were able to come up with a programing fix that we hope to have implemented in the future to avoid the double-sell glitch. We learned to be more careful in our stamp design specs, and most of all, we learned of the awesome outpouring of support and friendship from the MVP community. MVP / Axiom has been so helpful and professional through all of our interactions, and the community of MVP fans had blown our minds with their enthusiasm. The MVP Fans Facebook page has continued to buzz with excitement about the sold-out stamp, with photos popping up of treasured discs. Very few complaints have emerged about the drop-outs on the nose of the bomb, and a couple fans have even said that it looked good as part of the art.
That was the day the Atom Bomb dropped, and it will live on in Infinite Discs lore for years to come.